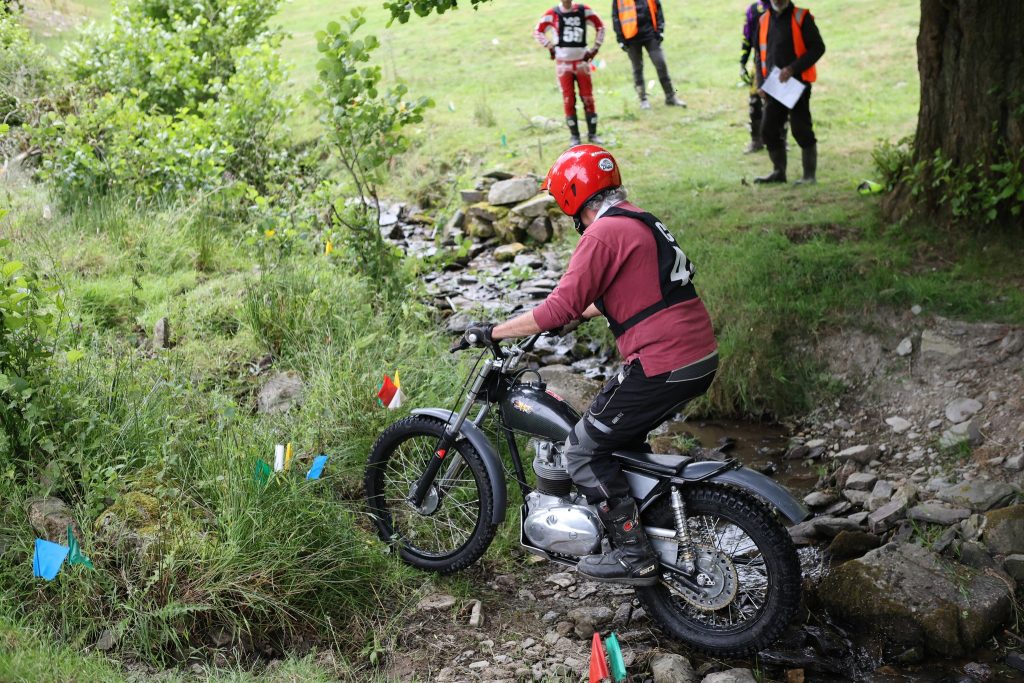 It was back in February when we last visited this incredible venue and it was great to get the riders back there for Round 6 of the club championship but also the inaugural event where the Plas Onn Trophy is contested. This has been created in memory of one of our members we sadly lost last year and will be presented for the highest placed Pre-65 Intermediate (the class contested by Kev Williams).
The event took place with weather in our favour and the 75 bikes were broken down with 22 Pre-65's, 17 Twinshocks, 15 AC Monos and 21 Modern Monos.
Dont forget that Aqueduct Classics now has a new class for Pre 2000 water-cooled and we are looking forward to seeing this class start up!
A light entry on Experts saw only 1 riders in that class and with 3 Novices also entering the balance was made up with 40 Inters and 31 Clubman riders.
Our event report starts with a brilliant write up that gives a great insight into how your days sports actually comes together………
Jan and Geoff Jones – Organisers view
I suppose we could say the starting point for an event is the first day after the previous event. This of course is after the results are finalised, the paperwork forwarded to the AMCA making sure the permit for the
next event is applied for, at the same time as ensuring all fees and insurances have been paid. And so it begins again with any issues which could be encountered to be sorted before entries are opened. This is the reason why we need to delay sometimes before opening to ensure that everything is in place. We have land owners to contact to make sure we have a venue, PR letters to write and deliver, which has become a very necessary part of appeasing local residents living in close proximity to any of our venues such as Pen Y Graig and Nant Y Ffrith. Signs to be printed and readied to advise the public of our forth coming event and notify local authorities about our presence in close proximity to footpaths.

Wednesday is bib washing day transforming the house into a look alike Chinese laundry and finding out who the culprits are that haven't return their bib in the hope of having a guaranteed ride next time. The
time taken to identify the missing bibs highlights the importance of making sure that they are returned at the end of every event.

On to the entries. We liaise with Rob Sloggett our website supremo to agree a date and time for opening the entries. Once opened we monitor the entries in our mailbox, and payments through the various payment methods which we accept. The online entry system makes it easier for us to control the number of rider where we have parking restrictions or restricted entry numbers. We inform our caterer Chris De Burger of the
approximate numbers to ensure that no rider goes without his breakfast. It is also better for the rider on the day as it reduces queues at signing on gives way to a more relaxed atmosphere.

The week leading up to the event. Publish the entry list and wait for the phone to start pinging with messages either starting with "sorry but"
or "any chance". I must impress that neither of these are a problem to us. Contacting the folk that can hopefully observe for us because as you are aware these people who are so generous with their time are also instrumental in the running of the event and we cannot thank them enough. This is why it is so important that a word of thanks from the rider is really appreciated. Preparing and printing event paperwork which includes the permit, signing on sheets, observer list, riders brief,
observer sheets, and entry forms with the declaration for those who turn up on the day. Time to tidy and prepare the trailer ensuring all paperwork is available in its place ready for the day. Observer bags sorted in numerical order containing observer bored, score sheet, high vis vest, radio and most importantly a working pen. Flags, start and end boards washed and accounted for.

Bright and early Saturday morning section set setters head off and spend the best part of a day finding a marking out some tasty sections for you to conquer.
Sunday morning day of the event. Up early after possibly little or no sleep worrying about the event, the parking, the neighbours and
everything in between. First task is to mark the road so that we don't have any riders going astray although this doesn't help those who have made their way to the wrong location and are waiting for the gates to open 'Tim Lewis'. Arriving at the venue we prepare for the onslaught of the riders trying to keep one step ahead of them. On go the officials vests and the welcoming smiles. The obligatory parking attendant shouting directions which in some cases falls on deaf ears to his dismay. Observers are taxied to their respective section in time to work out the four routes that they will be keeping a close eye on. 10:50 AM riders brief and
they're all sent on their way. All officials on most days then have to carry out their second role, to 'man' a section as an observer and to witness the pleasure on the smiling faces with the occasional grimace or two.

After the event. All flags are collected and observers transported back to the start area where farewells said to a happy looking group of folk, which enhances the satisfaction that it gives us of running the event. With the trailer loaded and hitched up we head homeward bound not forgetting to retrieve the orange arrows on the way. Once home the equipment is stashed and then it's time to compile the results and reflect on a successful day.
Karl Kavanargh – Twinshock / Intermediate & Logan Price – Modern Mono / Clubman
We turned up at this familiar venue and was pleasantly surprised to find we were going to ride some new sections. Logan hasn't ridden for a while being busy with motocross and grass track. I myself have been a bit of a winter hobby rider.
After the riders briefing, we made our way together to section 1, green route took us down a bank, along an off camber and a fairly tight and tricky turn at the end. I managed to clear it as I did all-day but Logan had a 5 straight away loosing grip on the tight turn.
We then carried onto section 2 which, I think, was Gordons section. A steep climb and turn out on an off camber, didn't give me any problems during the day but took a couple of marks off Logan.
Over to, I think section 3, which was observed by Dave. Under the close scrutiny of Ian Emery and followers I managed to negotiate the dusty turn off the bank although later in the day I lost traction for a 5. Logan didn't seem to have any problems on this section only dropping a 3.
Section 4, if I have this right was observed by a lady and took 5 points from Logan but didn't seem to give me any trouble. Section 5 was a pleasant ride across the field to the very bottom of the site usually very wet and slippery. A drop into a small gully with a tricky climb out, I managed to 5 this twice, once fumbling the exit and falling in the ditch. Second 5, Logan told me " that I had missed the start marker", steady ride for Logan dropping 6.
Short ride up the field to section 6 which was observed by one of my old yellow route competitors Steve Blackburn, this was quite a tricky zig zag along the stream bed which I had a steady ride on and Logan dropping 6 marks.
A dry ride for a change up to section 7 with Mark Samuel observing. Logan had a great ride on this not dropping any points, where as I hesitated and lost a few points. Back down onto the lane to meet our local hero John Sowden at the bridge over the stream section 8.
This was a zig zag up and down the banks with a tricky for me 90 degree climb out. Only managed to take a couple of points of me where-as Logan cleaned it. After getting our pictured taken with John we arrived at section 9 with Russ observing a loose rocky ride up the stream with another dreaded 90 degree turn out. I manage to only drop 4 points here which I was happy with, Logan commented he enjoys these types of sections and had a steady ride with 6 points.
Last section, 10. Tricky climb with a turn at the top of the bank I fumbled it once and watched Jed take a good tumble on it, Logan dropped a few points on this section but no 5's. Shortly after this we got split up and Logan managed the last 3 laps all by himself with me checking in with observers asking has number 6 come through with Gordon commenting he just been through here like a bat out of hell.
Great trial big confidence booster for Logan with many of his regular friends riding championship events further afield, we are happy just to get out as much as possible.
Thank you to all observers and Aqueduct team for giving us a great day out.
Steve Harding – Modern Mono / Clubman
I got there early to help out with setting up and parking, nice bacon butty and a decent brew from Chris DeBurger to start the day. It was great to see you all and say good morning on arrival and point everyone down to Geoff to get you all parked up,
Start time 11 o'clock with a briefing from the main men ,some good father son banter. So we get underway, my usual crew, Tony Williams and Alan Hotchkis with Alan Dyson made our way down to the bottom field to start at section 5,
Section 5: You start off from the bank of the stream and drop down a bit into the water and straight up the opposite bank over some exposed roots out on to the opposite side, then tight 180 left and drop back down between two trees in to the stream and a tight right on to the slippery rocks. Then follow the stream up over the very slippery loose rocks and then a left back up the bank and out of the section. Sounds easy but can catch you out.
Section 7: After coming off the main track up the very off camber bank up to the start you enter into the section and straight away you are on some very dry almost sand like soil. Just follow the ruts and turn right up over some roots and carry on up the slippy trail and then reach a bit of a ridge before turning a tight left between two trees then drop back down the very off camber bank. Then out of the section, I thought that getting in and out of the section was harder than the section itself, haha.
Section 9: One of the toughest of the day I thought, You start off from the opposite side of the stream from the observer (Russ) where you drop down a bit into the section. Straight away into the water where you turn left then straight away up the stream, over some good sized rocks which had moved on every lap. Then up a bit of a step before turning a tight right round the large tree and the up the slippery bank and out of the section,
I dropped quite a few preventable dabs on the day but that's how it go's some times, overall I really enjoyed the day. Sections were spot on as usual. Big thanks to all the aqueduct team for putting on such a great event again and all the observer's for giving up there Sunday. Well done everyone.
Before we move into the usual stats, we have to close by once again say a huge thankyou to the club team for all of the effort they put in over the preceding months to make this happen, the observers for still taking the time to support and the land owner as always.
We now move into the Summer Break so have a rest and see you all back in September.
Top Places
Pre 65
Expert – No riders
Intermediate – Norman Tarbuck, Dratyon Bantam (2); Jim Droughton, Triumph (8); Carl Winstanley, James (12
Clubman – Steve Jones, BSA (8); Paul Brimelow, Cotton (21); Stephen Leyshon, James (27)
Novice – Terry Lloyd, BSA (7); Kevin O'Toole, BSA (51)
Twinshock
Expert – Tom Austin, Honda (54)
Intermediate – Dave Pengilley, Kawasaki (8); Paul Whittaker, Fantic (9); Robin Foulkes, Armstrong (13)
Clubman – Phil Cottiga, Honda (7); Kenton Hackney, Honda (8); Oliver Barker, Bultaco (11)
Novice – No riders
Air Cooled Mono
Expert – No riders
Intermediate – Ian Tracey, Ossa (2); Keith Burgess, Yamaha (6); Michael Warburton, Honda (14)
Clubman – Rob Adams, Fantic (14); Stephen Hall, Gas Gas (29); Paul Corfield, Yamaha (47)
Novice – No riders
Modern Mono
Expert – No riders
Intermediate – Mark Blackwell, Beta (5); Mike Smith, Montesa (13); Stuart Parr, Beta (15); Craig Tarbuck, Beta (15)
Clubman – Ken Williams, Beta (7); Gareth Evans, Vertigo (9);
Novice – Andrew Bloor, Montesa (30)
Observer List
1 – Elwyn
2 – Wendy
3 – Gordon
4 – Dave
5 – Jeff
6 – Steve
7 – Mark
8 – John
9 – Russ
10 – Brian
Stats
Bikes Classes
Pre 65 – 22
Twinshock – 17
Air Cooled Mono – 15
Modern Mono – 21
Route Classes
Expert – 1
Intermediate – 40
Clubman – 31
Novice – 3
Bikes
Pre 65
AJS – 1
Arial – 1
Bitza – 1
BSA – 7
Cotton – 1
Drayton Bantam – 2
James – 2
Triumph – 7
Twinshock
Armstrong – 1
Bultaco – 3
Fantic – 4
Honda – 8
Kawasaki – 1
Air Cooled Mono
Fantic – 2
Gas Gas – 4
Honda – 1
Ossa – 1
Scorpa – 2
Yamaha – 5
Modern Mono
Beta – 9
Gas Gas – 3
Montesa – 4
Scorpa – 1
Sherco – 1
Vertigo – 1