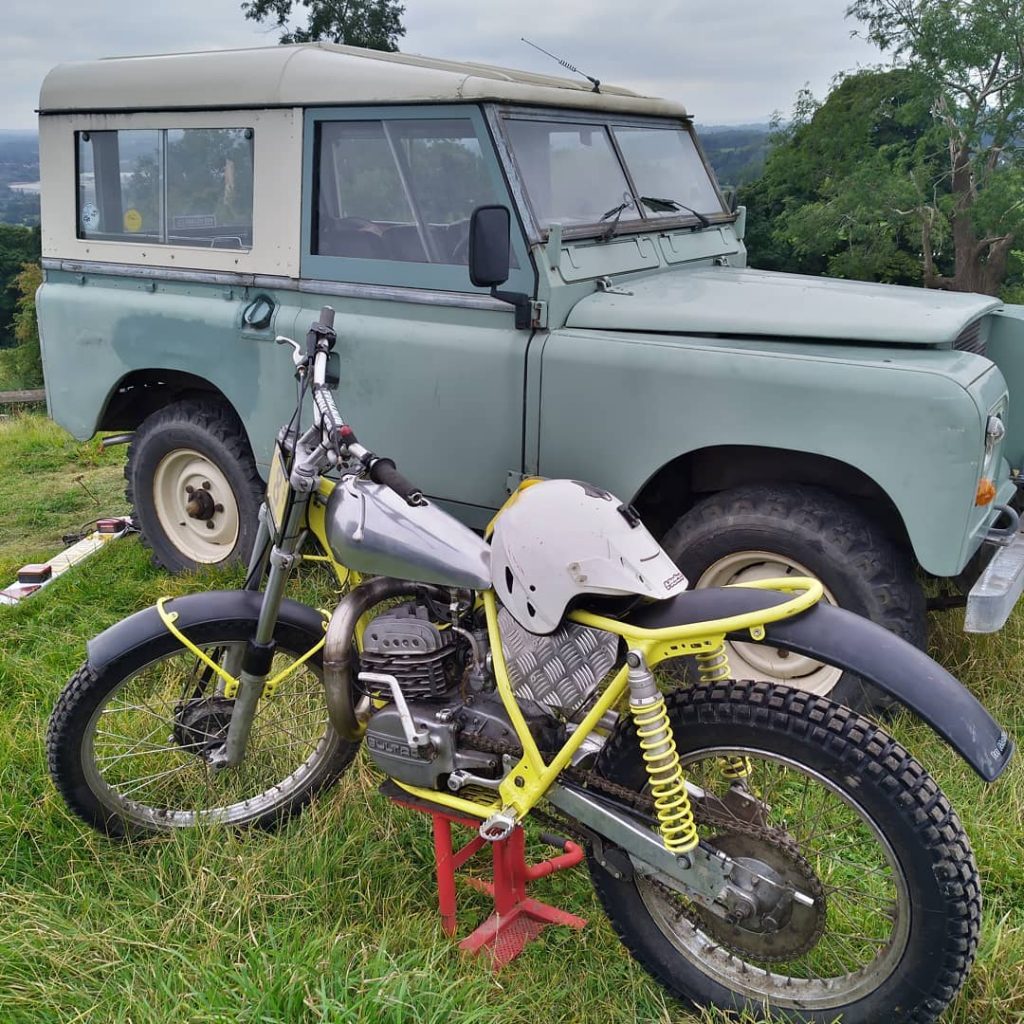 After developing the post Covid way of doing club events at Pen Y Graig, it was time to expand the venues and take a visit to Plas Onn which we last visited in December 2019! It was good now that the restrictions are being lifted to see 70 riders participate and also the club continuing to be supported by a great set of observers who turn up in all weathers to allow us to enjoy a days sport.
The entries were split evenly across 3 classes with AC Mono having a slightly lower intake compared to the rest. Intermediate saw the biggest class turnout with 30 rides and an additional 20 in clubman with the balance split across Experts and Novice to a good level.
Mike Griffiths – Observer / Section 7
Grand day out at the Plas Onn trial…
We had the usual rider complaints. Bit stiff first lap followed by 'I'm cream crackered' on the last lap. Had the usual ones that were either trying to be another Percy Thrower or should join the dry stone wall building course at Buxton. Mind you some of them looked more like Charlie Dimmock when they tried a crafty rock kick when they thought I was otherwise engaged….
Yes a bit of banter on my section as normal but all in good fun. My section was one of the easier ones but still claimed a mark of two. Some lads were looking for more than the section needed and was well designed and set out. An ideal adversary for trials riding for the newcomers and the wrinklies.
Some of you don't forget to say thanks to the observers for their time as they are out on the section all day with no relief and some of you lads amble round, stop for brew and butty while we are out in the wet and cold waiting for you lot and bags of 5's waiting for the unsuspecting.
It was nice that some of the lads rode round and thanked us. Thanks lads. Oh yes I nearly forgot there was a dodgy butty van there and he's riding at the next trial…. I'll be waiting ??????????????
Rob Sloggett- Twinshock / Clubman
Yes! at last! back on the bike for a competition! Pen Y Graig 20th Sept 2020 was my last time out so it was almost a year since the Bultaco had been dusted off. I was living at Nant Ucha Farm then so the journey to the competitions was a short drive, now living in Blaenau Ffestiniog, its a 90 minute drive in Stanley (my little Series 3 Landrover where you dare not go over 40 MPH in fear of the drum brakes needing at least 5 minutes notice you you want to stop)!
I decided to grab the Majesty and give that a run out and as I had not rode in 12 months and felt it best just to have a fun day on the clubman route and dust off my technique. To say it was a blast is an under statement. I love riding down a class as I find it a different tye of pressure. You know you should not lose any marks so every dab really gets analysed plus because everything happens that little bit slower you have more time to think. This time I was really conscious of the times where on the Inters I would have taken a dap, you know that little unsettled back wheel or tip in into a turn where a steadying foot down is an automatic reflex. This time a found myself really conscious about my feet on the pegs and on those borderline dabs really fought the urge to put the foot down. Dont get me wrong, I still dropped 8 marks but I know where each one cost me and what I dod wrong so actually i was happy with that…..
I also got the opportunity to walk the sections with Moz's lad Tommy and it was great fun just discussing the sections, talking about lines and chatting to him after the sections on the first lap about how he got on.
Even on the first lap you could see his technique getting refined and him being more confident on the bike. Keep it up Tommy….
So a couple of sections spring to mind for me. Section 5 was my favourite and one I always enjoy at Plas Onn. In the top corner of the furthest field, it is your typical meander up through the trees, picking your way up a range of little rock steps with challenging turns between each challenge. A great opportunity to really refine the accuracy of your line and perfecting the front wheel around the bank to drive out the best route. A single dab (cant remember which lap or where) but it could have been a few more so a happy total for me.
Section 1 was my silly section and took way to many marks from me. A total of 3 does not seem a lot but against my total of 8 and a 2 on one lap it was a silly tally. I know where and why and it was a lapse of concentration on lap 3 as the turn caught me out with the softer eroding surface. The rest of the section was a nice set of camber turns to get the bike moving between the legs and get that technique flowing again.
Finally Section 2 whist dropping no marks was my favourite challenge. The exit was a really nice cambered bank with a right hand turn which I felt confident on, This is a big difference to Section 3 which had a left hand cambered turn which I always felt unsettled on!
I think a trip out on the Bultaco next month the try the fixed exhaust out (yep its still loud but I've checked the Db output and its legal!) and the baffles and end pipe have been sorted….
Thanks to everyone for a great day and it was great chatting to loads of people in the queues.
Mark Gaskell – Pre 65 / Intermediate
Plas Onn, or "Barry's Farm", has been the venue for some of my best rides on a trials bike. Sunday was not one of my best rides on a trials bike!
It was a great day though, and I enjoyed myself immensely! Some sections I let mess with my head too much, and so failed them spectacularly!
Section 2, Paul's daughter. High above the farm, with glorious views, lay the fabled section 2. Not one, but two steep downhill right turns, on grass, followed by a tight uphill right to the ends. It's not often that I need to supplement the Triumph's engine braking with the drums, but I was very glad I had recently serviced them. If things got out of hand she could become a very expensive toboggan! The buttock clenching downhill turns went without a hitch. Instead I missed a flag on one lap, messed up the exit on another, and saved face with a single and finally a clean.
Section 3, Dave's. I have a very small practice area at my disposal. A gentle grassy bank, with trees to slalom round. Just like section 3. On lap one however, my front wheel deflected off the root between two trees and bike and I parted company. Next lap I paddled over the root for a cowardly 3. On my third attempt I cleaned it easily, and so to celebrate on lap four I missed the turn after the root for a 5. Wonderful.
Section 5, Bill's. Bill Beveridge, the observer for this section, knows my engine intimately, having rebuilt it for me after it "let go" in the Manx 2 day. He now knows that it's rider gets target fixation on a rooty step, and couldn't ride past it to save his life. Walking the section, he warned me not to step in a boggy bit, as I might get stuck. Instead, I threw the Triumph in it.Two 5's, and two generous 3's.
Section 6, Ian's. There was no reason why I couldn't clean this section, as I did on lap 4. Tight downhill right turn, to three gentle rock steps, which for the first three attempts I made an utter Horlicks of. Three 5's and a clean.
Brilliant trial, thank you to the Aqueduct team as ever for all the hard work!
Paul Owen – Pre 65 / Intermediate
It was great to be back at Plas Onn and seeing so many friendly faces. My son Thomas and me turned up with both the bantams . Thomas was on the yellow clubman route and I was on the green intermediate route. We were put into groups and they were mainly green route rider apart from my lad Thomas and Rob Sloggett. So I asked Rob if Thomas could shadow him as they were both on the yellow . Here are 3 of my favorite sections.
Section 2 was catching lots of riders out. You entered the start gate and dropped down between 2 trees and only just get the handle bars through them then you carried on down on the slippy damp grass from a rain shower. You had to turn sharp right on the off camber and feed the power on very slowly but enough to get you up over some roots and back onto the path. Then you repeated the same on another off camber but this had a tighter right turning less of a run up back up to the path. On lap one I picked up a 5 as I got up the 2nd incline and we turned right. Another rider was stood top of the bank just in-front of the left flag and as I looked up I seen 2 greens. But then I realised I'd missed my turn and gone between the wrong flags. I managed to pull it around to exit the section but then I heard the cheers, laughter and banta off all the lads waiting in the group to rip me. Haha
Section 4 looked easy as you rode up the bank on the right. Across the banking to the left and dropped down into a right handed off camber turn and then attack a uphill 2 foot high rooted step and just as you got up that you were having to get over a big rock and straight into a sharp left hand turn to the exit gate.
Section 10 you dropped into the rocky stream for a few metres and turned sharp right onto the bank then sharp left back across the stream and up a short slippy rooted bank. At the top you turned right down a big step into the stream and over some rocks to a very tight right turn up the bank and to the exit gate.
Big thanks to all involved from organisers, observers and fellow competitors. Myself and Thomas both had a great day. Can't wait for the next one
Steve Harding – Modern Mono / Beginners
First of all a big thanks to all the Aqueduct team for putting on another great day and all the observer's for giving up there Saturday so we could have a trial, thanks to Chris De-Burger for keeping us fed and watered and Russ & Mark for marking out the sections on a Saturday, big thanks to the land owner for letting the club use the venue.

On arrival we were directed to parking by Sue and Geoff, plenty of space for everyone, after signing on, a final check over the bike and a bacon buttie and a quick brew and a look at the far reaching view down the valley to see how far the sections were spread. At 11o'clock every one was in the main yard to observe a 1 minute silence for David Carter which was observed with respect by all, then we were put into our groups and given our starting sections, so here is a few of my favourites.
Section 3, David on watch. You start off coming down a bit of a grass bank into the start then up a slightly off camber bank into some fairly thick woods then a really tight left round a tree, again a slippery off camber bank. I think I dabbed it every time then up a steep climb through the trees and then a tight right past another tree and along a ridge and close to the fence and out of the section.

Section 9, Geoff and Jan on watch. A great section for me this one. As you enter you drop down a slippery bank and into the rocky stream and then out of the other side to climb a bit and over a couple of rocks then right along the top of the bank before a right back down to the stream through some long grass into some fairly slippery mud the left back up the banks with a few rocks to dodge and up and out of the section.

Section 10, Sue and Russ on watch. Another one of my favourites. After leaving 9 you had to cross the stream and back up a slippery bank and left to the start of the section. On entry you crossed the stream and back up the bank and a bit of tight right and place the front wheel on a large grassy lump as you turn tight right again and drop back down into the stream and straight back up and out the left along the top of the bank before dropping back into the rocky stream and follow it up and a tight right up over some slippery roots and right out of the section.

Overall I had a great day although my score doesn't say that lol, I was absolutely knackered at the end but it wouldn't be such fun if it was mad easy. Great venue as the club all ways manages to do and a big thanks to the guys I rode with,had some banter and some good tips along the way. Well done aqueduct you guys smashed it again, cheers.
Before we move into the usual stats, we have to close by once again saying a huge thank you to the club team for all of the effort they put in over the preceding months to make this happen, the observers for still taking the time to support and the land owner as always.
Top Places
Pre 65
Expert – No riders
Intermediate – Les Richardson, Drayton (29); Kev Williams, Triumph (35); Mark Lucas, James (45)
Clubman – Philip Clarkson, Triumph (2); Paul Brimlow, Cotton (5); Steve Walker, Francis Barnett (6)
Novice – Alan Hochkiss, Villiers (35)
Twinshock
Expert – Tony Gush, Majesty (7); Jim Williams, Honda (12); Julian Price, Fantic (40)
Intermediate – Tony Dillon, Fantic (18); Dave Pengilley, Kawasaki (23); Alex Barrie, Honda (80)
Clubman – Rob Sloggett, Majesty (8); Trevor Bennett, Beta (19); Dave Lycett, Honda (21)
Novice – Steven Williams, Bultaco (64)
Air Cooled Mono
Expert – Paul Edwards, Beta (42); Robin Foulkes, Honda (49)
Intermediate – Ian Emery, Gas Gas (28); David Matthews, Yamaha (31); Paul Cartwright, Gas Gas (36)
Clubman – No riders
Novice – No finishers
Modern Mono
Expert – Paddy Edwards, Vertigo (10); Mark Blackwell, Beta (29); Mark Linge, Gas Gas (39)
Intermediate – Martin Evans, Gas Gas (41); Colin Steele, Vertigo (44); Michael Warburton, Vertigo (47)
Clubman – Ken Williams, Beta (8); Ryan Rogers, Gas Gas (16); Oliver Roberts, Beta (18)
Novice – Glyn Roberts, Montesa (32); Tony Williams, Scorpa (73); Steve Harding, Gas Gas (77)
Observer List
1 – Elwyn
2 – Izzy
3 – Dave
4 – Paul
5 – Bill Beveridge
6 – Ian Jones
7 – Mike Griffiths
8 – Gordan
9 – Geoff
10 – Russ
Stats
Bikes Classes
Pre 65 – 20
Twinshock – 18
Air Cooled Mono – 12
Modern Mono – 20
Route Classes
Expert – 13
Intermediate – 30
Clubman – 20
Novice – 7
Bikes
Pre 65
BSA – 7
Cotton – 1
Drayton – 2
Francis Barnett – 1
James – 1
Triumph – 5
Villiers – 1
Twinshock
Beta – 1
Bultaco – 3
Fantic – 5
Honda – 5
Kawasaki – 1
Majesty – 2
Montesa – 1
Air Cooled Mono
Aprilia – 1
Beta – 2
Fantic – 1
Gas Gas – 3
Honda – 1
Yamaha – 4
Modern Mono
Beta – 5
Gas Gas – 6
Montesa – 2
Scorpa – 1
TRS – 3
Vertigo – 3