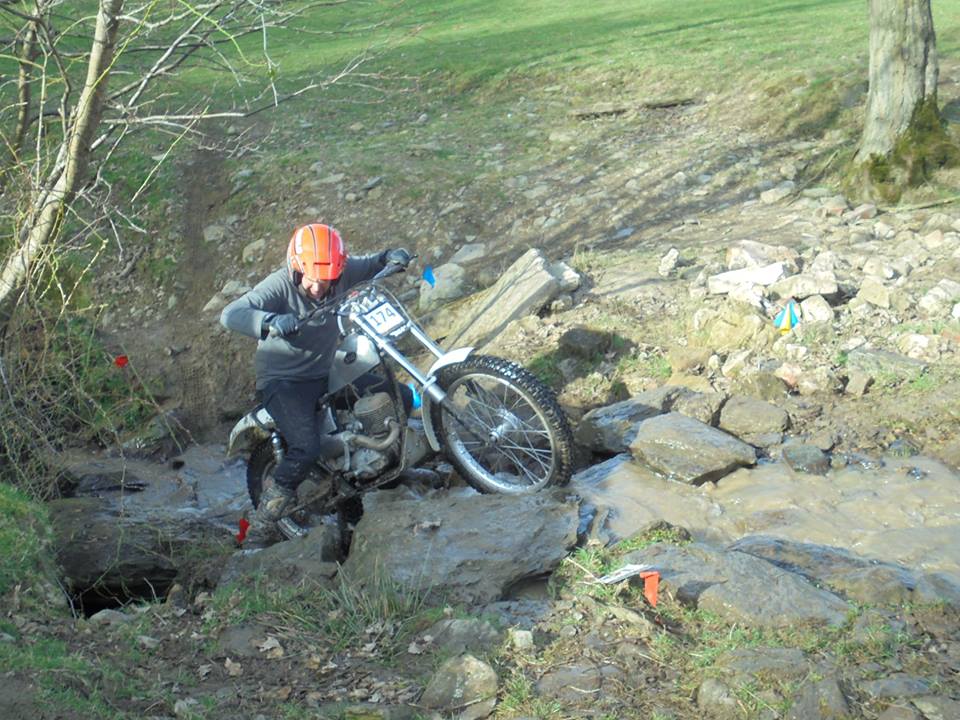 Event Report by Rob Sloggett, Paul Norman, Eirian Davies, Ian Emery, Trevor Bennett and Steve Blaxall
With the weather report good and the pre-entered list running at 170, there was a good vibe at the opening round of the 2019 Kia Championship. Aqueduct Classics now veterans at hosting a round (this being their 4th time), had the honour once again of hosting the opening round and chose to return to Plas Onn, the venue for the 2018 opener. Those riders who contested the round last year knew that they were in for a varied set of sections mainly comprising of banked sections with good root / rock combinations or some great stream sections with cascading waterfalls and a great deal of hidden rocks.
As this had been months in the planning, a strong backbone of observers had been secured with the longer sections having two in place and the team had been studious in creating some great new sections to tempt riders and keep the interest keen.
If you are reading this article, do not forget to explore the additional tabs across the top. The Bike Stats one gives a great breakdown of the differences in the classes and bikes compared to last year. It does make interesting reading.
We kindly have 3 articles from riders and two from observers and I will warn readers now that in most cases they are the "raw" text direct from the named author. A few choice words have been edited out for our younger readers but in most cases its how I received it….
It all starts with a report from Paul Norman who decided to set himself a challenge and contest this years rounds on an RTX. This little known trials bike is little known for a reason, but I will leave him to report why!
Paul Norman – RTX. Twinshock Clubman
So the weekend started off well with the "Crazy Gang" all meeting up in the Griifin Inn, Oswestry to be humbled at the Rugby. (Ed note – for those reading at a later date, England had just been beaten by Wales in the 2019 six nations). Works riders in abundance, Butch Robson, Ossy Beers, Fuji Gilbert, Ludvig Granby, Darren Walker & Kev Ellis (our Local Guide). The drinking all went as planned and we were all pleased to get to Chris De Burgers Butty van for Butties and Coffee. Then the serious stuff starts!
Ludvig the Master Spanner goes to fettle the carb on the Works RTX which wont rev out, gets it better so we decide to try it. We go to the briefing, let everyone ride off and get a coffee. Like true works riders.
We blundered on Section 13 so we started there. A Soft Five and Scrappy three being my best effort
Section 14: More Like it, Nice beck & a couple of cleans
Section 15: A steady clean on the first lap but a slack 2 bouncing off the roots on the second lap
Section 16: Clean on the first lap with a soft dab whilst bouncing all over the place on the second
Section 17: Nice pair of cleans
Section 18: A good section with a tricky run up a root by a tree. No speed, no grip and a dab each lap was a good result, oh and a big thanks to my spotter Liz Kenyon for giving me the line !!!
Section 19: A couple of cleans which I was happy with
Section 20: Me old Mate JD and Gillian Lawson were there with the Camera's Out, no pressure. The first lap the RTX was choking up and I struggled out for a 2 nearly running Dicko Over, 2nd lap, 2nd gear and it flew out. Quick pit stop on both laps at the van to guzzle some fluids down and change some Carb Jets
Section 1: Nice beck section and a couple of cleans
Section 2: Same again
Section 3: Same again up and over the field to section 4. Pair of cleans again, its all going too well
Section 5: Observed by my good friend Roger Kenyon, AKA the Voodoo Man. 1st lap all going well, till I went right over the bars 2nd last turn from the end & same again on lap 2
Section 6: Good section but couldn't get grip or power / speed at the exit and had a couple of slack 2's
Section 7: Proper section but not on an RTX …..Short of power / grip & speed. A 3 on lap 1 and a couple on the 2nd
Section 8: I bump into the legendary works Honda Moped rider FUJI GILBERT who levels the section and puts the pressure on. I end up with a 2 & a dab
Section 9: A Couple of cleans
Section 10: It all goes pear shaped under the eyes of the two legends, Granty & Lusky ( And Ludvig ). Lap 1, up round the tree in first, change in to 2nd, down the bank open the throttle and go backwards as your in neutral. Numpty moment. 2nd lap, rev the nuts off it in first, did the job…
Section 11: The highlight of my day. Two crap 5's. But I could have sat and watched the observer all day, must have been a dozen riders ringing the Samaritans just after they thought they'd got out the section only to find they'd had a five & I'm not moaning, he was consistent so fine by me, and there was a few on their bums too
So to Section 12 and me old mate Trevor with the legend Andy Gardner watching. No pressure then. Throttle wide open, no style & a couple of cleans
All in all a great days fun ………I could hardly move on Monday ….I was battered and bruised but that's sport ….
A massive thanks to all the organising crew as to cope with 170 riders is no mean feat. I never saw some riders all day. Thanks to Ludvig for keeping me and my bike going, I couldn't do it with out you. Thanks To Fuji Gilbert for embarrassing me and everyone else on the moped. Thanks to Eirian Davies for making me look good & sober (Ed note – see next report!) Nice to see Lusky back and well done to all of the class winners especially Dean Deveraux. Finally thanks to Gerry & Freddy for the tireless work they do …it is really appreciated
But mostly thanks to the Guy that designed the RTX …..He knew bugger all about trials riding !!!!
Brilliant trial today- well out of my depth, but had a great time Haven't felt so knackered at the end of a trial for a long time. Apologies to the observers I forgot to thank (not used to 2 lap format). Thanks to all involved – Ken Williams
Eirian Davies – Fantic 200. Twinshock Clubman
Trial was brilliant, just don't go to rugby match day before and drink any booze! fell off all the time, lucky I had taxi. Very plonkish rider, but ok here goes….
Got blitzed on Saturday, in Cardiff, fell out of bed at 5am Sunday, phone noises, wife with foot pushing me out bed, luckily taxi picking me up 05:30. Drive up from Llanelli, interesting, 3 stops because I felt like a milk shake.
Signed on with 2 blondes to die for, Jan gives me money for something which I quickly lose. My mates ?? taking great urine out of my state. Kia staff look at me like I'm wierd.
Start at Sec 19, clean, 20 clean, too easy? then 3 x 5s on the trot, want to go home.
Being a hard little so and so, I keep going. It was a mixed ride. Roger Kenyon, good friend, not impressed when I say ogi ogi ogi to him, gives me a 3 when definately a clean then hit the section with the observer who shouts (think its 11). Go for it and hit deck on my backside, big bruise and the rest of lap don't remember!
Second lap seems to get into normal mode and get some cleans in but the damage was done. Ultimately a cricket score, laugh a lot so it does not matter!
Good club, dedicated organisers who are also real humans. I will try to come and ride more of their events, but no booze! I lent my spare bike to a pal who only been riding a year and beats me, he has not stopped talking all week. Life's good….
Thanks for a great trial yesterday,nice to have a day out riding with friends,Anthony Charles and Paul Cook. We all suffered handicaps with Pauls bike misfirenig like a pig, Anthonys shocks taking half an hour to decompress and me riding with one eye,which between us provided some great entertainment – Adrian Kent
Ian Emery – Yamaha TY Mono. AC Mono Clubman
A brief outline of 4 sections over the far hill.
Section 5: With Roger Kenyon's beady eyes watching me, I approached the steep downhill entrance to the section and readied myself for a squirt of throttle to climb the first muddy slot up to the right. This was followed by a 180 left to then drop down another muddy slot where a 90 right was found. With little run up, the next challenge was a slippy clay bank with polished roots and a camber which sent you left and into a tree if you weren't careful. I saw a few struggle for grip spinning out for a 5 which had me pondering using 2nd. Decided on 1st and got more grip than I expected, flying past the tree on one wheel and needing a dab to bring it down for the rooty 2 foot step that followed just before the end cards. Cleaned it second lap letting the Yam cruise past the tree on a falling throttle.
Section 6: Steve Walker looking after this one. Started along the fence on a slippy clay bank, into a slot before traversing a jumble of rocks to a 90 right to then cross a slippy rock slab with awkwardly placed rocks catching the front as you dropped off it, a 180 left, across the bank, to a 180 right with a few metres to get settled for the final climb out. This climb was steep and the upper half was criss-crossed with a lattice of polished exposed tree roots. A choice to tip-toe left and pick a path up or a fast ascent straight over the roots. I saw a few failures, either too slow to the left losing momentum, or too much power on trying to cross the roots, losing the rear and falling sideways. I gave the Yam a handful prior to the roots and it gripped perfectly meaning I had enough momentum to shut off over the slippy bits and fly up to the ends. Two cleans for me, very happy.
Secton 7: Steve and Graham sharing the observing here. A cross camber entrance into a shallow, wet, slippy stream, with an immediate tight right scrubbing any speed, before a long, twisty climb over loose rocks, where momentum was needed but difficult to gain. Decided on 2nd, approached the first turn, a gentle amount of throttle ( so I thought) only to find the rear trying to overtake the front and steering me to the right and totally off-line and all speed gone. Managed to struggle out for a 3 but was more careful second lap and managed a clean.
Section 8: Tim and Ange in charge here. Started with a tight left over loose, slippy rocks followed by a tight right, to a steep slippy clay bank with little run up. Once over this you dropped into a muddy berm, swooping left, with a nasty hidden root part way round. After this turn was a wheelie/bunny hop over a fallen tree quickly followed by a right turn, up hill and over a narrow step between two trees, the left one showing the scars of grabbing a footrest or two and I saw several people getting stuck here. I managed a 2 and a 1, could have been better but could have been a lot worse. All in all, I really enjoyed my day and was very pleased with my score. I only had one 5, running over a marker on S13, a couple of 3s but lots of 1s.
Thanks to Russ and co. for the day and to the large number of observers who gave their time.
Great trial at Plas Onn I was a bit out of my comfort zone from the usual yellow route I ride .But felt really chuffed to have a few cleans on sections that Felt were too hard for me Finally achieved my goal of a 100 break shame its at trials and not snooker – Rob Goodwin
Trevor Bennett – Section 12
Firstly could I just say they were lucky on Sat and it's only 'poshboys' kickclapclapclapclap rugby not proper council estate rugby like we have up north. The trial from Section 12 ( I was down for section 2 but Russ took pity on me and sat me in the sun all day) tucked into a quarry at the back of a barn. Nothing sets me off more on a Sunday than the sound of hidden bikes starting up after the trial talk and start appearing on there way out to sections. Lots of handshakes and well wishes as riders came past at the bottom of the lane and off they went. An hours wait as some started at sec 13 but when my first victims arrived it was a steady flow for the next 5 hours. I was in good company all day with lots of faces coming in for a chat. Lot's of banter to and fro and plenty of just general insults, love it. The section was good and long (how I like them) and I had a good vantage point of it all. It never ceases to amaze me the different ways we approach riding a section and I wasn't let down this time. From the perfectly poised to the slap dash, the looks like he knows what he's doing to the hasn't got a clue and never will have ( I fit in here) to the excuse mongers (Eirian I'm still pissed) and the right let's have it brigade. It all makes for a brilliant day. A good spread of points and quite a few from riders who I wasn't expecting to dab. Riders falling off where no one else did, Colin made me smile and riders showing off and it going tits up. Lunch provided and brews from our Dawn and Trevs a happy lad. All in all a wonderful day in beautiful surroundings and wonderful people, thankyou. Right I just need to sort the turbo on my van and we will be ready for the next one. Many thanks to all who helped me out, Richard and Shani. Jan Geoff Jones. Russell Jones, Russell and Suzanne Bowkett thanks mates.
I agree with all my fellow observers, you guys n gals put in loads of effort through the year so its good to give a little back.See you for the March Accy round – Steve Walker
Steve Blaxall – Section 7
This was my first time at officially observing, but I offered my services when the call was made for observers by Russ at Aqueducts first trial of the year. Russ had asked would i bring a bike.( He's all ready got a plan in mind)I arrived feeling a little nervous at the responsibility of the task in hand. I reported to Russ at sign in. He told me i was paired with Graham Pennington on the section 7 . Having Practiced with Graham and not being on my own i felt a lot more relaxed.
Section 7 indeed required two observers.We hatched a plan after seeing one observer could not see all the section. I would be at the bottom of the climb on the bend (in all the sunshine!) and Graham would be towards the top of the section. I would signal the riders in and score to the corner, Graham would then take over.The system worked and we had an enjoyable day.
Both routes had a short downhill start that was a little tricky over some roots which caught the odd dab for the clubman. Then a blind right hand turn into a loose rocky uphill stream. The red route had the same start but made the turn early over the roots /base of an up turned tree. The clubman route went beyond and around this.
Both were now faced with the task of getting up the stream with its loose minimal grip surface. Speed was what seemed to be required to overcome the lack of grip. It was interesting seeing how obvious lines appeared then disappeared as when the red route boys turned up they cut up the clubman path.
Most Memorable ride for me has to go to Ben Butterworth. Very early on, when no obvious line had been formed,he just went up there like a march hare. Plenty of speed and forward motion, rebounding and digging back in. Brought a smile, a joy to watch.
Ive got to say, whilst I was unable to get to this years event due to work, this reads as not juat one of the best club reports but also I think our best Kia round one (and thats not taking anything away from the reports we have had before! I think the report really brings out the spirit of the Kia Championship but also illustrates a little bit of the personality of Aqueduct Classics as a club.
As well as the usual thanks to all of the observers, organisers, back room staff, support team, land owner etc etc (and I leave you with Russ's soundbite below from facebook to close that out), I would like to wish all of the riders in the subsequent rounds, the best of luck, keep safe and above all enjoy yourselves, after all it just a bit of fun on a Sunday isnt it?
Rob Sloggett (Report Editor)
Hi folks sorry this abit late from yesterday's event but would like to thank … Graham Pennington, Steve Bee, Steve Walker, Anglea, Angela Godsmark, Tim Godsmark, Gordon, Harry, Dave Murphy, Roger Kenyon, Trevor Bennett, Izzy Cartwright, Tony Cartwright, Paul Hempkins, Roger Smith, Keith Jones, Peter Thomas, Celyn, Mark Newman, Alan Dyson and Colin Davies with out you we couldn't of run the event as smoothly as it did. A long day but we really do appreciate your help THANKYOU….. aqueduct team x
Top Places:
Twinshock Expert: Chris Koch, Fantic (12); Richard Allen, Gori (33); Matt Spink, Fantic (37)
Historic Spanish + Pre78 T/S Expert: Dean Devereux, Bultaco (8); Dave Wood, Bultaco (45); Stephen Bisby, Ossa (54
Monoshock Expert: Steve Bird, Yamaha (9); Ben Butterworth, Fantic (10); Dan Sanders, Yamaha (18)
British Bike Expert: Ian Peberdy, BSA (19); Nick Paxton, BSA (23); Yrjo Vesterinen, BSA (23)
Clubman Class
Twinshock Clubman: Martin Gilbert, Honda (13); Jim Williams, SWM (14); Dave Pengilley, Kawasaki (17)
Historic Spanish + Pre78 T/S Clubman: Martin Beech, Ossa (14); Dave Wardell, Montesa (23); Butch Robson, Montesa (28)
Monoshock Clubman: Jerry Hawker, Honda (1); Andy Perry, Yamaha (26); Darren Morgan, Fantic (27)
British Bike Clubman – Robin Luscombe, Matchless (8); John Chatto, James (10); Peter Edwards, Drayton (15)
Observers:
Sec 1 – Izzy Cartwright
Sec 2 – Tony Cartwright
Sec 3 – Paul Hempkins
Sec 4 – Dave Murphy
Sec 5 – Roger Kenyon
Sec 6 – Steve Walker
Sec 7 – Graham Pennington and Steve Blaxall
Sec 8 – Ange and Tim Godsmark
Sec 9 – Keith Ellis
Sec 10 – Gordon
Sec 11 – Harry South
Sec 12 – Trevor Bennett
Sec 13 – Mike Griffiths
Sec 14 – Alec Roberts
Sec 15 – Roger Smith
Sec 16 – Terry Millichap and Patrick Forde
Sec 17 – Keith Jones
Sec 18 – Malcolm Hobson
Sec 19 – Pete Thomas
Sec 20 – Celyn Jones
Bike Stats:
British Bike – 58 (+5 on 2018)
Historic Spanish + Pre78 T/S – 15 (-5 on 20198)
Twinshock – 61 (+12 on 2018)
A/C Mono – 40 (+2 on 2018)
Total = 174 (+14 on 2018)
Classes
Expert – 49 (-4 on 2018)
Clubman – 125 (+18 on 2018)
Class Detail
Twinshock Expert – 15 (-5 on 2018)
Twinshock Clubman – 46 (+17 on 2018)
Historic Spanish + Pre78 T/S Expert – 4 (same as 2018)
Historic Spanish + Pre78 T/S Clubman – 11 (-5 on 2018)
Monoshock Expert – 9 (-5 on 2018)
Monoshock Clubman – 31 (+7 on 2018)
British Bike Expert – 21 (+6 on 2018)
British Bike Clubman – 37 (-1 on 2018)
Bikes
British Bikes:
Ariel – 3 (-1 on 2018)
BSA – 28 (+6 on 2018)
DOT – 3 (+1 on 2018)
Drayton – 3 (-1 on 2018)
Francis Barnett – 5 (+1 on 2018)
Greeves – 1 (same as 2018)
James – 4 (-1 on 2018)
Matchless – 1 (+1 on 2018)
Saracen – 1 (+1 on 2018)
Triumph – 8 (-3 on 2018)
Unknown – 1 (+1 on 2018)
Historic Spanish and Pre 78:
Bultaco – 6 (-3 on 2018)
Montesa – 3 (+2 of 2018)
Ossa – 5 (same as 2018)
Suzuki – 1 (-1 on 2018)
Twinshock:
Aprilia – 3 (+ 3 on 2018)
Armstrong – 1 (+1 on 2018)
Beta – 1 (+1 on 2018)
Bultaco – 2 (+2 0n 2018)
Fantic – 25 (+7 on 2018)
Gori – 1 (+1 on 2018)
Honda – 13 (+5 on 2018)
Kawasaki – 2 (same as 2018)
Majesty – 2 (-5 on 2018)
Montesa – 1 (same as 2018)
Ossa – 1 (+1 on 2018)
RTX – 1 (+1 on 2018)
SWM – 2 (-3 on 2018)
Whitehawk – 1 (+1 on 2018)
Yamaha Std TY – 5 (-2 on 2018)
Aircooled Mono:
Aprilla – 2 (+2 on 2018)
Armstrong – 1 (+1 on 2018)
Beta – 1 (-3 on 2018)
Fantic – 9 (same on 2018)
GasGas – 1 (-3 on 2018)
Honda – 10 (-1 on 2018)
Montesa – 1 (+1 on 2018)
Yamaha – 15 (+2 on 2018)