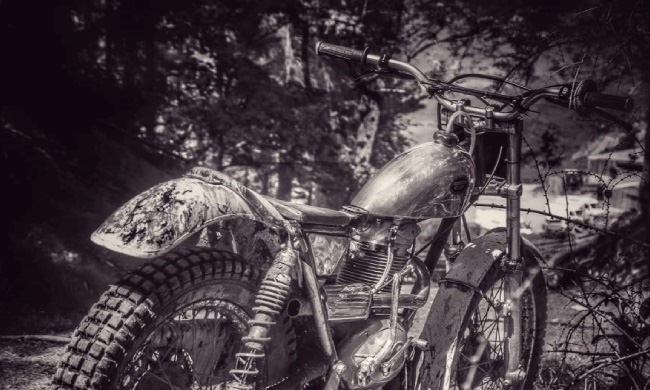 Championship Report by Rob Sloggett and Paul Owen
Well we come to the end of another competition year at Aqueduct Classics. Starting late in 2010, the club has now completed its seventh full year. Early events saw an average entry of 50 riders but we are now regularly in excess of 70 riders signing on each time. Other things have moved on as well with the "Intermediate" class becoming well supported and regularly becoming the most contested route. This is a great development within the club and gives riders of all capabilities the opportunity to have a competitive days sport in a peer group where a small number of marks can make a significant difference in the end position as well as providing that extra challenge in terms of terrain and development of riding techniques.
HTML clipboard
The re-coding of the website has allowed us to develop some new functionality with the shared event calendar and regular event reports with a break down of bikes, classes and a list of observers being well received. We now regularly get over 2400 page views per month which is an average of 80 page views per day, obviously skewed in the event weekend when you all clamber for the results! The site has been adapted to be mobile friendly with over 50% of the traffic being viewed on phones or tablets. We have added pages to support some of the local businesses associated to the club and also a growing section to start documenting your rebuilds etc. We are hoping to have some more growth on the website next year and many thanks for all of your feedback.
When you start to go through the stats a number of things drop out. BSA's appear to be the most common Pre 65 with Triumphs on the increase, Bultacos and Fantics regularly top the Twinshock class as the most entered bike and the Air Cooled Mono class is definitely on the increase with a wide range of bikes being introduced (definitely a class to get into as a second bike for the future if a full blown Pre 65 is out of your budget). Modern Monos has always been well supported and Aqueduct run a full Championship class for this type of machine. As well as being a fully inclusive club, it hopefully also offers an introduction and jumping over spot from people who normally ride modern bikes, maybe getting the classic bug! No surprise that Betas seem to be the most common machine in this popular class although we have seen some more "exotic" machines such as Ossa and Vertigo turning up.
So what of the highlights for 2017? Well one big event was the merging of the Kia round with the Foel to create a very unique event. Feedback from this has been brilliant with the venue being well received and comments around the sections stating that they were tough but enjoyable. A theme following throughout the year has been a great selection of photos being provided and the Kia round was a really great example of this. We have been lucky to still have access to a great range of venues with Plas Onn being used 4 times, Pen Y Graig 3 times, Nant Ucha and Plas Onn being used twice and also had a single visit to Carrog Isa and the Foel to finish the venue list off. Our riders have also ventured further afield with a good showing at the other Kia rounds, Northern Bike rounds, IOM Classic and Scottish Pre 65 to name but a few. Riders have also ventured into Europe with the Belgium Mons 65 having Paul Owen, Kev Ellis and Russ Jones compete for the honors and also a visit to the sunnier regions of the Costa Brava for a couple of riders. So what of this year's Championship?
Paul Owen – "The green team". Inspirational Pre 65 Rigid Intermediate class rider
The 2017 championship with Aqueduct Cclassic Ttrials Club has just finished and they have managed to do better this year than 2016 even though that was great. The club keeps going from strength to strength. It started off the year at Carrog Isa (1 of 6 venues used) and was great to see everyone again after the winter break. The bikes all polished up and new riding gear for the lads put everyone in a positive mood for the forthcoming events. I entered the pre65 "green" route class on my rigid BSA Bantam and to be fair it must be the most competitive class in the series with lots of good riders enjoying the challenge. I don't think I got off to a good start at round 1 of 10 and with the likes of Gary Shaw, Harry Lyons, Mark Newman and Vernon Roberts being just a few to mention, I knew it was going to be a tough year.
Mid season took the club to Mid Wales for the Kia British Twinshock Round and being well out-classed on paper, I saw that as a challenge but also fun to try harder sections. Myself and the bantam took a beating over the 2 days but I went home smiling as I beat alot of the regular Kia riders. It was then back to the local club rounds and a DNF due to a broken crank and piston . Then I had to miss a round due to an International road racing event I was booked to compete at. I was disappointed I missed the trials but I did managed a 2nd place at the 250cc ULSTER G.P. so it made up for it.
I had also entered the Manx Classic 2 day trials and rode with the lads I compete against. Our rivalry at the club events became friendship at the Manx event and resulted in helping each other out which was good. Sadly my primary chain snaped and holed the cases on day 1 of 2.
Back on home turf it was head down and back to business. Gary Shaw and Harry Lyons had missed a few events so that also dropped them down the championship table. Vernon Roberts was riding great and had not missed an event so he had won the Championship at the penultimate round but it made it very interesting for 2nd spot in the Championship. Harry Lyons, Gary Shaw, myself and another rider were all within 6 points of each other so who ever finished highest would get that 2nd place. Luckily for me the 3 riders did not show so all I had to do was finish the trials but on lap 2 my bantam started to play up. A week prior to this event I had managed to strip 2 teeth off 1st gear and a total engine strip down was needed and I think i didn't tighten the ignition flywheel enough as it had turned a bit on the crank (as there is no locating pin) and the bike would not rev and kept missing.
I thought 2nd place was lost but the slippy tight sections seemed to suit my bike at what I thought was the best trial of the year that the club had put on. Well done to Vernon Roberts on becoming the Pre 65 Green route champion and thanks to Harry Lyons, Garry Shaw and Mark Newman for pushing me all the way. Also a big well done to the Pre 65 White, Yellow and Red route champions and to Kev Ellis and Russell Jones for a great weekend in Belgium at the MONS Pre 65 trials. We got 1st, 2nd and 4th in our classes so that just goes to show how good the quality of riding is in a friendly and enjoyable club.
Big thanks to Russell, Jeff and Jan Jones. Mark and Christine Samuels and the other helpers at the club. Lets not forget the land owners and the observers for standing out in all weathers as we can't have our fun without you lot.
Roll on 2018. And finally (depending on when you are reading this) i'd like to wish everyone a Merry Christmas and a Happy New Year.
Paul "must try harder" Owen
Rob Sloggett (trier of many bikes and classes and occasional observer)
You would have thought that having a couple of bikes in the garage means that you are never short of something to ride but having worked as a contractor away from home for most of 2016 and into 2017, when things went wrong I found myself not having time to fix them so entering 2017 with the Bultaco having an engine rebuild (after the Foel 2016) and the Evo having the most stubborn rear brake caliper my 2017 campaign started on the TY Mono. Not a good start really as the engine started playing up on lap one so I started the year with a DNF! So now its 3 our of 3 bikes being repaired. Luckily the club has a great network of people who do work on bikes so the engine was taken out and sent off for a full rebuild and a bore out to 270 was needed (plus the usual seals, bearings etc. whilst it was out – many thanks Paul). That left the next few events to help out with a bit of observing and I would thoroughly recommend any rider if they are ever not able to ride to grab a board and take a section. Not only does it help the club with a vital aspect of keeping the events running but by watching all of the riders techniques and lines, you really get to learn quite a bit.
Anyway, it was not until May that I had a rideable bike and with the engine back in the Bultaco (many thanks Jim) it was time to jump back into the Twinshock class. Picking up the green (inter route) at Nant Ucha should have been an easy introduction back at our regular practice ground but with the club really upping the sections again this year I found it tough going on a bike I had not ridden for over 12 months. July at Plan Onn was my next outing and I made the sensible decision to drop down to the yellow clubman route on the Bultaco to have both an enjoyable ride as well as getting back use to how the bike rides. I must say I really enjoyed this event and I felt much more comfortable in the sections. The Bultaco has always been a long term "work in progress" and I have never been happy with the carburation so with the Evo having its rear brake sorted at last (a long story but many thank to Jim for some custom made rear caliper pistons) it was time to give that an outing and put the Bultaco back on the hi lift stand for a bit more work.
October was a great event at Pen Y Graig and I was comfortable again in the inter class on a bike that is easy to ride at that level (with my skill set) and forgiving on mistakes so really the decision had to be made for 2018. I had a couple of options, the TY was back running again and with a mono shock on the bench to convert it back to a mono (it had been converted to a twinshock for my dabbling with sidecars) I could ride that class next year. The Bultaco was rideable but would need a bit of work to get it how I wanted it or I could press on with the Evo and have a go at Experts. The decision was made, my main aim for 2018 would be to ride the Evo in Experts, have the TY Mono as a back up and maybe use that during our practice sessions and do some inter rounds in the AC Mono class and then continue to have the Bultaco as a long term project. So that really left the last 2 rounds of 2017 to have a go at the Expert routes.
Nant Ucha was a nice easy introduction into this class and Aqueduct have this class absolutely spot on for the range of bikes, classes and capabilities that enter. With national (and international) experienced riders marking out our sections and now with three Kia rounds under our belts, the team know how to make the best use of our venues for this highly competitive class where expectations on the type of obstacles is high. Whilst miles away in points away from my nearest rider I was happy with my 92 marks dropped. I was able to ride each section, and my highest two section scores were 14 and 16. I learnt where my strengths were and highlighted a number of weaknesses and in order to validate my plan for 2018, I just needed to do the same again at the closing event.
Well what a learning Decembers event at Plas Onn was. I love this venue. Similar to Nant Ucha it reminds me of a lot of the venues I use to ride in the 80's with Gwent and Moredon Youth Trials clubs. Rocky streams and technical banks really were the theme of the day and whist I ended up with 120 marks dropped, I could see where I had areas to improve on, felt comfortable that the bike was easily capable and it is just the rider who has to get his skills together.
So another great year for Aqueduct, a really happy rider, a plan for 2018 and to be honest quite a bit of fun had in the garage as well. Hopefully my current contract will keep me coming home at night and not working away so a bit more working on the bikes will see them well maintained and also with quite a few practice dates planned with the usual gang, along with pushing myself on the Expert route I am hoping my riding will improve a lot next year. Maybe in a few years to come I will be back on the green route on the Bultaco and even daring the Expert route on the TY Mono… but hey, one step at a time!
Thanks as always to the club crew, land owners and most importantly every individual who at some point last year has picked up a clipboard, stood at a section and waved us through. Without you, this report would not be being written.
Rob (outsourcer of major rebuilds) Sloggett
Final Championship Places:
Championship rules state that riders must complete a minimum of 5 rounds in their chosen class to be eligible. Number in bracket denotes rounds contested and points scored.
Pre 65 Expert: Kev Ellis (7/135), Peter Edwards (3/37), Colin Fray (3/33)
Pre 65 Intermediate: Vernon Roberts (10/173), Paul Owen (8/99). Garry Shaw (5/87)
Pre 65 Clubman: Terry Lloyd (9/144), Roger Smith (7/129), Graham Miller (8/118)
Pre 65 Beginner:No enteries
Twinshock Expert:Tony Gush (10/197), Julian Price (7/111), Danny Littlehales (5/86)
Twinshock Intermediate:Jim Williams (9/172), Alex Barrie (8/125), Steve Blackburn (7/119)
Twinshock Clubman: John Sowden(9/155), Phil Cottiga (7/129), Mark Hopkins (6/92)
Twinshock Beginner: Chris Jones (8/157), Craig Fowler (5/94)
AC Mono Expert: Jerry Hawker (1/20)
AC Mono Intermediate: Ian Emery (10/197), Paul Cartwright (10/157), Gordon Wilson (8/124)
AC Mono Clubman: Steve Blaxall (9/180)
AC Mono Beginner: Pete Thomas (2/40)
Modern Mono Expert: Declan Marsden (4/77), Richard Beddoes (2/40)
Modern Mono Intermediate: Patrick Forde (6/111), Andrew Dean (6/108), Paul Hempkins (4/80)
Modern Mono Clubman:Hayden Rainford (6/108), Tony Rainford (5/97), Jim Marsden (4/72)
Modern Mono Beginners: Pete Rainsford (3/60)