By Rob Sloggett
One of the questions we hear regularly with new people coming in to the twin shock scene is "which bike is best for a beginner"?The problem is its a very subjective question. Do you answer it in terms of beginner rideability, scope for improvement or availability of parts and ease of maintenance? Plus the question tends to be directed towards people who rode them in the 80's so gravitate toward their favourites of that era (eg I had a bad experience of Italjet so would never recommend one but I suspect for a beginner they are just as capable as say a Montesa 348).
As I moved across from restarting trials about 10 years ago (on a Beta Techno then Rev 3), I hankered back to the twin shocks I rode in the 80's and after finding Aqueduct to be such a friendly club settled on making the move across.
I had no specific bike in mind having ridden Italjet (50), Yamaha (80), Montesa (123), Whitehawk (200), Beamish (325), Fantic (240) and Bultaco (250) during my schoolboy phase. It was very much budget driven and I found myself a "restored" Montesa 348 on EBay locally so went off and bough it.
The story of the Montesa 348: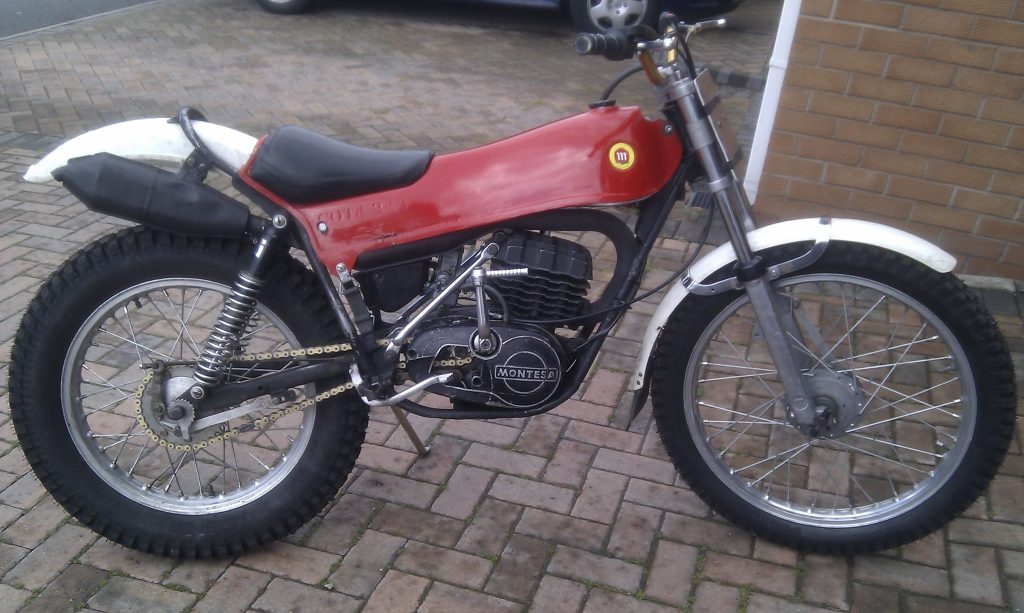 Wheelbase / Weight: 51.5 in / 201 lbs
Seat Height / Ground Clearance: 31.7 in / 12.3 in
Displacement / Bore / Stroke: 305.8 cc / 78 mm / 64 mm
So lets start off by being clear, the Montesa is a really good all-round bike, I would happily have another one and that's the problem, we started off on the wrong foot and that just never turned around. Let me explain in the context of this article as it is about both rideability and maintainability and whilst the Montesa was a great bike to ride, it was unreliable with parts hard to get hold of.
But lets cover how it performed first. It was actually a really good all rounder, happy in the running streams as well as the loose sticky banks, finding grip in most circumstances. From what I can remember, the rocky streams use to like a lot more weight back over the rear to really settle the front end but when you found that sweet spot it was pretty solid in these type of sections. It also tended to find grip well of the muddy stuff, mainly I think because the power delivery (when it was running) was very smooth and predictable. You can see why these were great outfit bikes, forgiving and plenty of grunt but delivered in a smooth curve.
I definitely can not remember it pushing out on turns and for some reason its "stature" did give a level of confidence when firing up steep banks and it was one bike, the dislodged wall at Nant Ucha Farm never seemed to phase me on.
But it was that wall that actually introduced me very early on, to what I felt was the Montesa's Achilles Heel. It was on a practice day and I was firing the bike up the rocks that lead into the wall and just at the moment it lost all power. Being at 60 deg vertical from the flat plain on a rock set, needing a dab to stabilise the loss of power and having nothing to put my feet on, a nasty tumble materialised . I was lucky but it did shake me and the bike refused to start. 30 mins later it fired up and I knew I had a problem.
It transpired that the kickstart shaft has an external cam to prevent over rotation and this has a tendency to punch a hole in the engine case, just in front of the flywheel with the points and condensor behind it. As this is also just behind the front sprocket, once you have this hole and ride streams, the bike starts fine at the start but slowly as water gets in… well you can guess the rest!
In order to get the hole filled, the case needed welding and this is actually one bonus on the Montesa as it comes apart really easy and for a novice 2 stroke mechanic actually taught me loads of skills due to its internals having little nuances that needed research and patience but not over daunting.
Unfortunately over time I found sourcing parts really difficult and after having it stood up for 3 months whilst trying to find a set of piston rings I thought it best to sell her on.
Deciding to call it a day on the Montesa, a bit of nostalgia kicked in and I recall riding my brothers Beamish Suzuki (im pretty sure it was a 325 and not a 250) for a while and knowing the stick it use to get as being a bit of a lemon bike, I wondered as an adult, my view of it would be different.
Find one, try it, like it, buy it. Marks Beamish 325: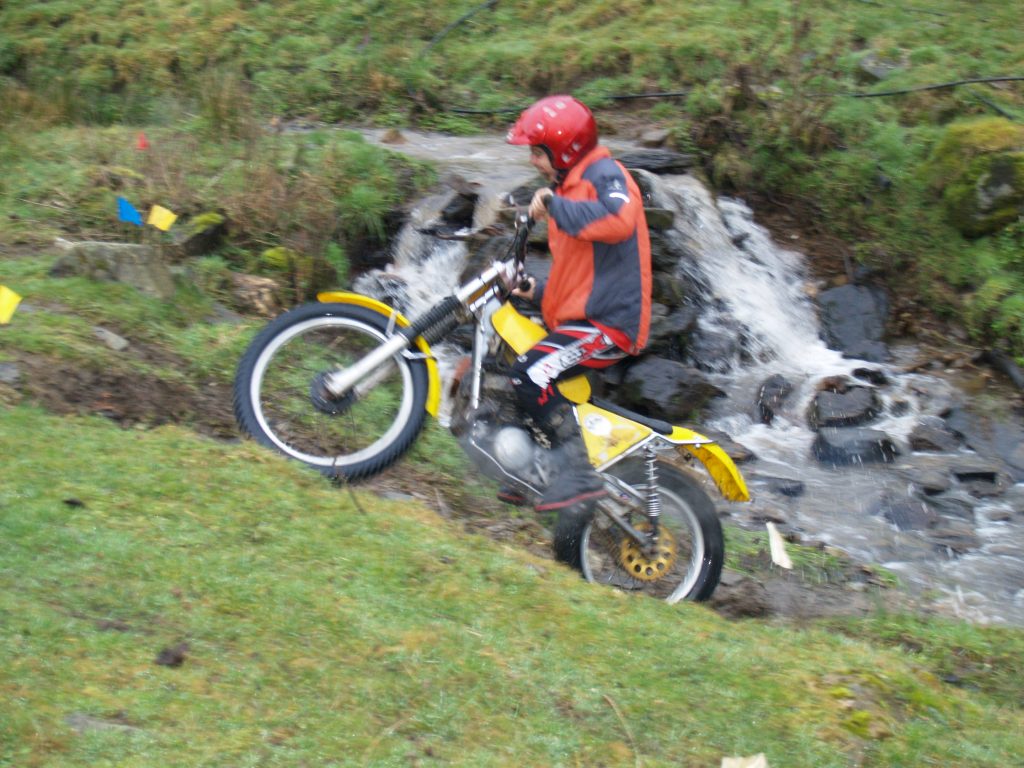 Wheelbase / Weight: 52 in / 196 lbs
Seat Height / Ground Clearance: 30.5 in / 13 in
Displacement / Bore / Stroke: 322 cc / 80 mm / 64 mm
Luckily Mark Samuel had been riding one and was considering selling it, so he kindly let me use it in a competition and actually I was quickly hooked on it. If you look at the numbers above it is almost identical to the Montesa and the 5lb weight loss and slightly lower seat height was not obvious. The Beamish was always talked of as being a heavy bike but this shows it to be no different from bikes at that time.
So how did it ride? As a general all rounder, once again it ticked all the boxes. The riding position was a lot more neutral, especially in the stream sections and on the tight turns it did not feel as long as the Montesa and definitely did not push put as a lot of criticism seem to be angled at it around this characteristic. You defiantly felt higher up on the Beamish whilst with the Montesa you felt you were in it as opposed to on it.
The 325 engine was just a beast, a very distinctive engine note, a very short pump on the kick start to fire it into action and a great 1st and 2nd set of ratios giving you flexibility in the section.
For me though, it was a bike I could never get to grip in the muddy stuff. I think I struggle with the power delivery which was much more linear and aggressive than the Montesa and after a while felt it was not the right bike for me and that I fancied a change. I had ridden my brothers as schoolboy and it was great to ride one again as an adult and put some of the myths to bed. I actually regret selling it now and would happily have another one…. maybe one day….
Anyway, at this stage, their was a movement towards the AC Mono scene and with the TY Mono being the bike of the time, chatting to Russ, I discovered they had a couple spare so a part ex of the Beamish for one of the clubs TY's happened. I actually regret parting with the Beamish. I still think it is a very under rated bike and would make a great beginners mount. They look great, are a good price to pick up, bullet proof engines and easy to maintain.
But this article is not about AC Monos, its about comparing Twin Shocks and my final purchase in this area was a Bultaco Sherpa 175. Yep you read that right…. a 175.
Only 400 made? Everyone seems to say they have one in the back of their garage. I give you the 1979 Bultaco Sherpa 175: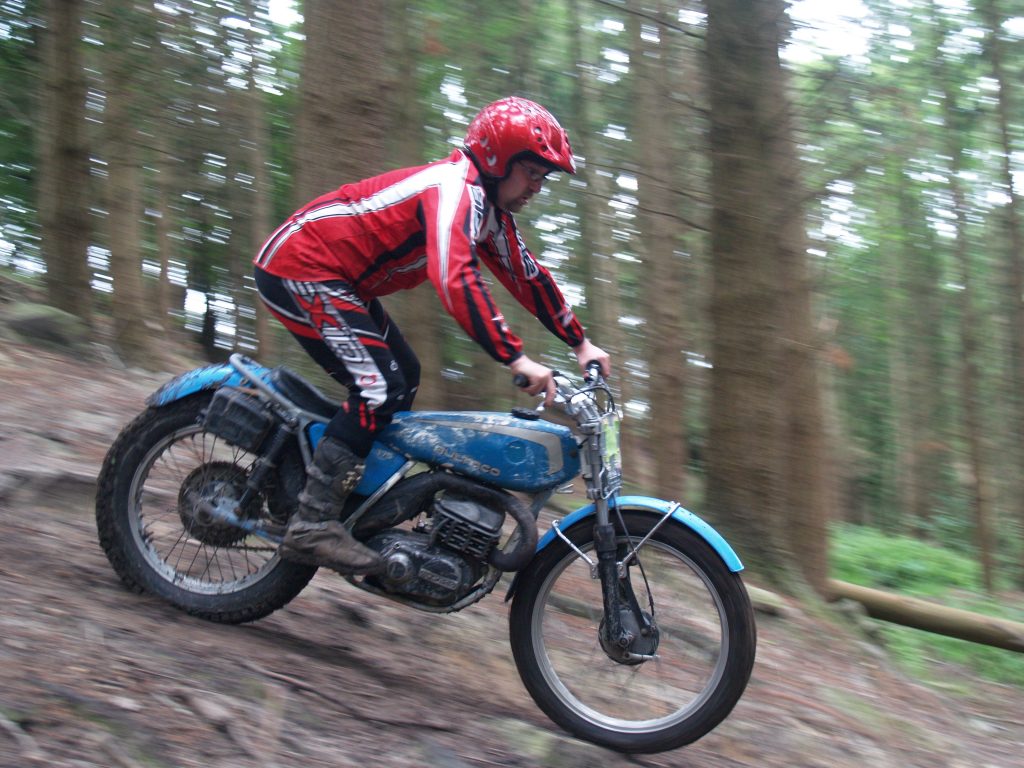 Wheelbase / Weight: 51.75 in / 195 lbs
Seat Height / Ground Clearance: 33 in / 12 in
Displacement / Bore / Stroke: 174.7 cc / 60.9 mm / 60 mm
This purchase came about as my brother had bought it in bits and wondered if I wanted it. I was a bit sceptical at first with it being a 175, but as my favourite bike had been the 200 Whitehawk (158 lbs, Wheel base 50 in, Seat 29.5 in, clearance 13.75 in) I though why not and he only wanted what he paid for it (£425)…
Immediately after finishing putting it together (yep it was only partially built), it was obvious that although it was a similar weight etc to the Montesa and Beamish and a good 40 lbs heavier than the Whitehawk, it was a bike that I felt so comfortable on! And to be honest it was all in the lower power. It had the smoothness and predictably of the Montesa but without that final top end grunt. For most if the stuff we ride, it had enough in first and second gear was close enough in the box to be useful when needed. A number of people rode it and were surprised that it was only a 175 and as a general rule it performed sufficiently in all cases, rarely ran out of steam and from a geometry and handling viewpoint was by miles better than both the Montesa and Beamish. A number of people commented as well that its the bike that I ride best on and I think when you find a bike and click with it, that makes a huge difference.
One down side of the Bultaco is that it is set up with the rear brake on the left and the gear shift on the right. You can reverse them but I have left it original, From a reliability view point, once again it has been really good. The only major issue I have had was the main bearings failing during the Foel but apart from that it has been pretty reliable. It is a hard bike to start from cold, needing a lot of kicks to wake it up but once running it rarely misses a heart beat.
Now this is where the story spins off as the only criticism of the 175 was not a lack of power but a flat spot from a sustained tick-over run to cranking on, the sort of situation where you would be lining up for a bank then giving it a squeeze as you turned in. I really wanted to get this out of the bike and I tried electronic ignition and replacing the carb with a Mikuni and trying so many jetting combinations! I could not shift it so we went another route…. Jim Droughton had a few ideas based on Vesty's Bultacos so we went to town taking all the bits that were good about the bike and leaving then as is but improving it where we could.
I cant finish the Bultaco bit without showing you a picture of how its ended up. I am planning on covering the reasons and changes under a different story…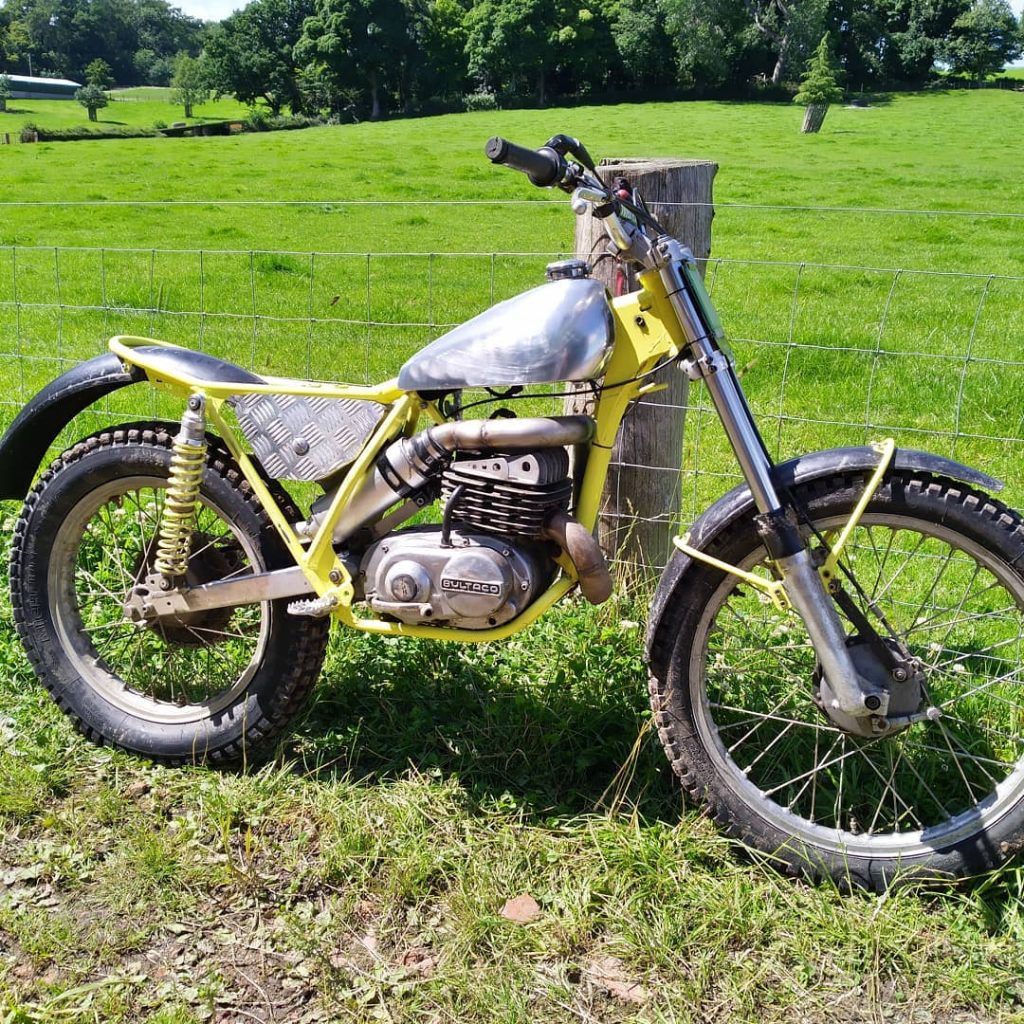 So this article is about comparison, so overall how would I rate them?
Heart vs Head: 1) Beamish; 2) Bultaco; 3) Montesa
Rideability: 1) Bultaco; 2) Montesa; 3) Beamish
Maintainability: 1) Beamish; 2) Bultaco; 3) Montesa
And if I only had to have 1?
It would have to be the Beamish 325 in stock form (but the Bultaco 175 special now knocks it out the park but that's not standard…. and an article coming).
I hope you have enjoyed reading this….. and if you have or have got any questions please don't forget to comment below..