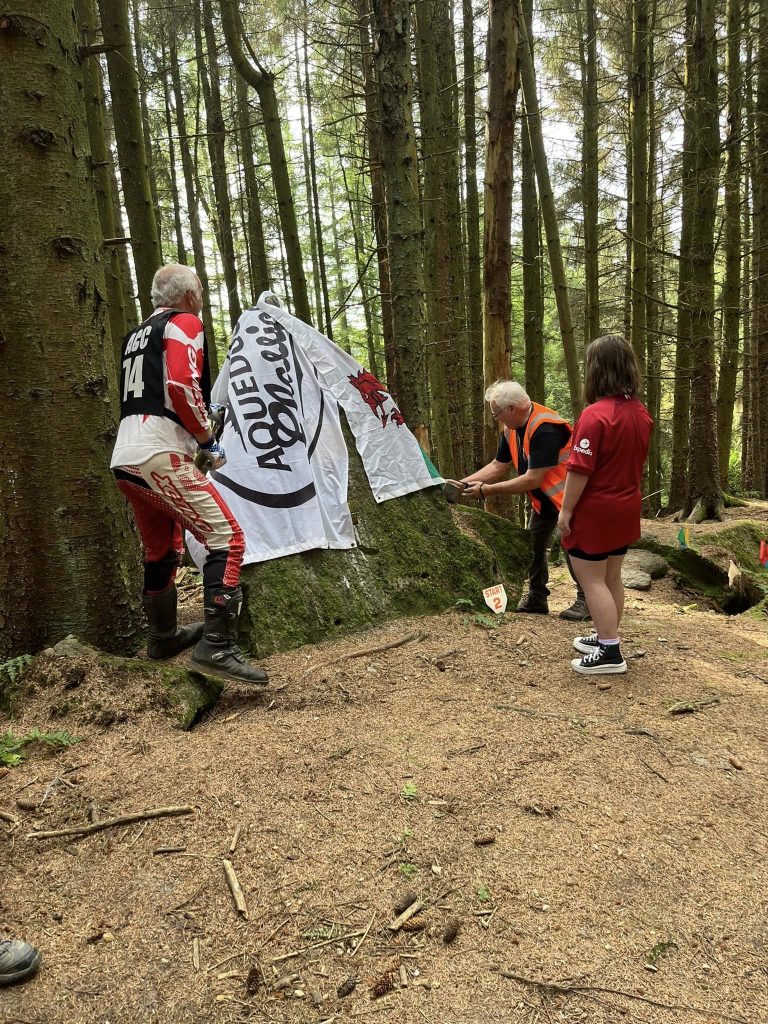 The summer break is over and the autumn / winter campaign started up with a visit to Nant Y Ffrith. It was fitting to return here as it was a favourite practice ground of Kev Williams who we lost at the end of 2022. A couple of the members had recently visited the IOM to sprinkle some of his ashes there and it was a beautiful start to the trial to see a plague remembering Kev unveiled in memory of him.
We had 76 riders turn up for signing on with 12 Pre 65s joining 18 twinshocks and 18 AC Monos. The modern mono class completed the count with 28 bikes. It was nice to see 6 novice riders enjoying the day alongside 11 experts. The middle classes consisted of 29 clubman and 30 intermediate riders.

We have a great set of reports so grab yourself a brew and read on.
Kenton Hackney – Twinshock / Clubman
A poignant beginning to the event as at the pre start talk a touching plaque tribute to Kev Williams was unveiled, well done to all involved. The Clubman route with a few new routes to savour.
Section 1: Cheeky little off camber climb onto another camber with a tricky left in between trees. Deffo a mark taker
Section 2: Ably observed by our newest young observer. A tricky drop off the road with a left turn and a rise between trees which cut up as the day progressed and a twisty right exit.
Section 3: A cambered left climb threading between rocks followed by a descent with a right exit which required good braking skills
Section 4: In the woods, the usual section with new added exit. Small descent with the same rise opposite and a tight turn another small descent and rise. A left round a tree, small descent with a right turn in the dip with a left cambered exit to the end cards
Section 5: A drop off the path, left between the markers with various ways to the exit but it was constantly changing due to rocks being misplaced
Section 6: A pleasant ride taking in stunning views brought us to a tricky small slippy climb with a left turn through over or round a hardened previous section groove/rut. Then a left turn on jagged rocks and small drop back to the road (a very good mark taking section)
Section 7: Another winding ride down to the new addition – the stream. An entry that soon became a deep rut, a small fallen tree obstacle with a turn up a slippery exit and right turn exit between trees (a welcome addition to an already excellent venue let more stream action commence)
Section 8: A tricky climb with a left turn over rocks followed by a tight exit between trees with a tree root on an angle ! definitively a mark taking section
Section 9: Ably manned by Mr Griffiths (who was well at home in the undergrowth). Tricky small drop with a little rise, a left between trees and a constant left turn before dropping into the gulley with a tricky exit climb that became easier as the day continued
Section 10: A dark weave between the trees unveiled a winding drop between trees, a right hand turn, a wall step with a right turn and a tight exit left
Dave Pengilley – Twinshock / Intermediate
After what seemed a very quick summer break it was back to it on Sunday at Nant-y-Ffrith for the latest round of the aqueduct club championship, it was good to catch up with a few riders I had not seen in a while over a coffee before the start.
Prior to the trial starting everybody gathered by section 2 for the pre-trial brief, where a plaque was to be unveiled in memory of Kev, it was nice to see and chat to Kelly and family before the unveiling, Dave Lovell said a few words and then the plaque was unveiled, Kev's daughter placed a single rose in the vase, this proved to be very emotional for myself and many others I suspect.
Onto the action…..
Section 1: this was a nice straight forward opener but you had to concentrate to make sure the last turn was not approached too fast, just enough room to turn between the trees and a straight run to the outs.
Section 2: was a tricky section very easy to lose the front wheel on the loose earth, glanced over to Kevs plaque as I entered the section thinking about all the chats we had about the isle of man and I was glad that he had the chance to get out there, I will be paying him a visit next time I am over on the Isle of Man, up at Joeys memorial.
Section 3: which was a cracking section on the green route, although this did cause me some concern while walking it as there was a choice of lines and much discussion from Moz & Mark, on which was the best, in over the root to the right, or the smoother but slightly tighter line to the left. the left line chosen, then a turn to the left and over a selection of rocks choice number 2!!!! To the right and risk dislodging the markers, to the left bit risky, or slightly left and fire it up the middle and grabbing the brakes and making the left turn drop to the outs without knocking the observer out of his well-positioned chair. This proved to be the best line for myself which resulted in 4 cleans.
Section 6: looked slippery but it rode well, up a muddy bank, quick left turn then right up another rock-strewn bank, then a tight turn to the outs which you needed the wheels in the ruts for a smooth passage to the outs.  Caught me for a dab on the last lap and with Gordon observing there was no chance it would be missed, 
Onto section 7: a new one in the lower part of the wood where a lot of work had been done to be able to use it, a short run up the brook right turn up a slippery bank and sneak around a large stone, (which was getting smaller as the day went on looking at the gouges and scars on it). Dropping back between a couple of trees and turn for the outs. Russ was there on the first lap keeping an eye on his and Marks section plotting, and saw me drop my first mark of the lap under estimating just how slippery it was, a lack of concentration saw me drop 2 more on the last lap here.
Section 8: proved tricky for me as well dropping marks here on 2 of the 4 laps while others around me cleaned it with ease.
Section 9: was a long section with some technical bits going through the ins from the side made the first turn a little easier but care was needed not to clip the handlebars on the trees, bit of a run to a drop into a tight left turn over rocks then up a rise to the outs. Rode much better than it first looked.
An excellent day's trialling with a good well thought out long lap which kept any queuing to a minimum, Thanks must go to the organisers, caterers, and to all observers old and new for putting the time and effort in so we the riders can enjoy our sport.
Paul Owen – Pre 65 / Intermediate
Aqueduct classic trials club was back in the picturesque welsh Hills of North wales and with a great turn out of riders and a nice long lap with the sun shining meant one thing….. the championship round 7 of 10. Here is 3 of the sections I rode on my BSA Bantam in the pre65 Intermediate class.
Section 3…. with a slight uphill start you entered the start gate to the left and then a sharp right turn and up a 6ft rooted slippy climb. Into a sharp left that dropped you back down a bit and across a path to some large mossy rocks like steps on a uphill climb. It was very tricky and the rocks became slippy. Once over them you had another sharp left turn that dropped you down some uncovered roots to the out gate. Not many cleaned this section. I managed it on my 2nd lap but on my 3rd lap I was over the bars. Face planted the ground and managed to get my leg trapped in the forks. God knows how. Haha.
Section 6…. you rode into the section and up a muddy rocky rise and turned sharp left. Surprisingly it was very grippy. But then you dropped down over damp greasy rocks and up a muddy clay like climb to the right that was easy to spin up on. Once you crested the top you had to be careful of the loose rocks and a groove had formed in the sticky slippy mud on the left turn towards the out gate.
Section 10…. You entered a opening in the trees and it became dark damp and slippy on the slimy uncovered tree roots as you droped down to the section. Once at the start gate you immediately droped down a very steep drop and the tree roots were all bare and felt like ice if you touched the front brake. You had to do a figure "S" between the trees on the drop down and then to a sharp right turn towards the remains of a stone wall and ride over the top of it. The rocks seemed to move every lap as well. Then you did another S bend turn on a off camber back and to the out gate.
It was a very enjoyable and challenging tricky trials. Another great venue by the club. Big thanks to all involved and to the observers for a great day out.
Ian Emery – AC Mono / Intermediate
Always a pleasure to ride at Nant Y Frith and Sunday was brilliant again. The day started with the unveiling of Kev's memorial which was so well done by all involved and appreciated by family, club officials, and riders all deep in thought paying their respects.
A few of my favourite sections.
Section 2: A nod to Kev on entry, dropping past the memorial and onwards to a 180° left turn to approach a double root step with little run up. Once over that a swooping right turn up the bank to drop down to the end cards. Easy to get in trouble and I was pleased with 4 cleans.
Section 3: This was a tricky one. The start was a climb between two trees followed quickly by a tight left. Tyre marks showed a choice of line – either a straight up blast over a slippy angled root or a more controlled meander where keeping momentum was key. I chose the latter each lap without issue. Following that was a short traverse over some loose rocks to a collection of scary big rocks. The first two were split with a V but that line meant the next monster rock became a big step to get up and over. If you made it there was a tight left turn on a steep bank before a descent to the end cards. First lap I flew up the middle cresting the big rock and managed the turn and descent for a clean. Second and third lap I tried the same but struggled to get enough grip to launch me over the big rock without foot assistance. Fourth lap I watched Moz take a high line to the right and got on top of the big rock but slam-dunked left. With trepidation I tried to copy his line but didn't have the strength to hold on at the crest and stalled for a 5.
Section 4: A natural hollow used before but yet another new route was set. A series of swoops, down, across, up, 180° turns in between, to a tricky steep root covered climb with little run up. Easy to fail without enough speed but also easy to hit the tree at the top with too much. Managed to go clean each time, very pleased.
Section 7: Water and mud!! Never seen before at this venue. The start was through a deepish dirty puddle into the stream, straight for a few yards before a 90° right and a blast up a sticky muddy embankment with several wheel slots to choose from. At the top was a massive rock and a choice of 3 lines for a 180° right turn – either hug the perimeter left of the rock but mind your footrest, straight over the rock, or inside it to the right. I chose the perimeter but the key to success was keeping left during the climb as slipping right would give problems. Managed 3 cleans then a slack dab on lap 4.
Section 8: This was more tricky than it looked! Through the in cards to a tight right on a camber just before a hill climb which got steeper and steeper as it threaded through the trees. If you made the first turn without the front washing out the rest was straight forward but if the front misbehaved it made the climb a lot more tricky as I found out on one lap.
Section 9: Another natural basin and a great new variation. Into the section to an immediate tight 180° right turn, dropping into a dip to a nasty climb out between two trees. Not much room for error as I found out on one lap. A meander along the top of the hollow to the far end where a drop in was followed by a slippy rocky step which was best taken at reasonable pace keeping the front wheel high and letting the rear float the step. Got it spot on twice but also had a 2 and a 1.
Some well thought out sections, I really enjoyed the day so thanks as usual to all who made it happen. Apologies to those I nearly knocked over when my Gasser kept dropping into gear by itself, launching me into the air several times. An issue caused by a broken neutral detent spring which I discovered on strip down the next day. All fixed now and ready for Pen Y Graig.
Mike Griffiths / Observer / Section 9
Returning back to haunt some of you, I was pleasantly surprised with the remarkable tribute to Kev.. One of the nicest men I have ever met in the trials world. Those who knew him will never forget that smile..  
Well out to my section (9) and a bit of a cracker. Nice and easy to clean but also easy enough to get a point or 5 off the unsuspecting. The Cheshire set disappointed me and no marks dropped.. Beta Bert was really concentrating and failed to drop any score as did Pinkey Hackney. Tony Williams stopped just short of the end flags with of all things a broken timing chain . Bit of bad luck there.
One or two clenched buttock moments were had with Moz having the most interesting as the Bantam front wheel slid across a log , nearly taking Moz into the "kitty litter" (nettles) . Not quite a stop but he escaped through the end flags only to go back to his motor for an underwear change.
Some really interesting bikes and the big Ariel  Nick Woolley rode was my favourite with the Panther of Les Richardson a close second. Dave Pengilly kept his Kwaka clean in more ways than one and Robin Foulkes and his rare Armstrong kept to the correct route on my section. 
Sunshine and smiles were the order of the day but a few red route riders did try the luxury of brushing an arm on the trees.
In my section ??????????  Yes eyes up my what ever and miserable with it.
 Any gripes from this side of the trial ?  No it was a grand event , no disputes or eye batting , just a superb event and only 18% of riders forgot to say thanks.
Before we move into the usual stats, we have to close by once again say a huge thankyou to the club team for all of the effort they put in over the preceding months to make this happen, the observers for still taking the time to support and the land owner as always.
Top Places
Pre 65
Expert – No riders
Intermediate – Paul Owen, BSA (15); Nick Woolley, Ariel (18); Mike Jones, Triumph (19)
Clubman -Steve Walker, Francis Barnett (1);Andy Steele, BSA (10); Alan Dyson, BSA 32)
Novice – Terry Lloyd, Triumph (14)
Twinshock
Expert – Paul Smart, Honda (20); Jim Williams, Honda (26);Andrew Williams, Honda (46)
Intermediate – David Pengilley, Kawasaki (7); Robin Foulkes, Armstrong (9); Tim Cuffin, Majesty (12)
Clubman – Phil Cottiga, Honda (7); Kenton Hackney, Honda (7); Darren Riley, Bultaco (8)
Novice – Graham Seagar, Bultaco (40)
Air Cooled Mono
Expert – Peter Ruscoe, Honda (3);Steve Williams, Honda (26); Kev Ellis, Yamaha (27)
Intermediate – Craig Barkley, Yamaha (9); Michael Warburton, Yamaha (14); Stephen Richards, Yamaha (15)
Clubman – Stephen Hall, Gas Gas (7); Paul Corfield, Yamaha (37); Neville Kirkham, Yamaha (54)
Novice – No riders
Modern Mono
Expert – Jordan Bannon, Gas Gas (25)
Intermediate – Mike Smith, Montesa (9); Paul Edwards, Gas Gas (14); Norman Tarbuck, Beta (15)
Clubman – Bert White SR, Beta (1); Gareth Evans, TRS (2); Ken Williams, Beta (5)
Novice – Mike Sutton, Beta (12); Glyn Roberts, Montesa (19); Andrew Bloor, Montesa (29)
Observer List
1 – John Sowden
2 – Suz / Jess
3 – Ian Jones
4 – Neil Roberton
5 – Dave
6 – Gordon
7 – Steve Jones
8 – Mark
9 – Mike Griffiths
10 – Brian Barker
Stats
Bikes Classes
Pre 65 – 12
Twinshock – 18
Air Cooled Mono – 18
Modern Mono – 28
Route Classes
Expert – 11
Intermediate – 30
Clubman – 29
Novice – 6
Bikes
Pre 65
Ariel – 2
BSA – 4
Drayton Villiers – 1
Francis Barnett – 1
Panther – 1
Triumph – 3
Twinshock
Aprillia – 1
Armstrong – 1
Bultaco – 3
Fantic – 2
Honda – 6
Kawasaki – 1
Majesty – 2
Ossa – 1
Yamaha – 1
Air Cooled Mono
Aprilia – 1
Fantic – 1
Gas Gas – 4
Honda – 3
Scorpa – 1
Yamaha – 8
Modern Mono
Beta – 11
Gas Gas – 6
Montesa – 5
Scorpa – 1
Sherco – 2
TRS – 1
Vertigo – 2