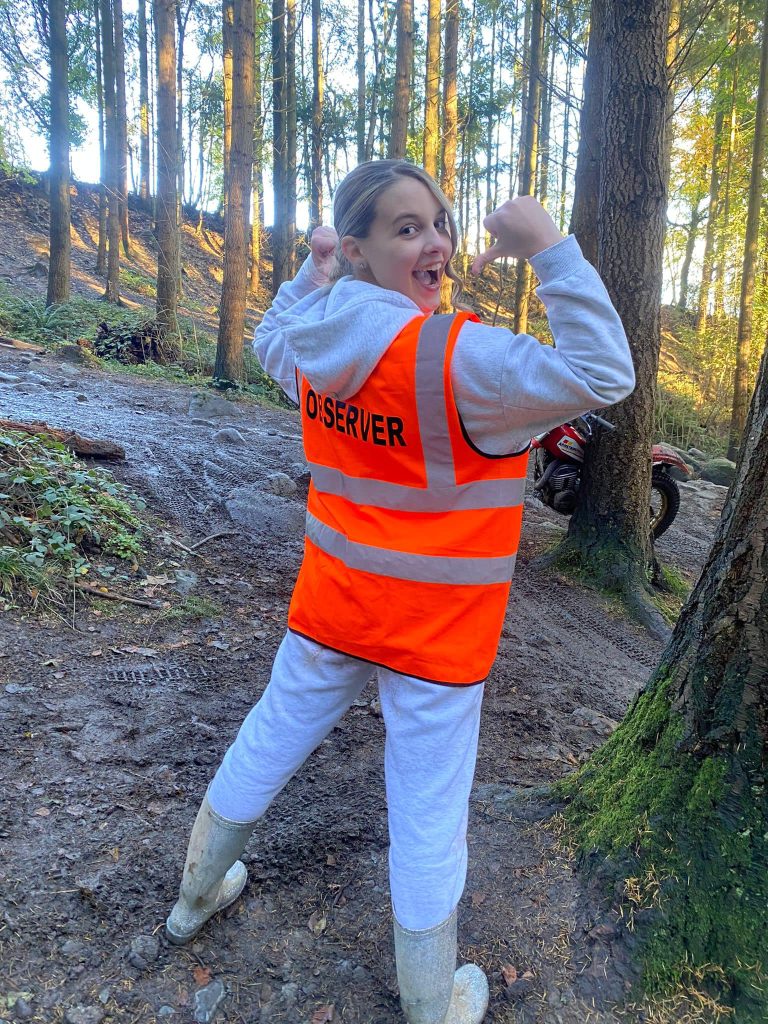 A return to Nant Ucha Farm was due and on the cards, and as always, this venue did not disappoint. Recent rainfall meant that the fantastic streams at this venue were always going to be challenging and 78 riders took to the woodland to have a good days fun on classic trial style sections. A really good showing of 22 Pre 65's paired with 18 Twinshocks made up the classic classes with 17 Air Cooled Monos and 21 Modern Mono's also filling out the entry cards. New observers and new riders were evident (welcome and thank you…) and it was great to see 10 Experts alongside the 4 Novice riders. In the middle classes, 29 Clubman and 35 Intermediate riders finished up the day.

David Matthews- Air Cooled Mono / Intermediates
All the sections were challenging especially with the stream quite high but my favourites were 7,8 and 10 on the green route.
Section 7 – a drop into the stream then a left turn up the stream over a jumble of rocks which were difficult to see because of the water. This was catching quite a few riders out so picked my line and took a dab first lap ,wider turn next lap, 3 cleans.
Section 8 – a nice long section again, ride across the stream, right turn but couldn't see the rocks for the water so was a bit of a gamble with the line. Got it perfect every time, well happy as it was taking a few marks. The exit was tricky turning back across the stream and had me for a dab. Cracking section!
Section 10 – well loved riding this, mud roots, tight turns, tricky exit. Well after walking and taking some advice from Elwyn, you run your wheel over the rock at the exit, makes the turn easier. Advice taken four cleans.
Big thanks to every one involved, helpers, observers, had a great day'
Stephen Harding – Modern Monos / Clubman
Well where do you start with this one,
First of all as usual a huge thanks to all the Aqueduct team for putting on such a great event again, especially Russ , Mark and co for giving up there Saturday to set out the sections on a cold wet November day and all the observer's for giving up their Sunday without whom it wouldn't be possible to have such a great event. A big thanks to the land owner for letting us use this great venue, and Chris deburger for keeping us fed and watered,.
The day started getting everyone parked and it was a bit tight with such a good entry but the sun was shining and most were happy with the parking so with everyone in and the start with the usual talk from Russ at 11o'clock we get underway. 
I was with my usual crew Tony Williams, Alan hotchkis, Alan Dyson and Oliver. We decided to start at the bottom of the wood at section 5.
This was a fairly straightforward section as you drop in through the start gate, in and climb a bit avoiding a rock and climb a bit more over some slippery roots and out of the section. Sounds easy but can catch you out,  
Then into section 6, the start was almost straight after the exit from 5 where you start off from the edge of the stream, then straight away in to the water and head to the other side over some very loose good sized rocks witch were slippery and seemed to move each lap. Then out of the water, up a good sized step on to the wet slippy muddy bank then climb a bit before a left and right then a tight left before a steep drop back into the rocky stream and across out up a bit of a wall and out,  
Section 3, well this one was a bit tricky for me for some reason. You start off from the now very muddy slippery bank, through the start gate and under the trees and down the slope towards the stream. Then drop into the water heading right straight away on to the lose rocks, still heading right before a bit if a left and a tight right back on to the wet slippy bank before climbing left up and out of the section. This, I took some daft dabs off me for the first three laps but managed to clean it on the last one.
Overall I had a great day and once again big thanks to everyone involved, cheers.
Alan Hotchkiss – Modern Mono / Clubman
On arrival at Nant Ucha I was greeted by Steve and Davhe Kynaston , who guided me to a parking spot on nice concrete behind the sheds (Godfather not in sight ). I promptly unloaded and headed off to sign on with the lovely ladies, ordered my customary bacon and hard egg bap,(still no Godfather), I decided I better have a whizz up and down on the 315 and boom, the Godfather………. banter, that's better. I felt relaxed. Russ gave the meeting and we headed off to section 5 deep in the depths of the forest, welcomed by Mr Barker. It was a straight forward looking slippy off camber meander on the stream bank.
Section 6, well, starting off in a slippery stream across a small babbling rocky fall, up a steep slimes step, around a tree and a dropkick into a deep water (where on lap 2 I misplaced a front wheel resulting in a very cold wild water swim). Across the stream and exit up a greasy step.
Section 8, enter diagonal across a rock stream, up a slippery bank, 180 over a slippery hump, drop back in stream, up a step and immediate right (where I managed a stall ). Then left over rocks and out.
Section 1, pretty straight forward. Observed by Wendy, drop in the stream, 90 right up a bank, drop in, up a bank then 90 left (missed my jelly babies here ,I will bring supplies ).
Section 3 ( Russ,s section). This required 100% concentration due to banter from the clerks of the course. Steady drop in to the stream, 90 right across very loose rocks then exit up a greasy bank with a 90 left exit ( hip puller). All in all a great day and huge congratulations to everybody involved in organising this great sport.
Elwyn Beedles – Air Cooled Mono / Intermediate
After the rain on Saturday we were so blessed to have a lovely sunny day for the trial at the infamous Nant Ucha trials ground. With hardstanding parking courtesy of the Kynaston familys hard work at the venue Geoffers and the parking team had no problem marshalling some 78 riders to a parking spot. With the signing on trailer/awning and catering van already in position we were ready to go. Some folk think this just happens eh Geoff !
I get a bit excited come a Sunday so arrived early and took the opportunity to walk down to see what the team had managed to arrange for us to ride given the weather we had experienced.
The lads Russ, Mark, Barry and Paul had done a sterling job laying on 10 sections that were all challenging but rideable and safe. Talking with Suzzanne when I arrived setting out in the wet with the soft ground had not done Russ' recently broken ankle any good and he was visibly limping on Sunday. Appreciate your commitment Russ as always.
Wendy 'the cake queen' Smith gave up her day to stand in the cold to watch us through section 1 at the bottom of the field with sections 2, 3 and 4 all up this smaller of the two streams. We will have to find you a chair Wendy like Ian had on section 4.
On a personal note after being fortunate enough to win the club twinshock clubman championship last year I made the somewhat bold decision to move up to the green route this year and challenge myself a little more. Resting the TLR in the garage I moved across Japan to a Yamaha TY mono which I have found a little easier to ride and turn than the Honda. I will admit I have struggled this year with the gap between the yellow and green route but at Nant Ucha I felt it coming together a little more. Russ section 3 was a prime example of the difference. After dropping down to the stream we were met with a large nasty looking tree root to get up and over. Most chose a dab at the top early doors as I did but with encouragement from Russ and Mark then managed to get over it next 3 laps. Progress.
Section 7 overseen by Tony and his lovely daughters Ffion and Niamh was a wet rock jarring affair that caught a few out. I believe both Alan Hotchkiss and Richard Webster took full advantage of the deep water to clean both their bikes and have a bath themselves. Many more of us scrambled through hoping not to hit one of the submerged rocks wrong and end up in the same predicament.
This was swiftly followed by section 8 with Nettie on the pencil ably assisted by her enthusiastic daughter Eva. First time observers it was great to see them and have a chat we all really appreciate your help. Again deep water and invisible rocks it was a real challenge to keep both wheels in the right direction but a rewarding section if it went right.
Llanfyllin trials club head honcho Elwyn Williams gave up another Sunday to observe for us and watched us through section 10 a long slippy affair with a tricky tree to negotiate at the finish. Arriving on the third lap we were greeted with Elwyn being taken up the lane by Mark in the buggy. Fearing the worst we were comforted to discover that Elwyn was okay and Dave Wood had kindly offered to take over after having a problem with his Yam. Very sporting and selfless of you Dave thank you
I rode for a while with a old mate from back in the day South Shropshires Nick Woolley on his beautiful thumping Ariel HT 500. Nick is a lovely down to earth lad who has been there, done it and got the tee shirt and is more accustomed to ACU events but he was very impressed and complimentary with the whole set up with the Accy club. Apparently Russ wanted to buy the Ariel off Nick many years ago when they were riding the Sammy Miller events but Nick wouldn't sell. Russ has never forgiven him but they do have a good laugh about it. The camaraderie and friendships go back years in the trials game and is so heartwarming in this modern world. By his own admittance Nick did not have the best of days but still beat me hands down ! I really take my hat off to you Pre 65 boys on the big old bikes I'd never pick em up ! Respect !
One of the last riders to arrive and sign on after sorting out his farm was Plass Onn landowner Barry Jones. Having helped layout the sections he had a pretty good idea where we were going and promptly went on to win Pre 65 Inters dropping a measly 9 marks. Great ride Barry and we look forward to coming to you for the next trial.
Little Logan Price rode number 33 on the 125 Beta to finish 5th in adult mono clubman dropping only 16 marks. He is a tiny little chap but nothing beats him and he shows great commitment well done Logan.
Paul Smart rocked up on a very trick looking twin shock Fantic in place of his normal TLR. It looked and sounded better than the factory bikes of that era but unfortunately a blocked petrol tank valve spoilt his day. The bike is a credit to you Smartie.
Ian Ramsay joined us for the first time travelling over from Bala with his Beta. New to trials and a friend of Rob Slogg he chose the white route and promptly won his class. By what I saw the yellow route will beckon very soon Ian.
Another improving rider is Paul 'Corky' Corfield from the 'Pontesbury trials riding academy' riding number 34 on sunday. After dabbling a few times last year with his Cub we persuaded him to pull out his beautifully restored TY for this year and after a few outings on the white route he is finding his feet on the yellow route dropping 26 marks.
Unknown to most of us Chris De Burger had problems with the catering van in the week after discovering the fridge had fallen over presenting him with a messy scrambled egg in amongst the uncooked bacon etc. This coupled to a broken burner valve meant he was coping with a small fridge sitting on the table we normally have outside and half the cooking capacity. No body noticed and the food and service was as good as ever.
Thanks again to everyone involved and roll on the next one can't wait !
If you have read this far (and I hope you have), you would notice this reports photo is one of our new observers. Without these folk we dont get to do our competitions so dont forget on your last lap just to tip your visor and give them a hearty "thank you". Remember, Santa is finalising the naughty and nice list and you dont want to be on the wrong one.
Before we move into the usual stats, we have to close by once again say a huge thankyou to the club team for all of the effort they put in over the preceding months to make this happen, the observers for still taking the time to support and the land owner as always.
Top Places
Pre 65
Expert – No Riders
Intermediate – Barry Jones, BSA (9); Dave Lovell, Triumph (10); Jim Droughton, Triumph (11)
Clubman – Steve Walker, Francis Barnett (4); Mat Duff, BSA (8); Tim Lewis, Matchless (10); Keith Goodwin, BSA (10)
Novice – Paul Beswick, BSA (28); Damian Morley, Cotton (21)
Twinshock
Expert – Chris Garlick, RS220 (14); Mike Jones, Aprilla (56); Tom Austin (103)
Intermediate – Robin Foulkes, Armstrong (11); Jeremy Clark, Bultaco (13); Dave Pengilley, Kawasaki (16)
Clubman – Oliver Barker, Bultaco (3); Phil Cottiga, Honda (3); Mark Newman, Ossa (6)
Novice – No riders
Air Cooled Mono
Expert – Patrick Edwards, Yamaha (17); Peter Ruscoe, Gas Gas (33); Kev Ellis, Yamaha (57)
Intermediate – David Matthews, Yamaha (5); Jason Trumble, Honda (8); Michael Warburton, Honda (11)
Clubman – Stephen Hall, Gas Gas (2); Paul Corfield, Yamaha (26); Tony Williams, Yamaha (49)
Novice – No riders
Modern Mono
Expert – Richard Webster, Montesa (29); Jordan Bannon, Gas Gas (89)
Intermediate – Stuart Parr, Beta (17); Steve Priestley, Sherco (18); Scott Lanzi, TRS (22)
Clubman – Jeff Hughes, Beta (7); Gareth Evans, TRS (9); Ken Williams, Beta (9)
Novice – Ian Ramsey, Beta (15); Luca Lanzi, Beta (54)
Observer List
1 – Wendy Smith
2 – Dave
3 – Russ
4 – Ian Jones
5 – Brian Barker
6 – Gordon
7 – Ffion
8 – Netty
9 – Pete Edwards
10 – Elwyn
Stats
Bikes Classes
Pre 65 – 22
Twinshock – 18
Air Cooled Mono – 17
Modern Mono – 21
Route Classes
Expert – 10
Intermediate – 35
Clubman – 29
Novice – 4
Bikes
Pre 65
Ariel – 1
BSA – 9
Cotton – 2
Francis Barnett – 1
James – 1
Matchless – 1
Triumph – 5
Villiers – 1
Twinshock
Aprillia – 1
Armstrong – 1
Bultaco – 4
Fantic – 4
Honda – 5
Kawasaki – 1
Montesa – 1
Ossa – 1
Air Cooled Mono
Fantic – 1
Gas Gas – 4
Honda – 1
Ossa – 1
Scorpa – 1
Yamaha – 8
Modern Mono
Beta – 7
Gas Gas – 6
Montesa – 4
Sherco – 2
TRS – 1