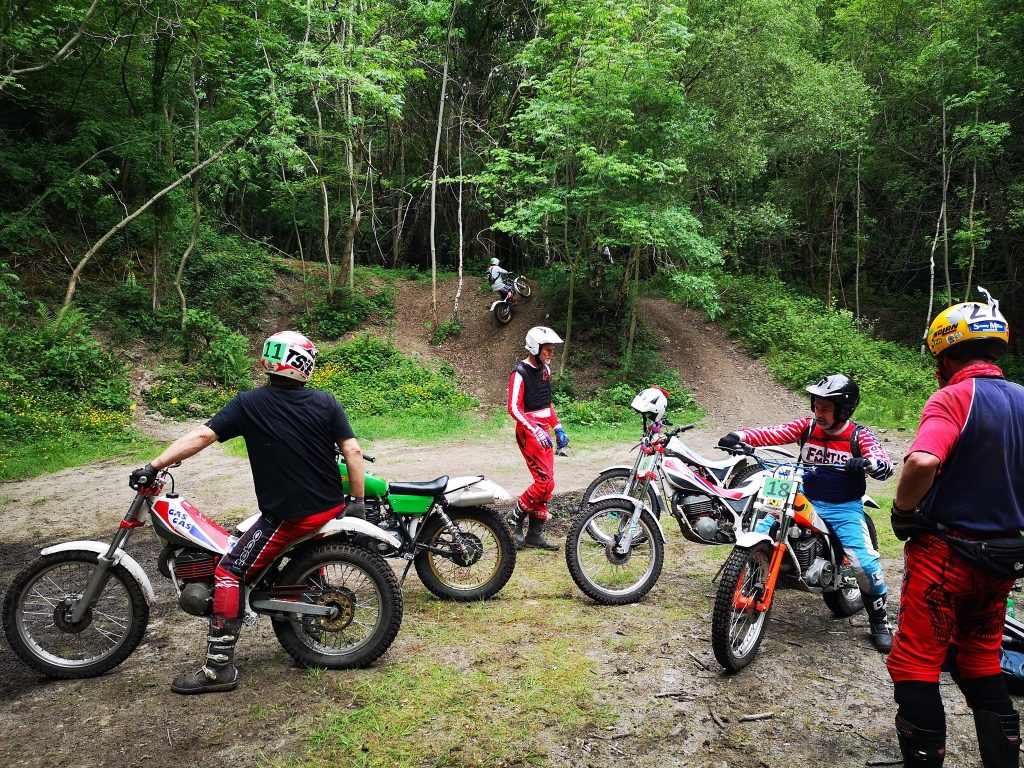 13th June saw Aqueduct Classics back on form with an increased rider count up to 50 riders as per the relaxing Covid restrictions. Still adhering to the rules of masks in the public areas and riding in groups of 6, a return visit to Pen Y Graig (which is probably going to be the main venue this year, once again to limit exposure to other venues) started with a lovely sunny day.
Alan Hotchkiss – Twin-shock (Novice – White Route)
I arrived at 9:50 am on a lovely Sunday morning at the top carpark of the farm to be greeted by the carpark attendant (Geoff ) brandishing a large coffee. After unloading the bike I wandered down the hill, facemask adorned and swiftly signed on by two chatty ladies. The hours traveling and coffee had taken its toll so I swiftly had to sort that out but midway through admiring the wonderful scenery I noticed I was surrounded by flies and a pungent smell, Needless to say I think the farmer must have lost a ewe a few weeks earlier! That smell was soon replaced with the fumes of 50 or so bikes firing into life as Russ summons us to the meeting point at section one. The ride to it is one to be enjoyed, down a steep twisting bank , through some water under a bridge which as you pass through resonates with the sound of the bikes. At the meeting point we were placed into our covid safe groups and then dispatched to our allocated start sections.
Off to section nine we headed, which for the white route started with a drop down a loose bank with a tight right turn in the bottom, across a camber,around a tree and up and out up a short bank.
Section one was pretty straight forward, a bit of a meander finishing with a long steep climb which I managed to finish flamboyantly semi in control on the back wheel on all four attempts.
Another favourite section was (I think 7 ) across a little camber, drop in to a bog out across some loose rocks around a tree and up a steep incline to finish.
All in all a great day out accompanied by some very experienced riders who were keen to share their knowledge and banter.
Signed The Whiteroute Wobbler
Steve Harding – Modern Mono (Novice – White Route)
First of all a massive thanks once again to the Aqueduct team for putting on such a great event under the circumstances, and all of the observer's who gave up a sunny Sunday so we were able to do what we love doing, also a big thanks to Russ and Mark for giving up their Saturday to mark out and clear the sections for us to use. All meeting up in the farm yard some time before the start and a chance to have a walk round and have a look at some of the machines that were taking part in the event and there were some excellent examples. 11o'clock sharp start We were put in to groups of 6 and all covid safety measures were applied. I was with a great bunch of guys and we had a good day and had some good banta along the way ,
Here are some of my favourite sections .
We started on section 7- You started off from the main track and drop down through the start gate down a bit of a bank then straight back up up and a tight left past a tree and across a bit of loose rock then up to the left again tight past another tree and along a ridge and out of the end gate ,

Section 5 – Russ and Sue on watch so no mistakes on this one haha,, It was like a white route just to get down there, but once down there you start and straight into the section and on to some good sized rocks and along through to a tight right between two trees then a tight left and then up a really steep shale slope and out of the section, tough but I enjoyed that section.

Section 6 – A bit of a nemesis for me this one. At the start gate Steve was there keeping an eye on things, from the start you drop down a bit of an off camber bank into some fairly deep sticky mud (and it was a bit of a deep rut by the time our team got to it ). I dabbed it every time on the 1st 3 laps, then a bit of an up hill left and back up and a tight right over a few rocks then fire it up a steep shale slope and out of the section, I decided to just attack it on the 4th lap and managed to clean it,
All in all a great days riding with some great guys, extremely warm and humid weather but had a great day. Again thanks to all the Aqueduct team, cheers.
Paul Owen – Pre 65 (Intermediate – Green Route) and
Thomas Owen – Pre 65 (Clubman – Yellow Route)
It was great to get to riding a bike again as it's been a long time away from competition . Also I had my son Thomas doing his first ever trials. I rode the rigid bantam as Thomas was on the twin-shock bantam, I rode greens and Thomas did yellows. Here are 3 sections we both enjoyed.
Section 3 – A steady ride into the section and around a tree to the left. Over a tree root and up a banking. Thomas had to ride the off camber banking to a left hander to the exit and I had to drop back down the bank and between the trees to a longish climb up the bank to a left hand turn to the exit. It wasn't hard or technical but it was on little loose stones and could easily catch you out. –
Section 6 – You dropped into a mud bath that got easier as it dried out with the warm sunny weather. Once across the mud we had a few slippy rocks that could easily take a dab off you. Then across into another muddy wet section. Thomas had to ride through it and up the bank to the exit and I had to turn sharp right up rocky slippy banks that turned to the left and dropped you back down the banking and a tight right turn up to the exit gate. –
Section 9 – You started the section on the old lane and dropped down across the banking and around a tight right turn straight into a drop into a left hander and down into a gully for Thomas where I had to turn right up around a tree and drop left into the gully. We then turned right on a very tight turn and up a steep bank to the exit gate.
Big thanks to all involved from riders. Organisers and observers
Our next event is on Sunday 11th July and based on the current known restrictions, this will be once again capped at 50 riders.
Top Places
Pre 65
Expert -Danny Littlehales, Francis Barnett (15); Kev Ellis, BSA (29);
Intermediate – Paul Owen, BSA (6); Phil Alderman, Triumph (7); Jim Droughton, Triumph (10)
Clubman – Mike Roberts, Ariel (14); Tim Lewis, Matchless (12); Peter Cocking, BSA (14)
Novice – Paul Beswick, BSA (0); Chris Kenny, BSA (26); Alan Hotchkiss, Fantic (37)
Twinshock
Expert – Tony Gush, Majesty (6); Julian Price, Fantic (26); Jack Lycett, Honda (37)
Intermediate – David Matthews, Bultaco (1); Dave Pengilley, Kawasaki (3); Tim Cuffin, Honda (14)
Clubman – William Leigh, Yamaha (8); Steve Blackburn, Montesa (10); Graham Pennington, Ossa (17)
Novice – No entries
Air Cooled Mono
Expert – Ian Jones, Yamaha (17); Robin Foulkes, Yamaha (23); Mark Blackwell (31)
Intermediate – James Mylett, Montesa (5); Paul Cartwright, Gas Gas (14); Ian Emery, Gas Gas (17)
Clubman – No entries
Novice – Tony Williams (18); Chris Matthews, Fantic (26)
Modern Mono
Expert – No entries
Intermediate – Dave Riley, Vertigo (2); Steve Serwin, Gas Gas (5); Paul Hempkins, Gas Gas (11)
Clubman – Martin Howard, Beta (11); Kev Finney (46)
Novice – Glyn Roberts, Montesa (0); Steve Harding, Gas Gas (21)
Observer List
Elwyn
Dave
Ian Jones
Izzy
Russ
Steve Jones
Michael Griffiths
Gordon
Mark
Paul