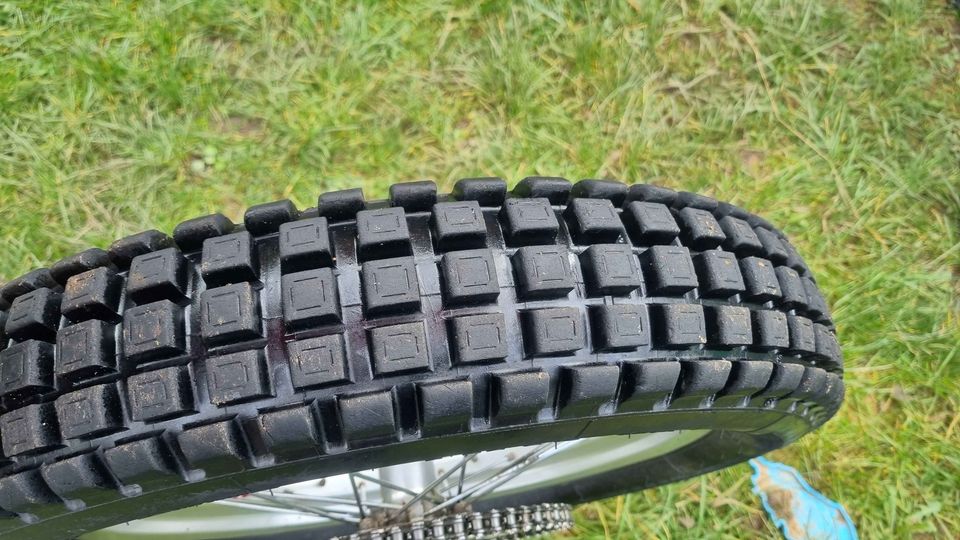 A very wet day greeted the 70 riders who took the opportunity to have a fantastic days trials competition at Pen Y Graig quarry. A great showing of 21 Pre 65's and 16 Twinshocks which form the bedrock of our classic trials club were supported by 11 AC Monos and 22 modern monos. With 9 Expert riders and 4 Novices on the start cards, it was evenly spread with the clubman and Intermediate classes with 29 and 28 respectively.

Steve Harding – Modern Mono / Clubman
First of all as usual, a huge thanks to all the Aqueduct team for putting on such a great event again and all the observer's for giving up their Sunday and standing out in the rain. Not forgetting Chris deburger for keeping us fed and watered.
The day started off with myself, Geoff and Ali on Car park duties stood out in the rain , it was tight but we got them all in.  So at 11o'clock we had the briefing in the farm yard and then set off down the long wet and muddy track to the quarry and then set off to find a section to start from. All sections were spot on and some testing due to the wet, slippy conditions. So here are a few of my favourites.
Section 7: At the top of the quarry, you start off from the a bit of a wet muddy area and into the section. Straight away you climb up a slippery shale and rock slope to a couple of big rocks where you had to give it a bit to get over. Then drop over the other side and keep left before turning a tight right on the off camber shale then tight left between two trees while dropping down over some loose rocks and then out ,
Section 5: You start off from the main track dropping down into the section and keep it left between two trees and over a couple of loose rocks before climbing right a bit. Then drop back down before another left and fire it back up a steep slippery slope and out of the section. 
Section 10: Back down to the bottom of the quarry where you start off from the the top of a steep bank which was very slippery due to the conditions. As you drop down you bare left a bit and go between two good sized rocks and drop on to the track. Cross over the track and into some deep muddy water then up left on the slippery bank before turning right and drop down and out of the section. 
Overall I had a great day,  thanks to everyone involved, cheers.
Paul Beswick – Pre 65 / Novice
This trial was the first time in two years that I had cocked my leg over a bike mainly down to financial and health problems. The last time I rode was here at the quarry so obviously I was more than a little nervous. Anyway, might as well jump straight in and see if I'd lost what little
talent I had two years ago.

The weather was a bit daunting especially as I left home at stupid o'clock for the 100 mile drive to the venue. The torrential rain abated the nearer I got to the venue which cheered me up a bit because I hate mud with a passion. When I arrived at 10.00am the car park was almost full but I managed to find a space for my little postman Pat van. Then the rain started. Oh well "it is what it is" as someone once said. Listened to the riders briefing and put putted down to the clearing in the quarry to drop off refreshments and arrived at section 1 bricking it.
Great to see so many friends who were very encouraging and seemed to have a lot more confidence in my "talents" than I did TBH. Strangest thing was I couldn't stop my left arm and hand from shaking for the first lap which was bloody annoying to say the least. I was only riding the white route which was great for me so nothing too horrendous or silly,
apart from me getting lost a couple of times in the sections while I got my trials eyes back into action.
Russell and Mark got it spot on as far as I was concerned a perfect balance for a Septuagenarian wobbler who struggles to even remember his own name. Saying that, some of the other routes did seem to be taking marks and a few riders literally had steam rising from them while waiting at the following section. Saying that queueing was thankfully almost non existent which was great.
Again, well done to the Aqui team and the riders themselves. Why can't all trials be like this? Anyway, by lap 2 I had settled down a bit and established a rhythm, now I knew roughly where I was going, and felt a lot more comfortable with myself. I was really enjoying myself now and
apart from a couple of stupid errors mainly down to changing my mind as to the line to take halfway through a section, (note to self decide on a line through the section AND STICK TO IT), it always ends in tears when you do that.
Before I knew it it was my last lap so remembering to check with the observers and also making a point of thanking them for helping make my day so enjoyable. I trundled round and made my way back to the van taking care as much as was possible, for a 17st blob on a Bantam, to keep the revs down and pull a high gear up the climb on the way back which
wasn't easy.
I must say I've really REALLY missed riding my trials bike and especially the camaraderie and friendship of all the Aqueduct crew and fellow riders. I must say if anyone reading this has ever considered riding trials the give it a go especially with this club. I guarantee you'll be made welcome although I can't guarantee you'll get cake as some of the crew seem to be not too distantly related to a flock of seagulls. I had a fantastic time and I'll try not to make it another two years before I'm back assuming you'll have me?
Mike Griffiths – Section 6
Up in my section there were some interesting bits. Some slippery and
some niggly and a few mobile rocks. Some surprise dabs but a well
sorted section. A few fives and some great big grins.
The Cheshire mob were trying like mad to stay clean and sadly they fippin well did. Very pleasantly surprised with no rock kickers . A good sign the message has got through and only one failure to say thanks.
Thanks lads I really enjoyed the day even if it pimply sissed down for a short while. The gortex worked for me and I stayed dry.  Yes I missed out on the cake and had to put up with the De Burger flashing his legs.
There was an 'interesting' plant growing by the rock face and it looked like weed.. Asking a couple of riders if they though it was cannabis and one gave a rapid no it's not ! ! !   Wonder if he is a market gardener or has a dodgy pastime ?    See you all at the next trial
Before we move into the usual stats, we have to close by once again say a huge thankyou to the club team for all of the effort they put in over the preceding months to make this happen, the observers for still taking the time to support and the land owner as always.
Top Places
Pre 65
Expert – No finishers
Intermediate – Paul Owen, BSA (28); Jim Droughton, Triumph (33); Norman Tarbuck, Drayton Bantam (37)
Clubman -Paul Brimelow, Cotton (13); Steve Walker, Francis Barnett (15); Steve Jones, Triumph (16)
Novice – Paul Beswick, BSA (2)
Twinshock
Expert – Paul Smart, Fantic (61); Andrew Williams, Honda (100); Steve Williams, Aprillia (126)
Intermediate – Dave Pengilley, Kawasaki (24); Robin Foulkes, Armstrong (24); Jim Williams, SWM (34)
Clubman – Kenton Hackney, Honda (15); Oliver Barker, Bultaco (15); Phil Cottiga, Honda (22)
Novice – No entrants
Air Cooled Mono
Expert – Patrick Edwards, Yamaha (54); Kev Ellis, Yamaha (64)
Intermediate – Alec Roberts, Scorpa (44); Michael Warburton, Honda (46); Paul Young, Gas Gas (46)
Clubman – Stephen Hall, Gas Gas (10); Tony Williams, Honda (50)
Novice – No entrants
Modern Mono
Expert – No entrants
Intermediate – Mike Smith, Montesa (20);Stuart Parr, Beta (36); Neil Liptrot, Gas Gas (37)
Clubman – Martin Speed, Vertigo (3); Gareth Evans, TRS (8); Bert White; Beta (11)
Novice – Mike Sutton, Beta (21)
Observer List
1 – Elwyn
2 – Mark Newman
3 – Ian Jones
4 – Dave Lovell
5 – Ben
6 – Mike Griffiths
7 – Allan Thomas
8 – Brian Barker
9 – Dave
10 – Tony Gush
Stats
Bikes Classes
Pre 65 – 21
Twinshock – 16
Air Cooled Mono – 11
Modern Mono – 22
Route Classes
Expert – 9
Intermediate – 28
Clubman – 29
Novice – 4
Bikes
Pre 65
BSA – 8
Cotton – 2
Francis Barnett – 1
James – 1
Triumph – 9
Twinshock
Aprilla – 1
Armstrong – 1
Bultaco – 1
Fantic – 5
Honda – 5
Kawasaki – 1
SWM – 1
Yamaha – 1
Air Cooled Mono
Beta – 1
Fantic – 2
Gas Gas – 4
Honda – 2
Scorpa – 1
Yamaha – 2
Modern Mono
Beta – 11
Gas Gas – 4
Montesa – 2
Sherco – 2
TRS – 1
Vertigo – 1