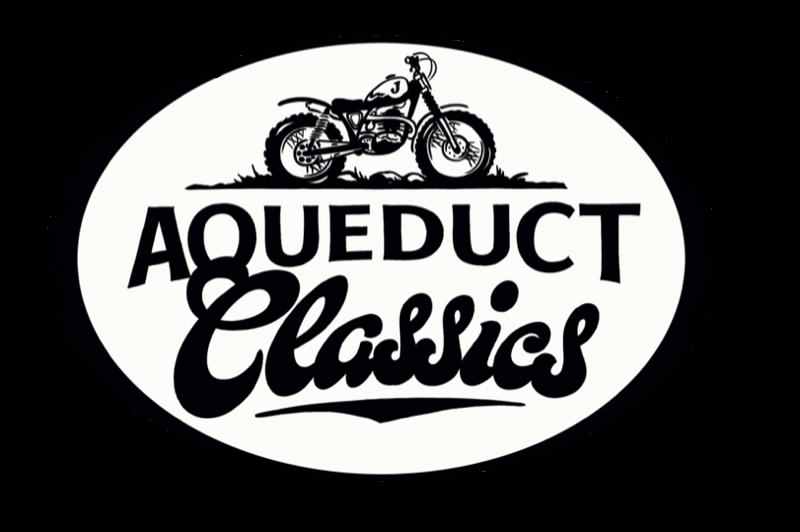 Event Report by Ian Emery and Rob Sloggett
You know when a new competition season started well then the entry shows 73 bikes on a cold January Sunday morning. With 43 bikes making up the Pre 65 and Twinshock class and 51 competing in the Intermediate or Clubman class, its no surprise that the club that now enters its eight competition year is in hearty spirits as a well established classic trials club.
Lets be clear, it was cold! Cold and muddy and that sort of set the tone for the day. The sections we challenging. Not difficult or dangerous challenging, but offered that type of challenge that resulted in a higher than normal level of DNF's either due to mechanical failure (as in my case) or riders finding that the 8 sections of 5 laps just took them to their riding limit on the day. Certainly in the Intermediate route I was riding, we were treating to a few new challenges which I will hold off for my part of the report below.
This months event report is kindly contributed to by Ian Emery and Rob Sloggett.
Ian Emery (Intermediate) – Yamaha TY AC Mono
Carrog Issa has always been a great venue and this event didn't disappoint. For me it was the first proper competitive outing on my TY Pinky as I contest the ACM Class this year. To comply with the landowner's wishes two sections in the main stream were dropped with 5 laps of 8 sections being the format for the day.
Section 1 was a cracker! The slight incline leading to the in-cards became a nightmare for many with some riders having several attempts just to get into the section due to the total lack of grip in the field. I took a 50 yard run up on the TY in 3rd gear (and once in 4th by accident ! ) and coasted up the hill into the section trying to maintain control for the tight u-turn left and back down, avoiding the footrest snagging tree stump and into the natural basin below where a swooping 180 turn back up the hill led to a slippy 90 left before crossing the camber to a gripless clay covered climb to the ends. I had mixed fortunes in the five laps. On a really steady throttle the TY found just enough grip pulling well at low revs and I ended up with three 3's (including the 4th gear attempt !) and two cleans which I was pleased with. There were many high scores recorded but well done to Garry Shaw for getting his rigid Bantam round for 5 cleans.
Section 2 was a nice combination of a slippy double descent followed by a tight left/right turn combination to the ends with the slippiness of the slight incline catching a few marks. Section 3 used a similar line to the one set for the Kia National but was a bit tamer. Despite that, the lack of grip cost many a few marks especially on the slippy first turn and on the cross camber climb. Section 4 was a series of tight turns gentle climbing along the crest of the bank. The first tight u-turn saw a few lose marks often as the front pushed out but most marks were claimed by the jumble of awkward, slippy rocks just before the ends.
Sections 5 and 6 were back to back with Kara and Russ in charge. The first saw a steep double descent with a tricky dog-leg over exposed roots just before a tight left where many riders overshot and were lucky to recover with just a dab. There followed a climb up the clay bank to a left turn towards a steep bank taking you back to near where you started. The sting here was a gulley at the base of this climb, strewn with polished roots which had to be jumped hard to keep momentum up the climb. I used 1st gear for my opening lap, concerned I would need that gear to control the descent but it made for a hard fought exit. Using 2nd gear thereafter the TY flew up the climb out on a rolling throttle but needed the odd dab at the base of the descent to make the turn. For me it was a lesson as to just how well the TY's suspension performed with the forks working hard on the descent and the rear doing the same on the exit.
Section 6 ran alongside, dropping into the same gulley with a climb out up a slippy bank on the left to then drop back into the gulley on a cross camber and once back in follow the incline and finally climb out up the left bank. Two really good flowing sections.
Section 7 was nasty! A short but steep climb towards three trees with a choice of two paths either side of the centre tree. Left was a wider gap but had little run up for the sweeping climb and right turn to follow. To the right a narrower gap to thread through but a better line to attack the turn which was again strewn with gripless roots. My first two attempts were in first gear and yielded a 5 and a paddling 3, but thereafter I chose second gear carefully threading the TY around the tree to the right and squirted around the turn for three cleans.
Section 8 was interesting! A short climb was followed by a twisty path between trees leading to a steep down-up sump which also involved a 90 right turn. It was so narrow the front wheel was climbing the far side whilst the rear was still on its way down and the turn had to be completed whilst the front was still climbing to keep momentum and avoid another tree with the front. A climb over loose debris followed to then swing left and down across the bank to a right turn which fell away sharply needing a very quick turn to avoid snagging another tree on the way down.
Overall 8 really good technical, challenging sections. I was so impressed with the way my TY performed, testing its ability find grip and pull in 1st, 2nd and 3rd gears and just how well its suspension and brakes all worked. Can't wait for the next round at Plas Onn.
Rob Sloggett (50/50) – Air Cooled Mono TY
So as I alluded to in the introduction, this opening round had a few new treats and whilst I ended up as a DNF (bit of a trend that as the opening round in 2016 for me had the same outcome) the two laps I did compete were great fun.
So what can I pick out? Well certainly Section 1 was a treat. The first section in years I can recall requiring a 3rd gear run up with about 3psi in the rear tyre to even get into the section. I have never been good on really slippery section entrances as people who recall me riding a Beamish a few years will attest to (sorry to those who got sprayed then), but once in the section the drop into a small gully then offered a right hand turn over some rough items then up an adjacent gully to be presented with a climb up a bank, left around a tree and then loop right up the bank to exit. This took high teen / twenty scores from most of the Intermediate riders although the Pre 65 class did seem to fair much better on this section with over half of the riders dropping 13 or less.
The sections were split across the venue and they tended to be in clustered pairs with sections 5 & 6 certainly my two favorites. Both incorporating a downhill drop and then peeling off into a tight turn with a challenging run either up hill or across a gully with exposed roots (remember this was a muddy terrain day) that really felt good when the ride hooked up well.
A quick top up with fuel after my second lap resulted in the bike cutting out whilst queuing in Section 1. As I write this I have still not explored why but I am suspecting a fuel blockage of some kind as it did run rough after but died on idling. But to be honest that did not spoil my day. Why? because the event offered something a bit different. It was a tough event but it was not "silly tough".
The next event is on Sunday 5th February at Plas Onn As always we have to pass on our thanks to the club, landowner, observers etc. for allowing us to have a good days competition.
Top Places:
Pre 65 Expert: James Francis, BSA (10); Peter Edwards, BSA (76); Kev Ellis, BSA (76)
Pre 65 Intermediate: Garry Shaw, BSA Rigid (17); Harry Lyons, BSA (35); Vernon Roberts, BSA (36)
Pre 65 Clubman: Roger Smith, BSA (19); Mervyn Powell, Arial (27); Peter Elvidge, BSA (28)
Pre 65 Beginner: No enteries
Twinshock Expert: Steve Shelley, Honda (34); Tony Gush, Majesty (46); Danny Littlehales, Fantic (63)
Twinshock Intermediate: Steve Blackburn, Montesa (65); Jim Droughton, Yamaha (70); Jeremy Sutton, Ossa (79)
Twinshock Clubman: Rob Jones, Honda (23); Gwilym Lloyd Ellis, Ossa (53); John Sowden, Bultaco (58)
Twinshock Beginner: Craig Fowler, Yamaha (65)
AC Mono Expert: Jerry Hawker, Honda (86)
AC Mono Intermediate: Ian Emery, Yamaha (27); Gordon Wilson, Honda (58); Martin Powell, Honda (65)
AC Mono Clubman: Steven Blaxall, Fantic (69)
AC Mono Beginner: No finishers
Modern Mono Expert: Richard Beddoes, Beta (56); Steve Richards, Montesa (60); Vincent Brett, Beta (64)
Modern Mono Intermediate: Paul Hempkins, Beta (41); Dave Lovell, Montesa (45); Andrew Dean, Beta (68)
Modern Mono Clubman: Tony Rainford, Sherco (47); Nick MacGillivray, Montesa (64); Hayden Rainford, Sherco (68)
Modern Mono Beginners: No finishers
Class Breakdown:
Pre 65 – 27
Twinshock – 16
A/C Mono – 9
Modern Mono – 21
Total = 73
Expert – 16
Intermediate – 28
Clubman – 23
Beginner – 6
Bike Stats:
Pre 65:
Arial – 1
BSA – 9 (2 rigid)
DOT – 2
Francis Barnett – 3
Norton – 1
Triumph – 4
Twinshock:
Armstrong – 1
Beamish Suzuki – 1
Bultaco – 7
Fantic – 6
Honda – 3
Ossa – 1
SWM – 1
Yamaha Majesty – 1
Yamaha TY – 10
Aircooled Mono:
Aprilla – 1
Beta – 1
Fantic – 2
GasGas – 1
Honda – 1
Yamaha – 1
Modern Mono:
Beta – 3
GasGas – 1
Sherco – 3