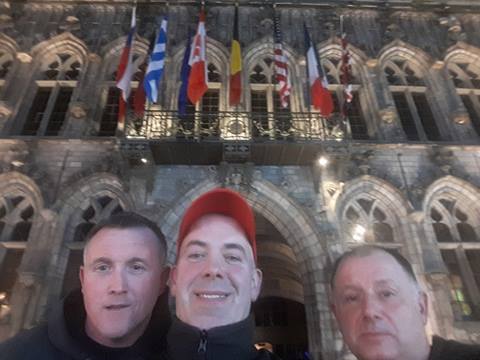 Event Report by Paul Owen
Aqueduct classic riders Russell Jones, Kev Ellis and myself (Paul Owen) left at 4am on Friday to travel to Belgium. The weather forecast was not looking good but our spirits were high and the long journey was filled with fun and laughter and plenty of Facebook live videos.
We finally found our hotel and got settled in. The little town was very welcoming and the event was about 3 miles away.
Saturday morning was cold and wet. We signed on for the trials and hill climb and went for a walk around the paddock to see some exotic bikes. My favourite was the indian twin furnished with wooden footpegs and side stand. The trial was all on banks with no rocks or stream sections in sight but the ground was slippy. Every section was challenging with steep inclines and tight turns. I believe there was over 110 riders and 2 classes with clubman and expert both being very good.
Saturday was 3 laps of 8 sections and we waited back at the start for the course to get cut up so we could get rear grip which worked on lap 1 but then we had a rain shower and it turned the sections into a mud bath and very slippy. Grip was there but throttle control had to be gentle as the rear would spin up as the gritty mud would grip but then lose all traction.
Russell and Kev were at hand to help with great advice for me and my powerless bantam as they are more experienced riders than me on the big BSA Goldstar and the James/Francis Barnet. We were glad to see a nice warm hotel room that evening and we made a plan for Sunday to attack the course early as the rain was coming.
With 3 laps of 11 sections we were the first 3 away at the start in a slippy, greasy venue that felt like it was -10. The 3 of us stopped for 1 minute silence at 11am for Rememberance Sunday and our bikes had poppies next to our number boards.
With new sections ahead we all rode well and dug deep to come away with great results . We also hung around for the hill climb.
I was first up on the rigid bantam and just looking at that hill was daunting for me. I made it up about the first 3rd of the hill. Kev was next up on the big lump of a Goldstar and fell just shy of the top. Russ made it up two 3rds of the hill on his James powered 2 stroke. The hill was suited for the big 4 stroke motors though.
We packed away and managed to get back across the channel that evening and home 3am on the Monday morning. All in all it was a great experiance for me with the lads and can't wait for next year. The organisers were very welcoming, friendly and helping .
Results Saturday:
2nd pre-unit class, Kev.
2nd rigid class, Paul.
4th 2 stroke class, Russ Jones.
Results Sunday:
2nd pre-unit class. Kev Ellis.
1st rigid class, Paul Owen.
7th 2 stroke class. Russ Jones.