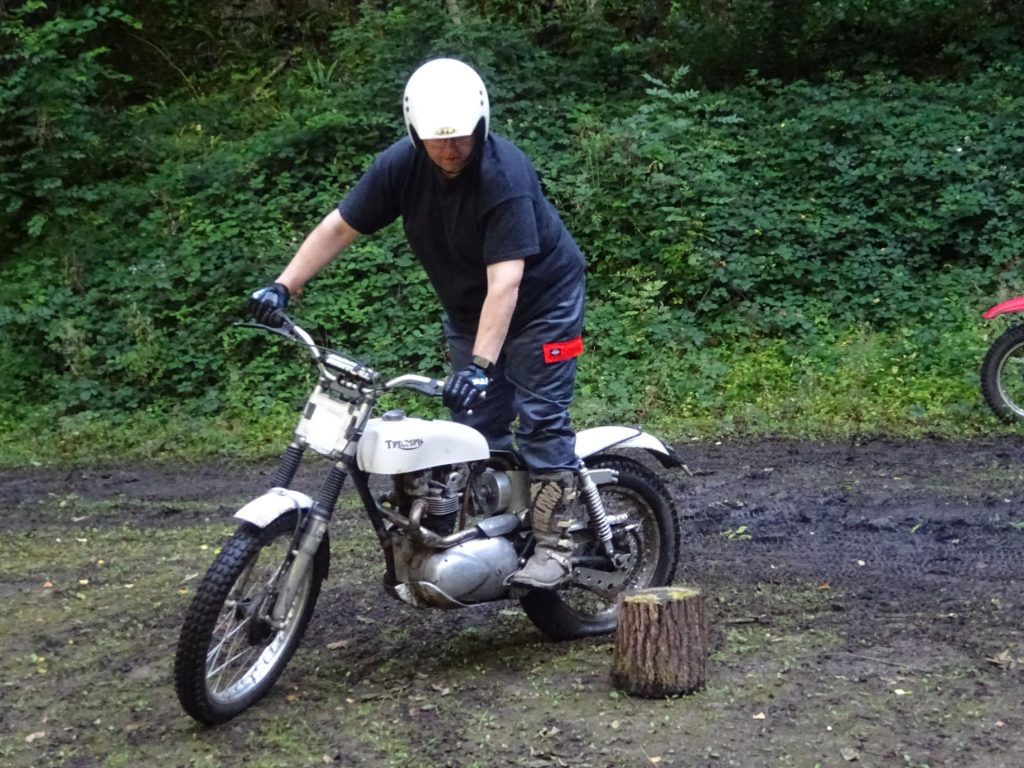 Following the very successful and enjoyable training day for Inters and Clubman on the 16th August, the club were able to arrange an additional session for Beginners and Clubman who wanted to improve their skills further.
Below is a set of reports kindly provided by Martyn and Gavin and photos by RogerKenyon.
Martyn Humphreys
I arrived for the Beginners/Novice training day a full 24 hours early, that's how keen/desperate I was. So having realized my mistake I'd either got a long lonely wait and be very early or I come back tomorrow. I messaged Geoff to explain what a plank I am and that I couldn't get my bike to the venue on Sunday. No problem says Geoff, come anyway.
I am so glad I turned up, even attending a training day without a bike worked for me; the Aqueduct Team as usual were spot on, ever friendly, welcoming and effortlessly creating a very special environment for those attending their events; people today of all ages and ability.
Pen-Y-Graig has so much to offer, great to build experience. Arriving without a bike turned out not so bad; having the option to sit, listen and watch the delivery and participation of training sessions worked out perfect for me. The size of the groups today certainly seemed beneficial; I think there were two groups of ten-ish. Come the afternoon a bike became available and Russ offered me the use of his Montesa,…
Brilliant. I spent the afternoon learning the Montesa, I think it was a 250, very positive, very forgiving, very different from the TY's and TLR I'd been using. I went back to the early sections Russ and Mark had laid out and repeated their sessions, starting with the Figure of Eights, by now quite muddy, the Montesa rode very sweet, the front end sometimes gently washing out in the mud, but having listened and watched the mornings sessions it was good to put into practice the body position and balance techniques the guys had spoken about, the front wheel slightly washing out was manageable, another new experience.
Moving on from the Figure of Eights I gave the white sections ago, again I was really surprised how confident you could be with the Montesa, ample power when needed and good useable engine braking. I'm now quite pleased, I'd just completed my first section, albeit White.
Completing the second section as well really boosted my confidence. Back to the beginning and this time giving the yellows ago, again, I am really pleased, another success; the guidance and instruction given by the guys throughout the day had been spot on.
Having just a couple of hours riding in the company of these guys has certainly improved my humble ability, I'm confident others will agree, sitting there at the end of the day watching the last practice session there were beaming tired content faces everywhere, the youngsters were doing laps and loving it, Russ was fine tuning to the end, taking that extra time with the youth riders to hone their skills and provide memorable life experiences.
A Good Day. Many many thanks for your time and patience, just the right pace for me…Oh, and the bike.
Gavin
Arriving at the venue selected for the training day, seeing all the vans and trailers with sweet smell of 2 stroke engines in the air just gets the blood flowing. With it being the first time at a trials event after lock down it just made everything seem back to normal. After signing on and grouping up at the bottom of the quarry, we were asked to ride in a figure of 8 between 2 logs while one of the instructors watched us, this was done to work out the level of the riders abilities as the training day caters for all riders some of which where attending for the first time at an event, as throughout the day it was done in a relaxed and unpressured environment, I feel is consistent within any aspect of trails whether competing or just at a practice day everyone always wants you to enjoy yourself and help you improve.
Once the groups had been figured out we followed the instructors Moz and Jimmy , to the first section of the day we would be working on, the section had been set out with white, yellow, green, blue and red routes, I normally ride the yellow routes so I choose to first have a walk of that, while walking through it with Dave we both started looking at the green route and both switched to ride the green routes, as we were walking through our instructors gave us advice on which lines they would take and which areas to watch out for, as it worked out the two instructors had different lines from each other which I thought was brilliant for learning as everyone is different so to get two opinions helped me see there's not just one line. After I had 2 rides though there was one area where I was spinning out on an causing me to either take a dab or completely taking both my feet of the pegs, the area was on a off camber incline straight after a sharp left turn, with the ground in this area being loose stone I was just loosing grip, while I was riding the section Moz had been carefully watching letting me try it twice and then stopping to have a quick chat, he showed me how I needed to slow down take the sharp left at a wider angle in which to give me time to open the throttle to give a little blip before starting the incline, then to roll off the throttle to tickle it up the rest.
We then moved onto the next section which had some nice features in it, come through the start sharp left, up a short but steep incline to then turn back on yourself back down to then ride over loose stone off camber area, with a slow turn right to the end gate. What I found with all the sections set out was that they all had a lot in such a short area absolutely fantastic, as for me it was taking that next step in my riding having more to remember and link together. Jimmy gave me some great advice he said that within the sections there will always be key areas in which to focus on and then the bits in between you can usually just ride through, this advice made me see the sections in a different light as I had always seen them as one where from Jimmy's helpful advice it broke it down into more of a slower and manageable area which helps your mind focus instead of thinking of the whole section.
We then all regrouped for a spot of lunch an in which the learning carried on with Jimmy having a quick chat with us asking how we were finding the day and if we had any issues that he could help us with.
After lunch we moved onto the next section had a walk through but this time with all the hints and tips fresh in my mind, myself and Dave started to eye up the blue and red route we both agreed that we might as well have a go as where better to learn than to do it on the training day. The route took a lot more concentration I had to really think on every move I was making, I can't remember how many times it took me till I was able to clean the section but what I can say is the smile on my face was absolutely huge I was grinning like a cheshire cat.
I was only able to reach being able to clean the red and blue section due to the ever so helpful advice and guidance from the instructors, I would highly recommend for everyone to take part in a training day because you can always learn something new.