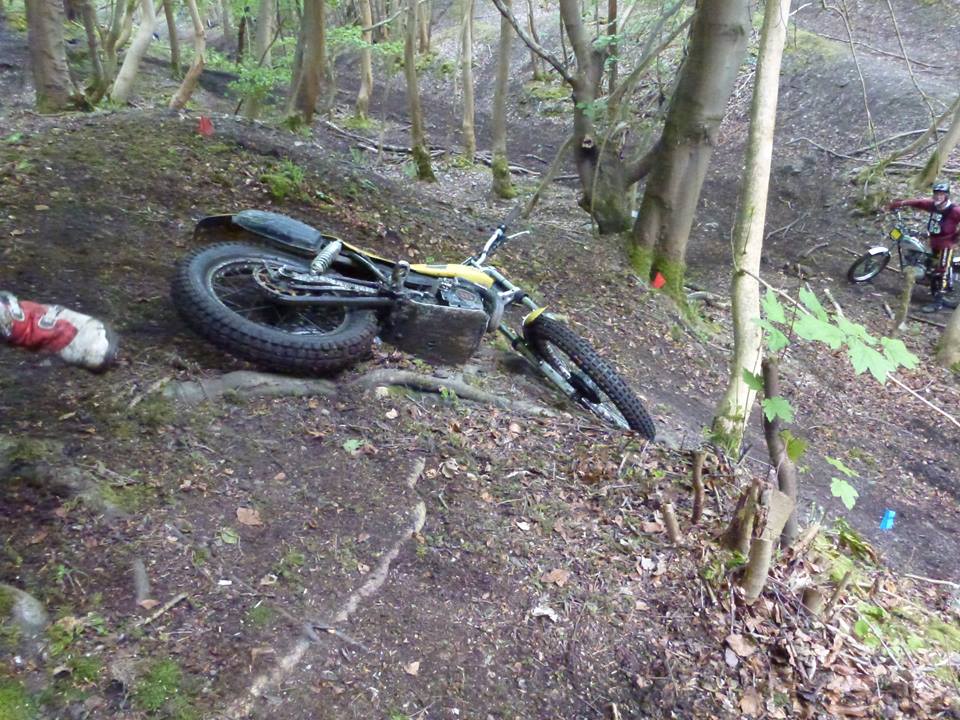 Event Report by Rob Sloggett, Rob Ayres and Mark Gaskell
We were treated to a lovely warm Sunday morning on the 13th May and a repeat visit to Pen y Graig greeted the 82 riders who were split between 21 Pre 65's, 23 Twinshocks, 13 Air Cooled Monos and 25 Modern Mono's. The Expert class bucked the recent trend of being lower in numbers and it was great to see 17 riders contest this class (our second highest entry this year) with 6 Pre 65 and 7 Twinshocks running on the day. 38 riders hit the Inters route and once again this provided the most popular class. 17 riders ran in the clubman class and this was heavily weighted in the Modern Monos favor with 9 bikes riding (showing this is great learning ground in an always friendly club). Finally it was great to see a number of new faces in the beginners class with 10 riders tackling a really enjoyable white route. We have an event report later on from Rob Ayres who was out on his Majesty with aqueduct for his first time. Welcome to the club Rob and those others joining Aqueduct for the first time!
Rob Sloggett – Modern Mono Inters
Another day at Pen Y Graig and after deciding to stick to the Inter route after my early season pushing myself on the Expert class, I was looking forward to a relaxing but enjoyable day. Taking a staggered start, I skipped the usual queues at Sections 1 & 2 and walked Section 3 as my starting point. A flat entrance with a short left turn fed you into a really nice uphill 180 left on a loose surface camber. The rest of the section was straight forward but this bank needed a steady hand and the power applied at the right point. Being one of the first riders through, the rear struggled to find grip and 3 dabs to get it through were needed. A bit annoying as the rest of the laps were clean but that's the risk of being early through.
Section 2 was a real killer. A long climb with three different contours and gradients with the top section being a right to left camber with a few good roots thrown in. Get it wrong and the roots threw you left, conveniently just before the left hand green flag. It needed commitment but my best was a 2 topped with a 3 and two 5's. Apart from Paul and Scott the rest of our route/class were all in high double figures so I was not alone. A great eye for a great section by the Clerk of the Course. Every loop has to have one really challenging section and this was the one for the day.
Russ looked after Section 6 and traditionally I always ride his sections badly. Something about the pressure of his beady eye scrutinising my every line but on this occasion the complex section with two good cambered left looping climbs and a mid section bomb hole took a succession of single dabs until the last lap hooked up beautifully for a clean.
Other highlights for me was a great first lap clean on Mark Samuels Section 9 as I tried a high line on the bank and also the regular challenge of the mid section rock fest on Gordon's Section 7,
I absolutely love the Beta Evo and the 200 is probably the best modern mono I have had but soon it will be going and the Bultaco will be back out after a bit of a diet and an extra 75 cc's. I just need to readjust my brain a bit as the brake and gears are on the opposite sides!
Keep up the good work guys! You are doing everything right.
Rob Ayres – Twinshock Beginners
I would just like to drop a line or two as how much I enjoyed the Trial at Penycraig farm on Sunday, from the signage en route, the welcome from everyone when I signed on and from the club officials, to the advice given by observers and other club members, everyone was very friendly and helpful throughout the day.
One thing I have noticed in the few trials I have done, is the poor signage between sections, Aqueduct Classic have this covered, as when you are new, slow, tired and running out of time, you need things to be properly laid out, top marks here, sections were also clearly marked . I did not take up trials at my age to get knocked to bits, but at the same time there has to be a challenge .
The sections on the beginner route were just that. Section 2 (I am pretty sure) had an uphill entrance, left around a tree, across a camber, over a small log and exit through a left turn, in the end I think I may have taken a crafty dab on this, but enjoyed getting some parts right.
Thereafter probably Section 1 was my next favourite. In all honesty I felt there was a lot of thought that had gone into making decent sections for all abilities, rather than them being an afterthought for the less able rider as I have found.
I will certainly keep riding with Aqueduct Classic and aim to improve to the next level one day, so thanks again to everyone for making it an enjoyable days riding and see you soon.
Mark Gaskell – Pre 65 Inters
For a change, lets list the sections in order of difficulty. From my point of view, obviously!
Section 10. Started from the only mud puddle there was today, up a bank between the trees,down a bank and out. A couple of small tree stumps to watch out for.
Section 4. Climb around a tree, down then back up over a jumble of roots, then out. Wrong line over the roots could have been awkward.
Section 6. Up a steep bank then turn back through a bomb hole, then tight left and out. If I hadn't been complacent on the last lap, I wouldn't have dropped a silly dab.
Section 5. Looked complicated, but wasn't. As long as you made a decent swing to the left before the exit you could ride straight out over the rocks.
Section 9. A wobble on the first lap when I didn't turn tight enough put a couple of dabs on the score.
Section 1 looked fairly straightforward. Over a jumble of rocks, tight left turn, up and round a big rock, then an off camber climb to the finish. Great to see Albert back observing, not so great to clip a tree and give him something to write down!
Section 8. A slalom from one bank to another, then a turn over roots that led you alongside a fallen tree. I was convinced that my left hand was going to smack this tree each lap, but it didn't. It did however cause me to dab.
Section 3. An almost 360 degree turn up a cambered bank, then round the observer and down a short off camber slope. Complacency again cost me two marks on lap 3 when I let the front drift off line.
Section 7. Steep downhill, then a right turn over a fairly big jumble of rocks, round a tree the up a bank to turn right and a short plummet to the end. I didn't think it looked as difficult as my first attempt proved. Gordon gave me a generous 3, and I promised to try harder next lap. I duly managed single dab next time, messed up for three on my third, and went for clean or bust on the last lap. Bust it was.
Section 2. I spent a lot of time looking at section 2. It didn't help. A steep, staggered bank, the top part of which was laced with off cambered roots. Turn right at the top to go over a root step between two trees, then left at the top of the bank to the end. There was a root across the gap which looked to slide your front wheel away from you though, and back down the steep bank towards the start. Rooty, and steep. With roots in. My first attempt was a bit too quick, cleared the bank but made the turn difficult, so footed my way out for three. Second attempt was slower, but then I wasn't going quick enough for the step and ending up in reverse for a five, Ange the observer quickly documenting it with her camera! On the remaining two laps I took the higher line over the roots aiming for, and achieving, safe three's, but was surprised to realise that the bike wasn't sliding down as expected. If I had the confidence in the back tyre I could probably have got to the turn without a dab. How much of this game is in your head? Watching your mate bin it big time doesn't help either, although both he and bike escaped unharmed.
Another thoroughly enjoyable trial, on a glorious sunny day. Thanks again to all involved, you really are doing us proud!
As I have finished writing this report up and doing the metrics it was really interesting so see the new range of bikes that we have not appeared in a while. The AC Mono had a Metatechno (which I think was the first time out at an Aqueduct event) and the Pre-65 saw a Matchless, Greaves and a Saracen which I am sure I had not seen before. Its great to see the diversity of bikes. I am waiting to see an early Ducati (as seen advertised on Ebay recently)!
As always a huge thank you to the observers, the team who managing the signing in and results as well as Russ and the guys who spend time before the event marking out the sections. Finally a big thank you to the land owner and of course Chris for the catering.
See you all at the next event.
Top Places:
Pre 65 Expert:Kev Ellis, BSA (23); Danny Littlehales, Francis Barnett (34); Tony Dillon, Triumph (47)
Pre 65 Intermediate: Merv Powell, Matchless (5); Paul Cook, Dot (18); Paul Owen, BSA (30)
Pre 65 Clubman: Graham Miller, Triumph (8); Roger Smith, BSA (9); Tim Godsmark, BSA (22)
Pre 65 Beginner: None
Twinshock Expert: Chris Gascoigne, Honda (14); Jim Williams, SWM (27); Tony Gush, Majesty (28)
Twinshock Intermediate: Tim Cuffin, Majesty (7); Dave Pengilley, Kawasaki (12); Adrian Kent, Bultaco (28)
Twinshock Clubman: John Sowden,Bultaco (26); Matt Hopkins, Yamaha (30)
Twinshock Beginner: Peter Higgs, Yamaha (1); Chris Jones, Yamaha (17); Rob Ayres, Majesty (78)
AC Mono Expert: Steve Bird, Yamaha (11); Terry Musgrade, Beta (59)
AC Mono Intermediate: Ian Emery, Yamaha (24); Martin Powell, Honda (26); Paul Cartwright, GasGas (35)
AC Mono Clubman: Ken Williams, Honda (19); Matthew Sinnott, Beta (48)
AC Mono Beginner: Chris Macgillivray, Fantic (3); Pete Thomas, Fantic (18)
Modern Mono Expert: Daniel Charles, Beta (58)
Modern Mono Intermediate: Paul Hempkins, Beta (25); Luke Rosecroft, Beta (34); Rob Sloggett, Beta (36)
Modern Mono Clubman: Steve Walker, Sherco (6); Gareth Steadman, Beta (17 FC); Kevin Hillidge, Sherco (17)
Modern Mono Beginners: Neil Parker, Sherco (7); Pete Raisford, Yamaha (32); John Roberts, Beta (36)
Observer List:
Sec 1 – Albert
Sec 2 – Ange
Sec 3 – Dave
Sec 4 – Suzanne
Sec 5 – Geoff
Sec 6 – Russ
Sec 7 – Gordon
Sec 8 -Chris
Sec 9 – Mark
Sec 10 – Izzy
Bike Stats:
Pre 65 – 21
Twinshock – 23
A/C Mono – 13
Modern Mono – 25
Total = 82
Classes
Expert – 17
Intermediate – 38
Clubman – 17
Beginner – 9
Bikes
Pre 65:
BSA – 7
DOT – 1
Francis Barnett – 3
Greaves – 1
James – 1
Matchless -1
Saracen – 1
Triumph – 6
Twinshock:
Aprilia – 1
Armstrong – 1
Beamish Suzuki –
Bultaco – 2
Fantic – 4
Honda – 4
Kawasaki – 1
Montesa – 1
Ossa – 1
SWM – 1
Yamaha Majesty – 3
Yamaha TY – 4
Aircooled Mono:
Aprilla –
Beta – 2
Fantic – 3
GasGas – 1
Honda – 3
Mecatechno – 1
Yamaha – 4
Modern Mono:
Beta – 15
GasGas – 4
Honda –
Montesa – 1
Scorpa –
Sherco – 2