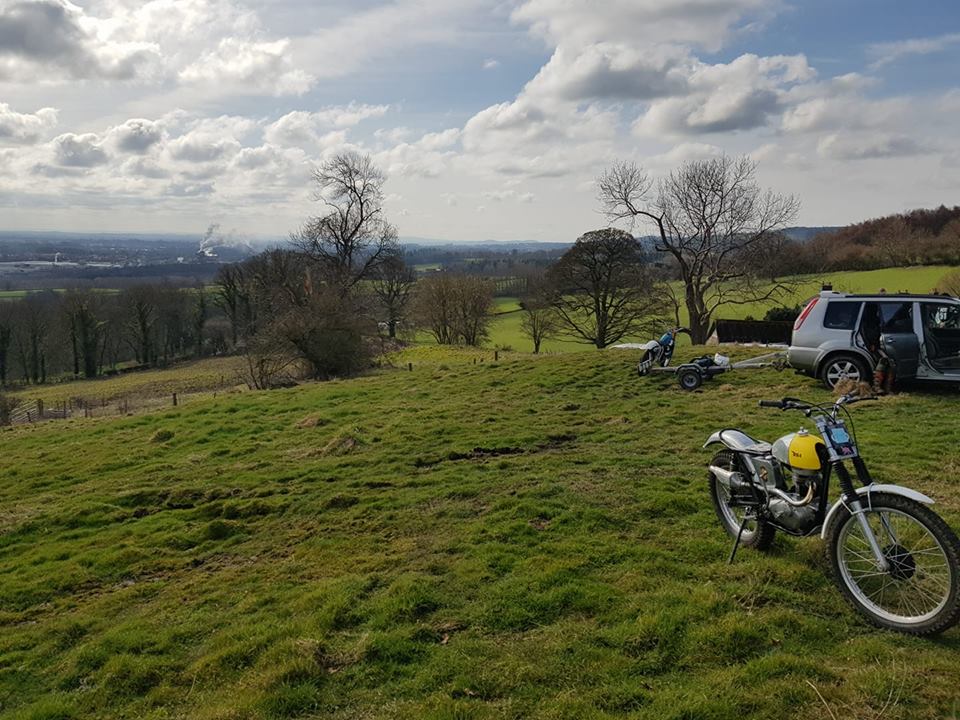 Event Report by Rob Sloggett and Paul Owen
Following March's event being cancelled and the risk of more snow, it being April Fools Day and the Sunday of Easter Bank Holiday the expected turnout was anticipated being lower than normal. No chance! why would it be? Its Aqueduct Classics and its Pen Y Graig quarry. The 80 riders managed to get shoe-horned into every parking spot available (and those of us with 4×4's had the fun part of getting into the higher field as well) but it was worth it for what turned out to be a great days sport. The riders had the usual distribution across the bike classes (with modern monos have a high turn out again) but weighted almost 50% in the Intermediate class (green route).
BSA's continue to dominate the Pre 65 class as the most popular marque but the twin shock class has seen a shift with Honda taking over from Bultaco. We continue to see a diverse entry in the Air Cooled Mono class (our smallest class with 12 riders at this outing) and Beta continues to dominate with the Modern Mono riders.
This months reports is kindly contributed to by Paul Owen.
Paul Owen – Intermediate (Pre 65)
Another great venue and club that keeps growing from strength to strength and great people involved. The sun was shining over the welsh hills that morning as 80 riders turned out for the trials. It had been a few weeks since my last trial so I tried to focus and ride well to compete with some good riders in the pre65 green route class.
I was amazed that I'd cleaned lap 1 of 4 but on lap 2 I had my first dab on section 2. It looked a simple section on a bank with a small rocky section just on top of the first hump then into a steep short climb on a slippy off camber to the out gate and that's were I picked up my first penalty mark.
The sections were very enjoyable and ridable with nothing dangerous.
On section 8 of the 3rd lap I dropped my 2nd mark. The section was changing every lap. As you entered the start gate you dropped down a bank you had to turn left as you rode down it. You then turned right around a tree and up a rooted bank to the next level then you rode between 2 big rocks and a slippy root to another rocky section which caught me out as a previous rider moved some rocks. I caught them wrong and was almost off but a big dab saved the day as I made it to the end gate.
II was very happy with my result as it could have been a lot more and I know Aqueduct classic team put a lot of effort into making the day very enjoyable for us riders.
Rob Sloggett – Intermediate (Modern Mono)
A few years ago I had a 1-2-1 skiing lesson on holiday. The tutor took my technique apart, rebuilt it then told me to spend a few days on the easier slope. His logic was sound, pointing at someone on a hard slope making a total hash of it. "Look at that idiot, they are learning nothing there apart from how to get from the top to the bottom by surviving. Now I have shown you some new techniques, get on the easier slopes and practice them". For the last few events I have had a go at the Expert route. I have learnt loads but this Sunday my head was not in the right place. I walked the first 2 sections and nothing clicked. I could not see a line, I saw danger was there was not any and I knew I was not going to enjoy myself. Most importantly, I did not feel that I was going to learn anything or improve. Luckily I have a reversible colour board so before I entered the first section I turned it round to inters and deceided today was a day to ride that route and practice some of the things I had been developing including experimenting with 2nd gear where normally I would use first.
I have to say I had an absolute blast! I was not putting myself under any pressure, I was walking the section and starting to think how I would approach these when I was back on the Bultaco (or even the BSA when it is built) and apart from section 10 which had a really tasty Expert aspect I was very content with what the green route had to offer.
How did my day go? Well I can honestly say I think riding up a class has helped me improve my riding and if it was not for the two fives I picked up from knocking the magnetic lanyard kill switch off (yes exactly! one on Russ's section first lap and one on the very last section of the day) I would have finished on a respectable 6 points (a 3 and the rest as single dabs).
Highlights? Section 6 for me was my favorite. Gordon's section has a simple entry and mid section but then the last third had a tight 180 left hander than a right biased uphill camber. A great opportunity to try out 2nd and 1st and get a feel for the difference in pick up and torque.
Section 10 was a good learning section as well. First lap, the mid section appeared to have one obvious line. As you dropped down the bank and then transferred to an uphill element, the transition point had a cluster of logs and roots with most rider choosing to do a right, left snake around then as opposed to riding straight over them. Watching a few riders take dabs this way, the next rider just fired straight across them, showed that grip was present and hey presto, the common line was shown.
The Evo as always was brilliant and a joy to ride but I am now getting twitchy and after getting back on the green route, I can't wait to get back on the old stuff again.
Looking at the observer list we have the regular group who always give up their time as well as a few new people. A big thanks go out to everyone who stands around, waves us in, picks us up and marks our scores. Likewise the team who mark out the sections, the signing on and result team and Chris for his catering always are appreciated. Finally a big thanks to the land owners for giving us access to such a great venue.
We are still waiting for formal confirmation of the venue for the 13th May so keep an eye on the facebook page for more details. Currently it is planned to be a revisit back to the quarry.
Top Places:
Pre 65 Expert: Paul Smart, Triumph (10); Dave Wood, BSA (17); Kev Ellis, BSA (21)
Pre 65 Intermediate: Paul Owen, BSA (2); David Beddoes, Villiers (4 FC); Phil Alderman, Triumph (4)
Pre 65 Clubman: Graham Miller, Triumph (1 FC); Roger Smith, BSA (1); Peter Cockings, BSA (6)
Pre 65 Beginner: No enteries
Twinshock Expert: Chris Gascoigne, Honda (12); Jim Williams, SWM (22)
Twinshock Intermediate: Chris Kent, Bultaco (1 FFC); Adrian Kent, Bultaco (1 FC); Daniel White, Yamaha (1)
Twinshock Clubman: Phil Jones, Yamaha (3); Kev Williams, Honda (23); Phil Roberts, Yamaha (24)
Twinshock Beginner:Steve Williams, Bultaco (2)
AC Mono Expert: No enteries
AC Mono Intermediate: Paul Young, Gas Gas (0); Martin Powell, Honda (4); Jeremy Sutton, JMC (6)
AC Mono Clubman: Ken Williams, Honda (17); Andy Steele, Yamaha (30)
AC Mono Beginner: Pete Thomas, Fantic (1)
Modern Mono Expert: Graham White, Vertigo (4); Jake Jones, Beta (30); Matt Murton, Beta (54 FC)
Modern Mono Intermediate: Paul Hempkins, Beta (6); Mark Bill, Beyta (8); Andrew Dean, Beta (11)
Modern Mono Clubman: Phil Clarkson, Beta (3); Steve Walker, Sherco (10); Jason Davies, unlisted (13)
Modern Mono Beginners: Neil Parker, Sherco (2); Jim White, Gas Gas (7); Pete Rainsford, Montesa (12)
Observers:
Sec 1 – Izzy
Sec 2 -Ange
Sec 3 – Jan
Sec 4 – Dave
Sec 5 – Annette
Sec 6 – Gordon
Sec 7 – Russ
Sec 8 – Mark
Sec 9 – Kev Lyon
Sec 10 – Geoff
Bike Stats:
Pre 65 – 22
Twinshock – 20
A/C Mono -12
Modern Mono – 26
Total = 80
Classes
Expert – 10
Intermediate – 38
Clubman – 25
Beginner – 7
Bikes
Pre 65:
Banville – 1
BSA – 10
DOT – 1
Francis Barnett – 1
James – 2
Norton – 1
Triumph – 5
Villiers – 1
Twinshock:
Aprillia – 1
Bultaco – 4
Fantic – 1
Honda – 5
Montesa – 2
SWM – 1
Yamaha TY – 6
Aircooled Mono:
Aprilla – 1
Fantic – 2
GasGas – 2
Honda – 3
JCM – 1
Yamaha – 3
Modern Mono:
Beta – 12
GasGas – 4
Montesa – 3
Ossa – 1
Sherco – 3
TRS – 1
Vertigo – 1