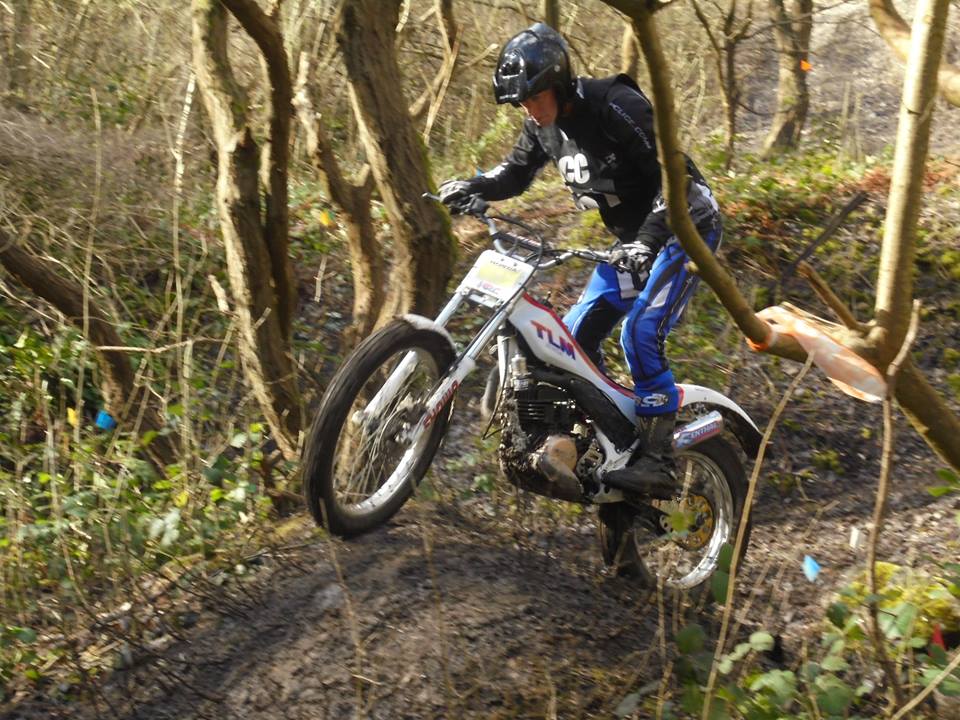 Event Report by Rob Sloggett, Ian Jones, Paul Owen and Mark Gasekell
With a clash of Round 2 of the Kia Championshp their was always a risk that numbers could be down but although a few club members were taking part at Lancs County MCC, the club still opened this March event with 75 riders. Of these, 33 were Pre 65's, 16 were twinshocks with 8 Air Cooled Monos and 18 modern mono's making up the count. The Intermediate class was the highest subscribed with 31 riders taking the popular "green route". 27 riders tacked the clubman "yellow" route and 10 Experts on Red and 7 on Beginners / White route finished off the entries.
The event started slightly earlier with a 10:30 gathering to award the final Championship places for 2018. It was great to see so many riders taking pleasure in the presentation and congratulating their fellow riders and set up the second round of this year nicely by reminding us that whilst we all say that we only do it "for fun", actually their is an underlying Championship going on in the background….
Ian Jones – Twinshock Expert
If Carlsberg made trials venues Pen y Graig would be top of my list, so much scope that the section setters put to good use in this old limestone quarry last worked in the 1950s. also a plus factor is after heavy rain all day saturday the nature of the quarry means that it drains pretty well leaving the 10 sections in prime condition for sundays action where an excellent turn out of over 70 keen riders considering there was a kia round and a local wrexham trial waited in sunny conditions to do battle over 4 laps.
After a nice presentation of last years award winners at 10,30 it was time to start engines smell some castrol R and ride down the narrow track to the quarry. I buddied up with fellow fantic rider Julian Price as i always find it easier to ride round the first lap with a competitor doing the same route to get ideas on different lines and sometimes the correct route as i'm colour blind and get mixed up with red and green markers.
We started at section 3, a twisty ride through the trees and a tricky exit up a narrow bank between two trees. First gear selected and off to a steady start until the last bank where the back wheel spun and had to have a steadying dab, its going to be one of those days I thought to myself.
Section 4, I cleaned and my confidence came back a bit then onto the 5th where you had to ride up a short steep bank then back down again into a tight left turn then a tight right turn with rocks and ruts hidden under a foot of murky water were a steady throttle and clutch control was required,another clean, this was my lucky section because if Julian had'nt of ridden it first i would have gone the wrong way up the first bank and had a five from the eagle eyed Harry.
Section 6 and 7 were rock sections and were new to me, very easy to mess these 2 up. A nice steady pace over the slippy moss covered rocks was the order and then onto section 8, a gentle decent into a narrow gap between 2 trees and a choice of lines over some rocks then a short steep shaley climb then over a fairly big log that got slippery every lap. I watched 4 experts go clean on this one, everyone on a different line, so this messed my head a bit as I could not decide which was best. Anyhow when i got to it i followed Danny's line over the rocks then sharp left then opened the fantic up to blast up the hill, because the bike had been cold for a while it choked up badly and i was glad it had enough momentum to carry me clean to the ends cards.
Section 9, a gentle meander through the trees then down into a steep bowl, tight right turn, "you can go wide ,but dont take the mic" were the stern words of observer Mr Samuel.
Section 10 next up and I had to work this one out on my own as all my classmates had moved on, just a tight tricky finish to this one as I had to lift my front wheel over a rock on full lock but got away with it with a clean. Section 1 would have given a modern mono never mind a twin shock or pre 65 a good suspension workout with its mud covered sharp edged rocks ready to catch you out, same as section 2 where good brakes where required.
So first lap was done and 1 mark lost and I'm feeling better on the bike but also knowing that a mistake or a 5 would put paid to a good result. 2nd and 3rd laps managed to go clean, now I can feel the pressures on for the final lap and I've drank all my water in my backpack. lm convinced that drinking water helps me to concentrate, but I kept it together and finished the day with 1 mark lost.
Thanks to the organisers and observers. I feel I'm really lucky to have a hard working trials club within a half hour drive,
Paul "Moz" Owen – Pre 65 Intermediate
Round 2 of Aqueduct Classic Trials. It was a sunny fresh start with the 2018 Championship presentation held before the days event. Was good to see everyone in good spirits and plenty of banta being splashed out. Or as my dad says.. "plenty of oil being spilt" haha.
So here are 3 of my favourite sections from the 10.
Section 5: With a straight forward incline up a bank to a right turn and back down the slippy mud as you slid to the waters edge and over slippy roots and rocks it was up a wet muddy bank to a sharp left and then into a muddy bog to a uphill exit.
Section 7: It looked easy as you just rode around a rocky banking. But with some largeish rocks to get between and over on the narrow path, if you lost your balance a dab would be easy to pick up.
Section 10: A slight left downhill start to an off camber left over a slippy wet root that could easily take a dab, then a sharp right turn down a long bank that was greasy. Then another right turn down between some trees into the bottom of a bomb hole then a left off camber rocky bank to the out gate. It was so easy to lock up the front wheel on this down hill section.
It was a honour to win the Chris Davies memorial trophy as well as the 2018 inters championship.
So another great trial at a great venue by such a great little club
Mark Gaskell – Pre 65 Intermediate and Talei Mallard – Modern Mono Beginners
It was a stroke of genius to have the club awards presentation before the trial, and I'm not just saying that because I received one! A much larger attendance was guaranteed, and with a free bacon sandwich from Chris de Burger's fine foods emporium, everyone was smiling.
The weather had even abated, the storms of yesterday all but forgotten. I was contesting the green, intermediate route on a Triumph Twin, my almost step-daughter the white, novice route on a Beta Evo 200.
Section 2 on the white route took a right turn, over a jumble of rocks, then left turn to the end. I pointed out to Talei that if she took a wide sweeping right, it would give her a straight line over the rocks, but it didn't quite translate to the handlebars. She did however manage 3,2,1, clean, so improving all the time. The green route took an uphill right turn around a tree, then down to a left over some loose rocks, and out to the right over a rockery. I had a silly dab on lap one, another on lap two, cleaned third lap, but fell foul of a displaced boulder on the last lap and paddled my way out for a 3.
Section 5 caused Talei some concern after seeing two riders in succession take an early bath in the mud hole. The prospect hadn't escaped my notice either! Her route was a straightforward crossing of the mud hole, but with a short steep bank for the exit. Mine involved a 90 degree right turn in the mud, which hid some roots and rocks to add interest, before a short bank up to a 180 degree slimy left and out via the same bank as the white route. Talei had two cleans and two 5's. One for missing the turn at the start owing to too much throttle, one for not getting up the bank at the end owing to too little! My first attempt involved some legwork to save a wayward front end and avoid disaster. The second a dab to do the same. The third I tried a different line, unsuccessfully for 5, but cleaned it on the last lap.
Section 8 white route started by riding down a long descent off the haul road, turn along the top of the embankment and then a steady climb back out to the haul road. A trifle daunting for our novice at first, but she soon got used to the idea and only dropped one mark. The green route followed the same descent, but then went further down, took a wiggle between two trees and over some rocks, then turned tight left to bring you a bikes length from what looked like a vertical wall. Probably only 15ft high, but quite steep and difficult to walk up. Waiting for my attempt I saw two expert route riders fail to get up the hill, and although their turn was a deal tighter than ours, I was just a little nervous as I got the go ahead from the observer. Holding my line through the turn, then possibly the first time I have used full throttle in a section on the Triumph saw me cresting the hill with ease, almost overshooting the next turn before the exit! Brilliant stuff, and happily repeated for the remaining laps.
I had a great day, and felt that I rode pretty well, but the scoresheet shows that quite a few other people rode better. Must try harder! (funny, sure I've heard that before!) Talei learned a lot from her ride, met a couple of types of obstacle that she has never ridden before, and is now plotting a determined assault on the novice championship.
Rob Sloggett – Clubman Route (Twinshock)
A few years ago I had a ski-ing lesson. Now I have ski'd for a few years but thought a couple of hours 1-2-1 would help hone my technique. After the lesson my ski instructor gave me some great advice. "Take what I have taught you and go on the Green and Blue runs only. Go where it is easier and focus on your technique. You will learn nothing that I have taught you by going down a black route, all that will do is teach you how to survive getting down a black route.
And that has sort of been my challenge to myself the last couple of events. As well as getting use to the new bikes characteristics I have wanted to focus on two things, slowing myself down in the sections to give myself time to think and also trying to ride a more defined line. In order to o this, I had dropped into the Clubman route and have really enjoyed the challenge. Whats the challenge in an easier route I hear you ask? Well as well as the self imposed pressure of "its an easier route so I really should not drop many marks should I?", the walk of the section force me to pick out specific elements of the section that I knew were in my weak spot. Let me explain with my favourite sections from the day…
Section 1: the second half was straight forward, run across a high gully, drop down to a simple exit, but the start was a peach. An open run in presented a cross camber climb at a 45 degree angle. About a 5 to 6 foot incline with a flag width of about 3 foot seemed OK but the bank face was rocks of different sizes and varying gaps. No natural line, just a pick a route and ride it out. This is where the mixture of "I want to ride this section clean" and "I want to pick a specific line for the front wheel" came into play and it felt a real challenge trying to keep my speed down (where I would have normally attacked it) and visualising and controlling the front wheel. Four cleans left me with a warm and fuzzy feeling.
Section 5: As pre the report by Paul above, this was a variation for the Clubman route and a great opportunity to try the bikes second gear. Probably not needed but a good chance to see how the bike picked up in a higher gear. The first incline was OK then you had a 180 degree right turn on the top of the bank to drop back down. Two options here, run out wide on the turn but traverse some small gullies and have a more straight on approach to the drop down the back or run inside on the turn parallel to the bank but have a move accute transition into the drop down. First two laps I was unstable across the gullies (taking the wider route) and lost a dab on the first lap and got close to a dab on the second lap so for the last two laps I took the inside line which force me to work on more controlled braking down the bank as you were tipping in at an angle as opposed to straight on. The second part of the section was up the bank, turn left, drop back into a muddy gully then up the opposite bank and turn left through the out cards. A single dab but maybe a close second one which the observer gave me the benefit of the doubt on.
Section 8: This was another great learning section. A meander through trees allowed precision and slow throttle control to be emphasised but then the mid secton threw in a nice curve ball. My initial walk made me thing "thats not the yellow route, thats more like a green" and thats the great thing about this sport. The psycological barrier that you have to overcome and the elation when you master it is just the best. So what was the challenge? Well from the top of the bank you had to tip down into a basin withj a relatively tight looking right hand drop but then once in the bottom of the basin you had to turn 180 degrees left and straight up the opposite bank. My immediate reaction was that the basin turn was tight and could force a dab but actually if you ran high on the opposite bank (albeit changing direction on the bank wall) you actually got a good run up the adjacent bank. A great excercise once again in picking a single element out from the section as a point of focus. Clean for the day on that part but a stupid silly dab on the way out! Typical.
Hopefully next month a return to Intermediate route but I have really enjoyed riding the clubman route and learning a lot from it! As always, huge thanks to the organisers, observers and additional helpers of all shapes and sizes.
The feedback on Facebook from the riders provided a few sound bites as follows:
Thanks to all a good trial again. Riding yellow route . I liked a few of the longer sections. All were dooable but still managed to drop 15. I think I need to slow up a bit! Section 5 seem to catch a few out including myself. Enjoyed 6,8,9 best – Neil Parker
I'm a novice observer, thought my section was well planned out! Loved the Red route with riders 71,72,73 I think they were, all totally relaxed. Loved my day – Suzanne Bowkett (Observer)
Well done aqueduct classic team. Brilliant trial. Red route today. Enjoyed it muchly. Thanks to the observers – Gary Shaw
Great sections,bike running well & my favourite venue but I didn't do it justice today-terrible 1st& 2nd laps then got better for last two-but had great day anyway. Big thanks to all involved in making it happen – Ken Williams
We return to Pen Y Graig again next month and look forward to seeing you all there. As always a huge thanks to the club team, the observers, land owner and Chris and his catering team.
Top Places:
Pre 65 Expert: Danny Littlehales, Francis Barnett (3); Gary Shaw, Triumph (16); Guy Rogers, BSA (21)
Pre 65 Intermediate: David Beddoes, Francis Barnett (1); Tony Dillow, Triumph (2); Craig Howard, BSA (3)
Pre 65 Clubman: Roger Smith, BSA (2); Graham Miller, Triumph (8); Peter Cockins, BSA (9)
Pre 65 Beginner: Kevin O'Toole, Matchless (6); K Lloyd, BSA (6); Chris Atherton, BSA (19)
Twinshock Expert: Ian Jones, Fantic (1); Julian Price, Frantic (33); Jack Lycett, Yamaha (47)
Twinshock Intermediate: Stephen Knight, Yamaha (2); Alex Barrie, Honda (5); Jeff Hurley, Fantic (14)
Twinshock Clubman: Rob Sloggett, Bultaco (3); Graham Pennington, Ossa (11); Dave Lycett, Yamaha (20) (
Twinshock Beginner:No Finishers
AC Mono Expert:No enteries
AC Mono Intermediate: Gordon Wilson, Honda (2); Martin Powell, Honda (5); Alec Roberts, Scorpa (17)
AC Mono Clubman: Richard Corbert, Scorpa (0); Ken Williams, Honda (7)
AC Mono Beginner: No enteries
Modern Mono Expert: No enteries
Modern Mono Intermediate: Andrew Dean, Beta (0); David Ellis, Beta (3); Paul Hempkins, Gag Gas (14)
Modern Mono Clubman: Martin Howard, Beta (6); Hayden Rainford, Beta (8); David Molyneaux, Beta (12)
Modern Mono Beginners: Chris Matthews (20); Talei Mallard, Beta (34)
Observers:
Section 1 – Izzy
Section 2 – Suz
Section 3 – Celine
Section 4 – Chris
Section 5 – Harry
Section 6 – Russ
Section 7 – Gordon
Section 8 – Dave
Section 9 – Mark
Section 10 – Jan
Bike Stats:
Pre 65 – 33
Twinshock – 16
A/C Mono – 8
Modern Mono – 18
Total = 75
Classes
Expert – 10
Intermediate – 31
Clubman – 27
Beginner – 7
Bikes
Pre 65:
Ariel – 1
BSA – 16
Dot – 1
Drayton Bantam – 1
Francis Barnett – 4
Matchless – 1
Norton – 1
Saracen – 1
Triumph – 7
Twinshock:
Bultaco – 2
Fantic – 5
Honda – 2
Montesa – 1
Ossa – 1
Yamaha Majesty – 1
Yamaha TY – 3
Aircooled Mono:
Fantic – 1
GasGas – 1
Honda – 3
Scorpa – 2
Yamaha – 1
Modern Mono:
Beta – 10
GasGas – 2
Montesa – 1
Sherco – 4
Unlisted – 1