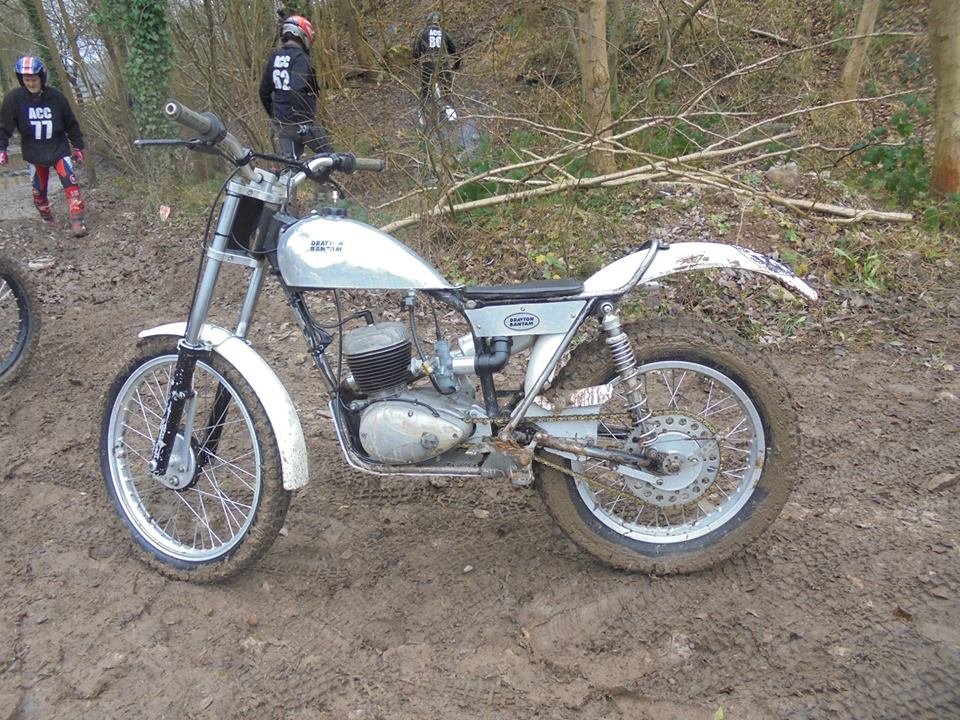 Event Report by Rob Sloggett, Paul Owen, Graham Miller & Alan Dyson
I started the January 2018 report with these words…. "When 82 bikes turn up to the first event of the season with some riders travelling a couple of hours to get to the start you know you are onto a good thing as a club". So how do you start it when the opening number for January 2019 tips the balance at 104 riders? I suppose you just continue to appreciate the hard work of the club team and report on what was a fantastic event.
The incredible turnout saw 41 Pre 65's joined by 30 Twinshocks, 9 AC Monos and 24 Modern Monos. The increase was significantly biased towards the Pre 65 and Twinshock classes which was even more appreciated by the spectators at this great venue where the sections are marked out around the edge of a quarry giving quick and easy reach to the competitors.
It was good to see 24 riders take to the Expert route with 44 riders tackling the Inter route, 28 in the Clubman and 8 in the Beginners class.
Alan Dyson – First time spectator
What a fresh start to the New Year!
A cold Sunday watching my first classic trial invited to by a club member and good friend Mark Newman. Having rode trials bikes previously but never attended a competitive club trial, I was keen to come and see what it was all about having spoken to Mark about trials bikes and future club events on various occasions. I didn't expect such a large turnout of riders and spectators at club level however when we arrived there I was taken by surprise as to how many people were actually competing and what was involved in organizing a club trial.
I was introduced to Russell the 'boss man' of the event and also many club members who I have to say were a great group of guys and girls who made me feel very welcome and answered any questions I asked. As a 1st time spectator I was keen to see as many of the sections as possible, so armed with my camera off I went. The sections were all very well set out with a varied set of routes and were suitable for all level of riders. The safety and organization around the event was excellent…and the butty van was second to none!
Watching all the riders I was impressed with the level of skill but more the level of fun they were having and even though the event is competitive, the camaraderie between the riders was impressive. After taking quite a lot of 'No Pressure' pictures during the day I had a wander between sections to look at the different types of classic trials bikes, where yet again everyone I met and spoke to was welcoming and accommodating.
I have well and truly been bitten by the bug! I'd like to thank Aqueduct Classic Trial Club for a great day and not forgetting Mark Newman for the invitation and the experience of watching a competitive classic club trial.
Paul "Moz" Owen – Inter Route (Pre 65)
With over 100 riders it was a busy day for all observers. What a great venue and a very enjoyable trial. 10 challenging sections of rock, mud and slippy roots. Here is my pick of 3 of the 10 sections.
Section 3. Starting off with a 10ft climb and onto some large loose rocks into a left turn and another climb to a off camber bank. Then a sharp left down loose chippings to a right turn and the out gate.
Section 9. Starting on the flat you entered the section and did a 180 degree turn between some trees in a muddy bog then you turned left up a muddy bank but it was grippy. At the top you turned left and stopped back down to the flat and the end gate. But it was slippy and you didn't want to touch the brakes!
Section 10. A muddy start gate then across the stream and up a short steep bank to a left around a tree then to a off camber bank and along some slippy tree root covered in wet mud. Then over a big tree root to a steep left bank and back into a muddy stream and along to the end gate.
It was great to see so many riders and all of them smiling and happy to be on a bike after the Christmas break. Big thanks to aqueduct classic for another great trials run by a very successful dedicated team . And success breeds success
Rob Sloggett – Clubman Route (Twinshock)
At last! After 5 months off the bike, the Christmas break allowed me to finish it off and after a couple of practices at Nant Ucha I was ready to throw myself back into another season at Aqueduct. After making the mistake a few years ago of taking a newly rebuilt / modified bike straight into a completion and not really being use to it I cracked a rib (my fault!) so for this re-boot I decided to drop down to the clubman class, have an enjoyable days sport and make sure I was happy and confident before going back up into the Inter class. And I was so glad I did ….. because I had a blast! The clubman route gave me enough pressure in the sections where I knew I should clean it not to fall into silly dabs but enough variety to throw the odd challenge at me to develop my skills and test the bike out.
So what were my highlights? Well it started with Section 4. This seemed quiet unassuming. A straight entry on the flat and immediately do a quick right left on flat ground to line up to a straight uphill gradient. Whilst the surface was loose stone this was compacted and not an issue but at the top of it was the main challenge of the section. Positioned across a 1 meter width span was a nook in the rock to the left but a large stone to the right big enough to catch your cases it you got the left hand line wrong. To the right was a rock large enough to make you consider the left hand side but not so large that you would consider riding over it. After that a small gradient up, a shallow right hand turn then a downhill run to the end cards. As this was a learning ride, I wanted to see how the bike took the rock so that was my target. Two cleans and a silly dab on the first 3 laps so on the last lap I tried the left hand side to see how my bottle lasted with the smaller gap. It was the wrong move and cost me 2 daps but at least I learnt its better to go over than around!
Section 7 was my Achilles heal. You started on a blind bank where you could see the start cards but not visualize your line. You were then presented with an uphill gully with a rock cluster (uphill attack) or peel right and go around the rock. Unfortunately you then had a sharp left across two groups of rocks before dropping down to the end cards. On this occasion I tried the "go around" as opposed to over and on the first 3 laps took 3's (some with more than 3 dabs). I spoke to a couple of other clubman riders on the last lap who had tried going over the rock and felt it was a more rideable line. For the last lap I rewalked the section and felt comfortable with the challenge, selected first gear and attacked it. Two silly daps but nothing like my previous attempts and felt with another pass I probably could have mastered it for a single dab or maybe a clean.
Section 9 was my only self inflicted 5 (I had one on Section 1 but that was as a result of the chain jumping off so I'm not counting that…) A simple section on paper, enter in with a 180 right loop them an uphill 270 left over a sludgy base. This was the main obstacle and my natural line was go wide on the 270 and kiss the outside flag. I could not get this consistently and dropped a single dap each time as the transition on the bank tipped the bike in. For the last lap I wanted to try a tighter line and have 2nd gear selected in-case the bike lost traction and I needed a bit of grunt. Needless to say the line, gearing and technique aligned in the perfect storm and I was rewarded with a 5. After my lap had finished I went back to the section, asked the observer if I was OK for a practice ride and cleaned it straight away. Such is the joy of this sport.
Graham Miller – Clubman Route (Pre-65)
Later start than usual knowing that parking at the quarry would be plentiful and pleasing to see a 100+ rider entry today. Congratulations to the organizers and observers for providing a great trial, severity just right to test but not punish us and perfect weather conditions.
Section 1: drop in down a steep bank, don't get too ambitious and turn too early, out of the water up the bank and head for the V between the trees. Over the roots and home and dry after a sharp left followed by a right bringing the end cards into sight.
Section 2: can't get too close to the start so kept peering out to see the lady observer's welcome beckoning. Tricky little section and decided to keep close to the left otherwise the rocks bite back. Fourth lap went too close to the left and the tree snapped the clutch lever off – wondered why it was dangling in front of me and wished I had invested in a pair of Domino's instead of the cast Amal copies !
Section 3: again a long distance entry up a steep bank and immediately into the section. Watch out for the landing after the descent over the rock step but generally manageable.
Section 4: more rocks to attack the chain when running a large rear sprocket on the Cub so keeping right over the rock step proved to be the safest approach. Grip the handlebars tight to outwit the loose rocks and sail through to the finish.
Section 5: awkward hill waiting to get into the section but thankfully the Cub's brakes weren't too wet so they worked OK today. A tricky manoeuvre through a pair of rocks and a left turn at the finish.
Section 6: first queuing encountered but a good time for a catch-up with friends. Winding section with an adverse camber in the middle which I thought might get worse through the day. However, all was well and although the surface broke away, there was plenty of grip underneath.
Section 7: probably the hardest section of the day. Avoid the daunting looking rock step at your peril as trying to turn on the smaller rocks was taking marks of most riders. Straight up the rock step which provided a surprising amount of grip, or maybe it's the difference between a Pirelli MT43 and my new sticky IRC, hold tight and bounce out with only the end cards in mind.
Section 8: straightforward entry until after the right turn when the rock/root step is quickly upon you. Blip the throttle, pull back on the bars and climb to the summit.
Section 9: figure of eight with an adverse camber over a rut. Go wide and end up too high for the banked turn risking the front wheel cutting away; too tight, loose traction and take a dab – the choice is yours.
Section 10: second gear to maintain momentum up the hill followed by a tight left turn heading through a narrow gap between trees and down into a murky mire. Avoid the two hidden rocks, sweep around and out to start lap 2 to do it all over again.
The feedback on Facebook from the riders provided a few sound bites as follows:
Just like to say thanks for a great day Sunday it was my first comp ever and I really enjoyed it. Great club with a great attitude.Big Thanks to Paul Cartwright for keeping me going in the right direction – Paul Corcoran
A few photos of a fantastic day out with Aqueduct Classics, a great bunch thanks for making us so welcome, im hooked, got to give this a go, looking for a bike now – Jeff Hughes
Great start to 2019, cracking venue and challenging (for me anyway) Green route. Thanks to all observers, organisers and caterers. You must be doing something right for 100+ entry – Graham Pennington
February sees us hosting the opening round of the 2019 Kia Championship at Plas Onn and as always we are keen for observers, but for this report, all that is left to say is a huge thank-you and well done to the club for accomodating the 100+ riders and putting on such a great event. The observers as always did a fantastic job and a big thank-you to them and finally to the land owners, the back room team and the caterers, you know how much you are appreciated.
Top Places:
Pre 65 Expert: James Francis, BSA (2); Danny Littlehales, Francis Barnett (5); Russ Jones, Triumph (13)
Pre 65 Intermediate: Stephen Knight, BSA (3); Paul Own, BSA (4); Paul Cook, Francis Barnett (5); Phil Alderman, BSA (5)
Pre 65 Clubman: Graham Miller, Triumph (5); Rob Godwin, Francis Barnett (16); Roger Smith, BSA (16)
Pre 65 Beginner: Chris Atherton, BSA (23)
Twinshock Expert: Matt Spink, Fantic (3); Steve Thompson, Honda (8); Ian Jones, Fantic (11); Tim Cuffin, Yamaha (11)
Twinshock Intermediate: Gary Hawkins, Fantic (2); Dave Pengillery, Kawasaki (4); Jim Droughton, Yamaha (6)
Twinshock Clubman: Keith Jones, Majesty (9); Rob Sloggett, Bultaco (30); Philip Roberts, Fantic (34)
Twinshock Beginner: Ken Garfield, Yamaha (4); Stuart Smith, Armstrong (7)
AC Mono Expert: Jim Williams, Honda (10); Robin Foulkes, Yamaha (43)
AC Mono Intermediate: Gordon Wilson, Honda (8); Alec Roberts, Scorpa (12); Paul Cartwright, Gas Gas (28)
AC Mono Clubman: Andy Steele, Yamaha (13)
AC Mono Beginner: David Evans, Fantic (9)
Modern Mono Expert: Dan Charles, Beta (35); Neil Jackson, TRS (36); Declan Marsden, Gas Gas (39)
Modern Mono Intermediate: David Ellis, Beta (12); Paul Hempkins, Gas Gas (12); Steve Walker, Sherco (13)
Modern Mono Clubman: Ken Williams, Unlisted (11); Harley Lewis, Gas Gas (12); Pat Forde, Beta (17)
Modern Mono Beginners: Chris Matthews, Unlisted (20); Talei Mallard, Beta (36)
Observers:
Section 1 – Geoff Jones
Section 2 – Ange Godsmark
Section 3 – Matin Pengilley
Section 4 – Dannny Knight
Section 5 – Mark Samuel
Section 6 – Harry South
Section 7 – Dave Williams
Section 8 – Izzy Cartwright
Section 9 – Chris Samuel
Section 10 – Suzanne Bowkett
Bike Stats:
Pre 65 – 41
Twinshock – 30
A/C Mono – 9
Modern Mono – 24
Total = 104
Classes
Expert – 24
Intermediate – 44
Clubman – 28
Beginner – 8
Bikes
Pre 65:
Ariel – 1
BSA – 18
Dot – 2
Drayton Bantam – 1
Francis Barnett – 6
James – 2
Matchless – 1
Saracen – 1
Triumph – 8
Twinshock:
Aprilia – 1
Armstrong – 1
Bultaco – 3
Fantic – 11
Honda – 5
Kawasaki – 1
Majesty – 1
Montesa – 1
Ossa – 1
Yamaha TY – 4
Unlisted – 1
Aircooled Mono:
Fantic – 2
GasGas – 2
Honda – 2
Scorpa – 1
Yamaha – 2
Modern Mono:
Beta – 11
GasGas – 6
Montesa – 1
Ossa –
Scorpa – 1
Sherco – 2
TRS – 1
Unlisted – 2