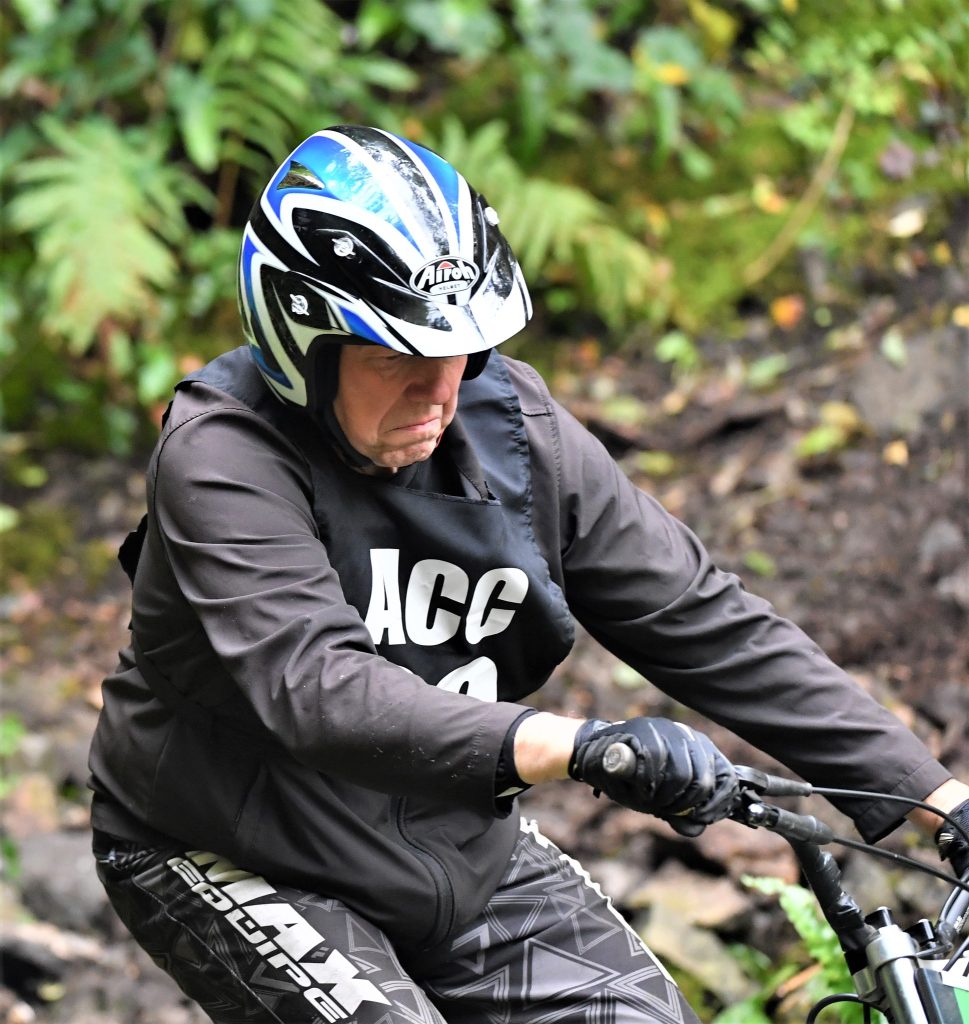 Well after much nagging, what a feast of a report we have this month! As well a few from the usual crew, we also have a brace from the our youth class with the Pughe-Hutchinson brothers kindly putting fingers to keyboard with their reflections on the day.
Entries continue to be healthy with 92 riders offloading a rand of bikes for a fantastic days competition back at the quarry. 27 Pre 65'2 and 18 Twinshocks lined up with 13 AC Monos and 33 Modern Monos.
8 Experts, 6 Novice, top and tailed the classes with 38 clubman and 39 intermediates filling in the middle routes.
I also need to close this introduction by thanking a number of our regular riders who offered to pick up observing boards for this event We cant run without your kind offers to give up a days riding to keep the club functioning.
Mark Gaskell – Pre 65 / Intermediate
Various different events have stopped me from riding anywhere near as much as I'd like to this year (get the excuses in early) so I was overjoyed when a free Sunday and an Aqueduct trial coincided!
Pen-y-Graig quarry is a great venue, and after the customary socialising and drinking tea in the paddock, we got down to the serious business of trying to keep our feet up. Some of us did better than others!
Section 2, my nemesis.
A left, right, left turn, on a slight bank and around a tree. Across a muddy trench, duck round another tree, then blast up a short steep climb to the end. The initial element was alongside more of the muddy trench, so do you try to turn across the trench, or keep it tight along the bank? Nearly everyone kept to the tight line.
First lap and I was contemplating a safety dab for the right before the tree, with my foot off the pegs ready. Then I decided I didn't need one, but as I put my foot back on the peg the front wheel told me that I should have, as it slid the wrong side of the tree.
Second lap, and a messy three saw me round the tree and heading for the end climb. Realised at the last minute that I was heading for the yellow route, and my corrective action failed hopelessly and I slid gracefully to the ground.
Third lap and I tried to go very slowly down the bank into the right turn, holding the Triumph against the back brake, as it never stalls. It stalled.
Last lap and I managed to get round for two. Felt like a clean!
Section 7.
Up a tricky looking, but easy rock step. Left around a slight, easy looking loose off camber turn, then right on a steeper off cambered turn to the end.
First lap, easy clean.
Second lap, maybe not concentrating enough and the back wheel steps out on a loose rock leaving me stranded for a five.
Third lap, watch for the loose rock, slack dab that I didn't need.
Fourth lap easy clean.
Section 8
Down a steep bank to a tight left, back up a bank and right between two trees, then down to the fallen log. This has been used before (I looked back at one of my old reports!) and has caused problems. The log itself is easy, but the downhill right that you have to make pretty much with your rear wheel still on the log makes it harder, especially as there is a wall of saplings adding a psychological barrier directly ahead. The "wall" was thinner than last time, mainly because I had crashed through them previously! From there it was a slalom down a gully, before climbing back onto the main track at the end.
Four cleans. The combination of geometry and momentum means the Triumph rolls over the log perfectly, all I have to do is ignore the saplings and hang on!
As ever, a great day. Huge thanks to everyone who works so hard to make it happen!
Nye Pughe-Hutchinson- Modern Mono / Youth Clubman
Thank you = it was a great trial. I liked it very much in the quarry and it was my first go at riding the yellow sections and I found it really hard but really fun and I tried it all .
My favourite section was number 6 because it was very hard and now I know what I need to practise on for next time . Section 2, I had good scores and it was really muddy but great fun to ride .
Even though I didn't finish the trial because my bike broke it was still really fun and Thank you for everything that you did for me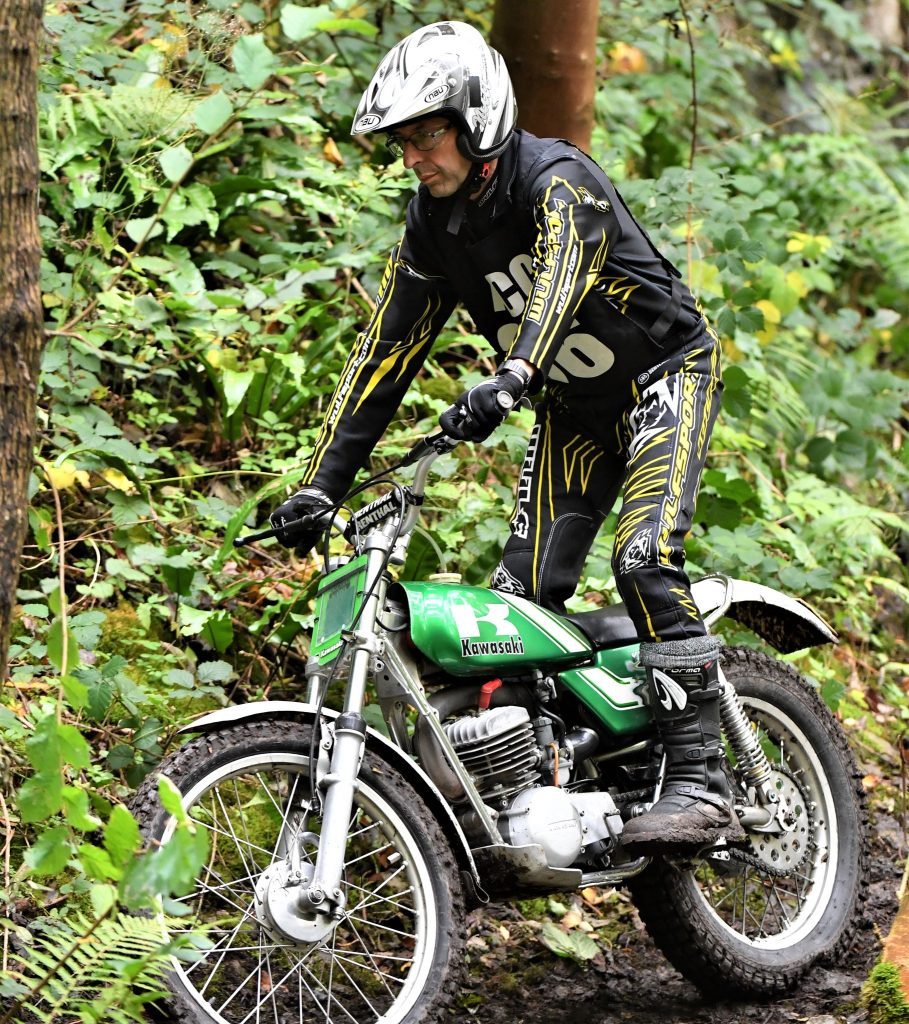 Mark Newman – Class / Route
Well yet another great event , no surprise there then …same team, same great service, because that's what it is …its a service to us all who enter, the Aqueduct team look after us from start to finish..as always a massive thanks to the team and all the observers and here's a brief report on my day ..
Riding a new bike which I've been out on once before, a very unusual Ariel 250 twin. After the first outing I altered a couple of things but I knew the front was a bit soft as the guy I bought it from was half my weight I thought I'd try it and see …
Well section 1 not a difficult one, up and round a tree, camber to the left up and round another tree ..a little too much throttle saw me over shoot and was hard on the brakes to say, in the section a big rock to the right saw me bottom out the forks with a big thud .. a couple of dabs and I'm out …..only then did I find something was rubbing bad , the bottom yoke had hit the mudguard bracket and bent it and was now catching the front wheel.. I tried to bend slacken and twist to no avail…..it was back to the van for me to make repairs…30mins later I was mobile again but rushing a tad …
Anyway some great sections, 2 was a killer and dabs every time so enough said ..
I saw a few people struggling for grip on section 7 but the little twin just gripped and pulled up steady with gentle throttle control..it was a short section with a rock step then a left over the stones which were like glass then up high with a right turn over more slippy little stones but like I said gentle throttle and just steady made it a clean everytime…
then onto Gordon's with the laying down tree ..its a bugger you have to be inch perfect aiming to lift the front from an angle not straight at it …you dropped in then tight to the left up steep bank and round a tree, then weave slight right then left and the fallen tree is in front of you…so throttle to lift the front over but to much and into the trees at the other side ..a cut finger 3 dabs and pull it hard right to get back on line. Not done yet , pull it sharp round the next tree on a bank drop back down onto the track up a banking to the right off camber and end gates up on the road …
2nd attempt go for the tree at an angle so you don't end up in the trees opposite…not to much throttle so your still in control…front goes over good line but paused on tree for a milli second, foot down and a push needed a tiny bit more …3rd attempt ok, you know what to do, lift front, a bit of throttle and lift the legs to allow the bike over the tree …it worked and a clean ride well. Happy and now with a bit of confidence 4th time same but smoother happy with that …
Loved Julians section 9 such a flowing section. Could get the bike right down to tick over and just tootle round and through the vans and trees ..
Zain Pughe-Hutchinson – Modern Momo / Youth Expert
The Aquaduct trial in Pen Y Craig Quarry was another brilliant event however the ground was very loose and slippy which made the day harder but it was great fun . I rode the expert route and the sections were set out great . I rode multiple sections good and the worse section for me was probably number 3 because I just couldn't get that turn at the top . Thanks to you all and see you all soon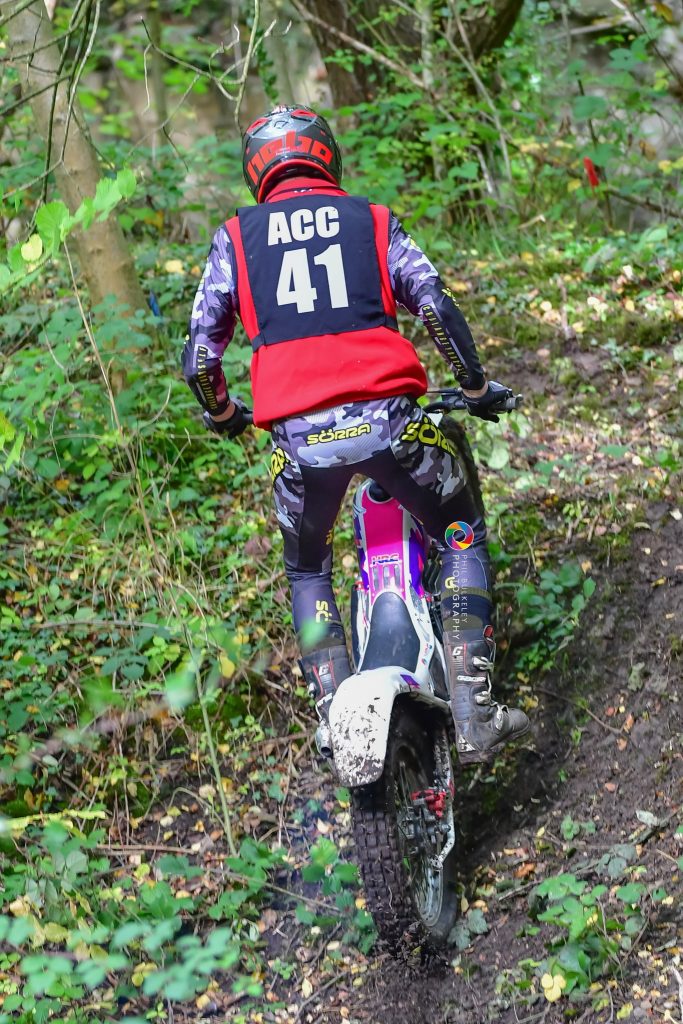 Paul Smart- Air Cooled Mono / Expert
Section 1
Tricky turns which flowed on full lock, exit over some loose rocks whilst turning down hill, it was tricky and easy to loose a dab.
Section 2
Got easier as the day went on
Section 3
Lost most of marks here with a drop around a tree and back up tight but a route kicked the wheel out. Even when expecting it, it still caught me out.
Section 4
Lovely flowing section that dug out half way through and could have taken marks easily.
Section 7
Turn into a rock pool after the start gates, easy to clean but easier to dab! Then up around a tree to out.
Section 8
Flowing downhill section with tight full lock turns, blip up a bank to put
Section 9
Cambered drop in looked 10 times were than how it actually rode, then a cambered climb back up, narrow line which you had to be bang on, niggly little drop around a tree to out which again could easily take marks
To sum it up, good trial with flowing sections that needed some thought but nothing that required hopping or bopping.
Stephen Harding – Modern Mono / Clubman
Well where do I start, after such a great trial at Nant Y Ffrith last month how do you top that, but you did it at this great venue,
We haven't been here for a good while and there were some good changes to the farm yard to give more space for parking but it all soon filled up with plenty of vans and trailers, on a cracking day ,Chris deburger parked in his usual spot keeping us fed and watered
The day started at 11oclock with a talk from Russ and then a ride down to the quarry for the start, everyone met at the bottom and then split up to start at witch ever section they wanted to, I was riding with Tony Williams and Alan hotchkis and Oliver, we decided to put some distance from the main crowd and started on section 6,
Not my favourite but here we are,
You start off from the main track and and drop down a good steep bank into a bit of deep mud and had to pick your line back up a bank and turn a bit of a tight right and up again to the top of the bank before going off camber between the flags before dropping back down heading steep towards a tree and keeping it to the right and over some tricky rocks and straight away you had to fire it up a very steep slope and over some tricky roots and out of the section.
Section 1
Back down to the bottom of the quarry
For this one, you start off through the start gate and straight away in to some slippy mud and up a slippery slope and then on to some loose stone and keep climbing a bit then a bit of a left and up a bit more and left past a tree then you head straight along an off camber bank and then a bit of a right before going left and dropping down another off camber bank and out of the section
Section 2
Another slippery muddy section,
You start off from the main track in the bottom of the quarry,
You enter the section and straight away you were in the slippery mud and up a bit of a steep bank and then a bit of a left on an off camber bank and drop straight back down into some fairly deep mud and navigate across the previous tyre tracks and back across the main track and straight away up over some fairly good sized rocks onto a right and up a fairly steep bank and fire it up to te top and out of the section
All sections were testing but spot on
Big thanks to all the aqueduct team for putting on another great trial , and not forgetting all the observer's for giving up there Sunday without whom it wouldn't be possible to have such a great event
Well done all involved
Looking forward to seeing you all next time,..
We are just waiting for confirmation of our next venue so keep an eye out for the regs opening soon…
Before we move into the usual stats, we have to close by once again say a huge thankyou to the club team for all of the effort they put in over the preceding months to make this happen, the observers for still taking the time to support and the land owner as always.
Top Places
Pre 65
Expert – Chris Garlick, BSA (16); Chris Gascoigne, BSA (26)
Intermediate – Les Richardson, Drayton Starmaker (4); Dave Riley, Cotton (6); Robin Boyd, Triumph (14); Phil Alderman, Triumph (14)
Clubman – Tim Lewis, Matchless (1); Paul Brimelow, Cotton (3); Steve Walker (5)
Novice – Paul Thomas, AJS (5); Terry Lloyd, Triumph (18)
Twinshock
Expert – Kev Ellis, SWM (14); Jack Lycett, Honda (15)
Intermediate – Dave Pengilley, Kawasaki (6); Ben Boyd, Honda (14); Tony Dillon, Fantic (21)
Clubman – Elwyn Beedles, Honda (2); Matthew Duff, Bultaco (6); Shaun Gallagher, Fantic (11); Owain Charles, Yamaha (11)
Novice – Steve williams, Bultaco (22)
Air Cooled Mono
Expert – Paul Smart, Honda (10)
Intermediate – Neil Brooks, Fantic (2); Mike Jones, Gas Gas (6); David Matthews, Yamaha (9)
Clubman – Adrian Kent, Montesa (3); Matthew Sinnott, Beta (34); Tony Williams, Honda (67)
Novice – No riders
Modern Mono
Expert – Tony Brooks, Beta (16); Zain Pughe-Hutchinson, TRS (22); Hayden Rainford, Honda (25)
Intermediate – George Jones, Beta (4); Paul Hempkins, Gas Gas (8); Michael Warburton, Vertigo (11)
Clubman – Jason Hanmer, Sherco (5); Andrew Dean, Beta Evo (6); Stan Trojnar, Beta (20); Sean Halstead, Montesa (20)
Novice – George Edge, Montesa (16); Mikey Thomas, Oset (60)
Observer List
1 – Pete Thomas
2 – Elwyn
3 – Dave Lovell
4 – Edward
5 – Jeff Hughes
6 – Mark Lucas
7 – Ian Jones
8 – Gordon
9 – Julian Price
10 – Russ
Stats
Bikes Classes
Pre 65 – 27
Twinshock – 18
Air Cooled Mono – 13
Modern Mono – 33
Route Classes
Expert – 8
Intermediate – 38
Clubman – 39
Novice – 6
Bikes
Pre 65
AJS – 1
Ariel – 1
BSA – 9
Cotton – 2
Drayton Starmaker – 1
Francis Barnett – 2
James – 2
Matchless – 1
Triumph – 7
Villiers – 1
Twinshock
Bultaco – 4
Fantic – 4
Honda – 4
Kawasaki – 1
Majesty – 1
Ossa – 1
SWM – 1
Yamaha – 1
Yamaha –
Air Cooled Mono
Aprilia – 1
Beta – 1
Fantic -2
Gas Gas 2-
Honda – 4
Scorpa – 1
Yamaha – 2
Modern Mono
Beta – 13
Gas Gas – 6
Honda – 1
Jotagas – 1
Montesa – 3
Oset – 1
Sherco – 2
TRS – 2
Vertigo – 3