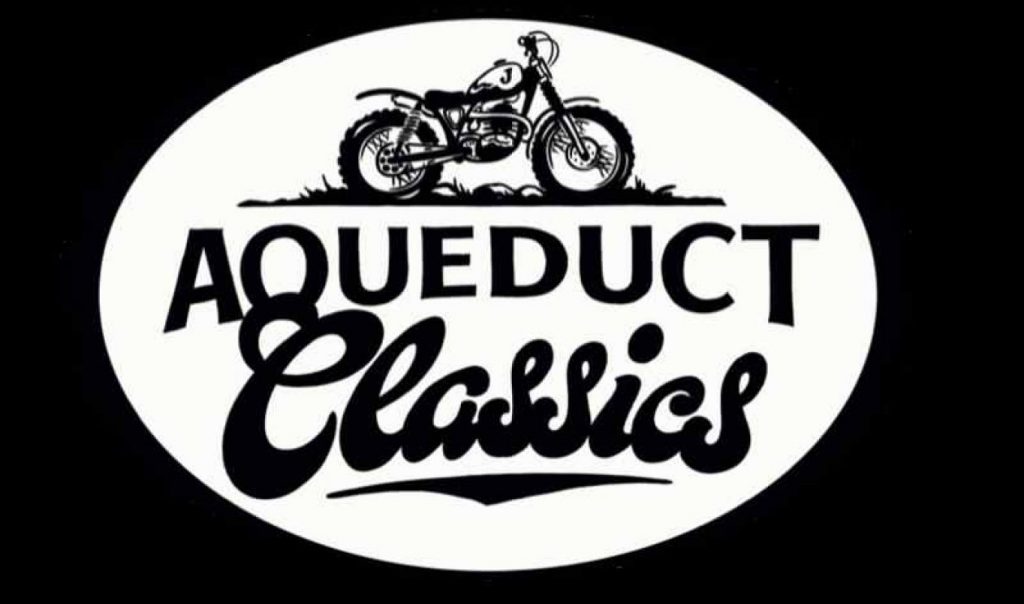 A welcome return to Nany Y Ffrith saw 108 riders unload an incredible collection of bikes for yet another classic trial event. The 34 Pre 65 bikes and 27 Twinshocks were accompanied by 12 Air Cooled Monos and 35 Modern Monos
Across the routes, we had18 Experts and 44 Intermediates with 39 Clubman and 7 Novice riders. Modern Mono (Clubman) and Pre 65 (Inters) tied as the biggest classes with 17 riders apiece.
Paul Owen – Pre 65 / Intermediate
This trials was a full house with well over 100 riders and the venue helped massively as it was spread out. I was on the pre65 intermediate green route on my BSA bantam. Here are 3 of my best and worse sections.
Section 3. You entered the start gate towards the right and with a tight left turn you got on the gas and up a steep climb to a tight right over the ridge and dropped back down avoiding 2 big rocks. Then into a gentle left and full gas again up the next climb that crossed another path . At the top it was a steep drop to the right and with the brakes on full and sliding down the loose shail you had to try get as far right to the flag and the turn left to the out gate. I cleaned it 3 times and a 5 from missing the last flag by inches but the exit was either going to be a clean or a big 5 trying to get to the out gate. It turned out I did the last lap with a flat front tyre. So that didn't help things.
Section 4. You started on the flat then up a tree rooted off camber bank and onto the next level. With a cambered right turn on loose ground you had a steep climb up to a foot high vertical step. Timing with the throttle was critical as too much and it spun out and to little wouldn't get you up the step. Once up you turned sharp left right left between trees to the drop down to the out gate.
Section 10. This was a short section but was over slippy bare tree roots and moss covered rocks that looked like an old collapsed wall. You rode into the section and onto the roots and rocks that wanted to kick the wheels to the opposite of were you wanted to go. If you got the first bit wrong then you would struggle with the right and left turn and the rocks were moving around every lap. You just had to lean back and keep the front light to just get to the out gate. Again the flat front tyre didn't help over the bumpy bits. I was dreading seeing the scores but ended up 3rd.
Big thanks to the club, the observers and all involved. And I'd like to pass on my deepest sympathies to the family of Albert Higgins. Albert loved his trials from being a good rider to observing in his later years.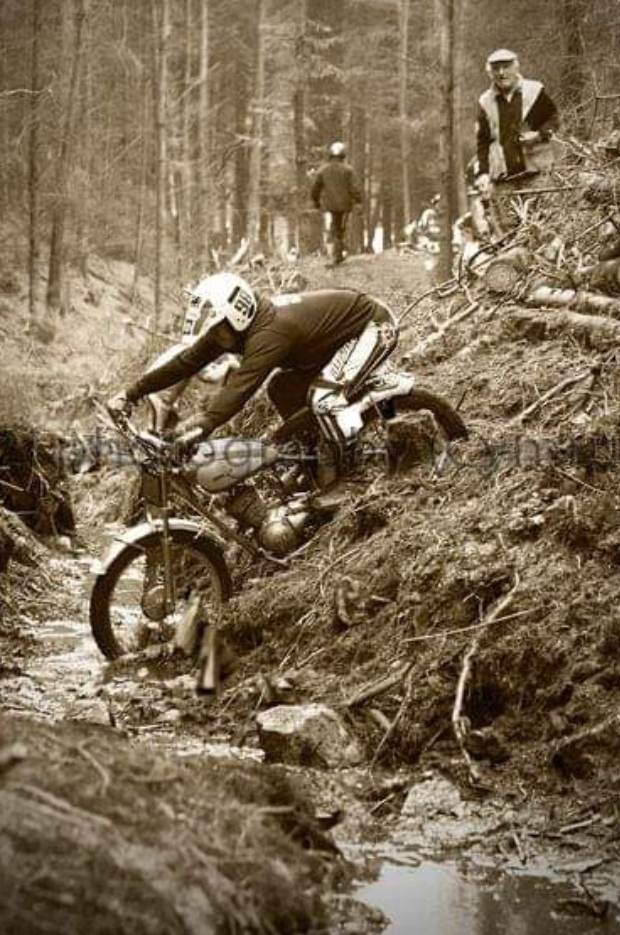 Tony Williams – Modern Mono / Novice
What a great trial at Nant y Frith , I dropped to white route as I cant take risks with the wife very ill, but really enjoyed it ridding with my mates.
Section one, a run in off road, a tight right up to a high root. This did unbalance you. Dropped 2 so old man says.
Section 2 Brians, a tight little section in-between tight trees, another 3
Now down to Section 3 with Ian in charge. Straight run in, over roots, tight right then another tight to outs. cleared it.
Now a jump to Section 7, with Mark. Easy but it tripped you up going over roots. Went clean but lap 4 dropped 5.
Now up to Section 9 with Russ in charge. A tricky one from the ins, down bank then a right turn off camber. Had to be smooth on throttle. Bloody hell cleaned it!
Now Section 10, Sue in charge. Looked very easy but loose rocks and roots catch you out.
What a great trial, really enjoyable trial and not had a bad one yet, well done you lot, you get it right. Thankyou
Mark Gaskell – Pre 65 / Intermediate
Nant y Frith woods is a great venue with a nice long lap to try and spread the field out a bit.
The green route held a few more challenges than I am used to, so proved to be a tough, but thoroughly enjoyable day! My score was in the 50's, and towards the bottom end of the class. Some of the riders on the same route managed to stay in single figures. I didn't finish until 15.45, and I wasn't the last rider by a long way. Special thanks to the observers for sticking it out for so long!
Section 1 – I could not get the turn around the boulder at the start without putting a foot, or feet, down.
Section 2 – The easy section, 4 cleans.
Section 3 – An easy climb, over some roots, then down, between two trees, then a steep loose uphill to another tree. Turn right around this and then gravity took over, but there was a right/left slalom to get to the end gates in which gravity was not your friend!
First attempt a navigational error saw me heading up the red route, and failing to correct sufficiently for a 5. Second attempt a safety dab at the end to stop me from falling over. Third attempt, too fast round the tree and skidded outside the flag. Last attempt, perfect.
Section 4 – The bike did all the work, 4 cleans.
Section 5 – A simple slalom in and out of the bombhole, with a step followed by a tight right to catch you out if you weren't careful. I was, 4 more cleans.
Section 6 – I made this far harder than it needed to be, and fived it twice.
Section 7 – A couple of needless dabs on the loose rocks in the bottom.
Section 8 – Over a log, tight between two lots of trees, then up a steep bank, turn sharp right at the top and back down past a large boulder.
On lap 2 I tried to give myself a wider line over the log, but succeeded in dropping the front wheel in a cleft between two roots and stopped dead. Well, the bike did.
On lap 3 I slid into the boulder at the end. I could have ridden it out, but my fork leg definitely wouldn't have thanked me.
Section 9 – Paddled through on the first 3 attempts, but managed to clean it at the end.
Section 10 – Loose, slippery rocks. Dabs were needed sadly.
The weather was perfect, I suspect the trial would have taken on an entirely different complexion had it been inclement.
Huge thanks again to everyone that makes it happen.
David Riley – AC Mono / Intermediate
A great day was had again as usual, with a good deal of banter going on before the start and Dave Lovell showing a plaque which is going to be mounted on the site in Rememberance of Kev Williams.
All was going well and then the drama started as I started my Pinky which ran for a minute or so and died? I shouted a couple of expletives at the bike but that didn't help. Then I thought who else has a Yamaha? The first person to my mind was Elwyn Beedles, who provided me with a spare plug and a metric adjustable spanner. The Pinky started first kick. Thanks Elwyn.
The sections were great providing a good mix of terrain and difficulty. Here are 3 that took my marks
Section 1 – Up a steep bank to a left turn and into a tight ish right handed that had a number of roots and rocks to spoil your progress, up the bank and over a couple of steps and roots. At the top, back down to left 180 turn and back up the hill. Up a step between 2 trees and having to get to the right to give you the best line over a step and into a tight uphill 180 to the right and out of the end markers
Section 3 – Quite a simple section, a right turn through the trees to line up for a blast up uphill onto a plateau before heading back down hill around a tree and back up hill with a step in the bank and around around a tree this is where a lot of people were dabbing steadying themselves for a tight steep downhill turn through a gate to the right of the normal path and out. I cleaned this 3 times easily but on the last attempt which was my last section of the day, I got this all wrong and found myself on my hands and knee with bike in a pile at side of me. Tip of the day – Never take any section for granted!!
Section 6 – In through the Start gate over a couple of muddy rocks and up a bank with a nastily placed rock and root. Once on top of the bank you had to be to the right of the line otherwise there was a rock that stopped progress and was taking marks. Turn left through the muddy rocks and slightly uphill to a slippy right turn with a couple of well placed rocks to negotiate. Once over the rocks turning left and down the muddy hill to the end gates
Really enjoyed the day and even went for a quick pint on the way home
Cheers all
Before we move into the usual stats, we have to close by once again say a huge thankyou to the club team for all of the effort they put in over the preceding months to make this happen, the observers for still taking the time to support and the land owner as always.
Top Places
Pre 65
Expert – Chris Garlic, BSA (11); Jim Hough, Triumph (21); Chris Gascoigne, BSA (34)
Intermediate – Pete Edwards, Drayton Banton (18);Tony Bradley, BSA (18); Paul Owen, BSA (21)
Clubman – Steve Walker, Francis Barnett (14); Jordan Hobbis, Triumph (15); Steve Jones, BSA (17)
Novice – Terry Lloyd, Triumph (7); Paul Corfield, Triumph (20)
Twinshock
Expert – Richard Webster, Fantic (9); Ian Jones, Fantic (41); Paul Smart, Honda (42)
Intermediate – Jerry Hawker, Honda (8); Dave Pengilley, Kawasaki (9); Robin Foulkes, Armstrong (18)
Clubman – Kenton Hackney, Honda (21); Phil Cottiga, Honda (22); Oliver Barker, Bultaco (25); Darren Rilley, Bultaco (25)
Novice – Graham Seagar, Bultaco (76)
Air Cooled Mono
Expert – Patrick Edwards, Yamaha (4)
Intermediate – Paul Edwards, Fantic (7); Dave Riley, Yamaha (9); Alec Roberts, Scorpa (13)
Clubman – Stephen Hall, Gas Gas (19); Ian Thomas, Honda (35)
Novice – no riders
Modern Mono
Expert – Tony Gush, Gas Gas (6); Hayden Rainford, Montesa (34); Mark Diggle, TRS (61)
Intermediate – James Edwards, Gas Gas (5); Mike Smith, Montesa (6); Sean Mountford, Montesa (8)
Clubman – Jeremy Sutton, Beta (12); Gareth Edwards, Vertigo (16); Ken Williams, Beta (16)
Novice – Tony Williams, Scorpa (15); David Evans (17)
Observer List
1 – Elwyn
2 – Brian
3 – Ian
4 – John
5 – Gordon
6 – Julian
7 – Mark
8 – Chris
9 – Russ
10 – Suzanne
Stats
Bikes Classes
Pre 65 – 34
Twinshock – 27
Air Cooled Mono – 12
Modern Mono – 35
Route Classes
Expert – 18
Intermediate – 44
Clubman – 39
Novice – 7
Bikes
Pre 65
Ariel – 1
BSA – 13
DOT – 1
Drayton Bantam – 1
Drayton Starmaker – 1
Drayton Villiers – 1
Francis Barnett – 1
James – 1
John Bull DOT – 1
Matchless – 1
Triumph – 11
Twinshock
Armstrong – 1
Bultaco – 4
Fantic – 8
Honda – 8
Kawasaki – 1
Majesty – 1
Ossa – 1
Yamaha – 1
Air Cooled Mono
Fantic – 3
Gas Gas – 1
Honda – 1
Scorpa – 1
Yamaha – 4
Modern Mono
Beta – 12
Electric Motion – 1
Gas Gas – 8
Montesa – 4
Scorpa – 2
Sherco – 1
TRS – 2
Vertigo – 1