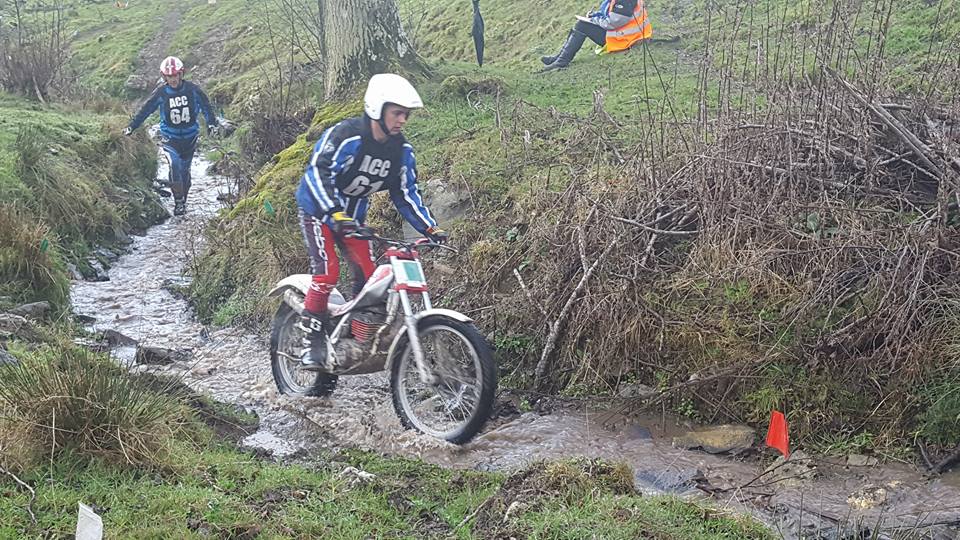 Event Report by Rob Sloggett
So December has come around and we have had the last event in Aqueduct's 2017 Championship. With January looming its time to make your 2018 New Years Resolutions (but more on that later).
So what of Decembers event? Well 77 riders turned out on a wet day for a fantastic days competition. Plas Onn can always turn up surprises and the 10 Experts were really put to the test with the 38 riders in the Intermediate class sharing significant parts of the Expert routes. It is great to see riders coming up through the classes and the Clubman and Intermediate routes continue to be the most popular although with 9 Beginners at this months event and a regular feed through Steve's Twin shock Experience the club continues to attract a great cross section of skills.
Whilst trying up the results page, a great scrap appears to have been had in the Intermediate Air Cooled Mono class with Paul Cartwright really starting to hook into his Gas Gas giving Ian Emery a run for his money. Likewise in the Twin shock Clubman route, only 1 mark stood between Pete Thomas and Chris Jones. This ripples across the classes with 4 marks separating the top 3 riders in the Twin shock Inter group, the Pre 65 Inters from 1st to 11th only having a handful of marks between each rider and the list goes on. 2018 looks to be in great shape!
In the Modern Mono class it was great to see the new Vertigo machine in a club riders hands and after only 2 weeks on his large wheel Beta 80, Jake Jones seems to be looking very comfortable. Whilst not everyone's bag, it has always been the clubs policy to run and accept modern machines and allow them a Championship class of their own, the logic being by integrating them into the club it keeps the numbers up but more importantly exposes rider of these machines to the older classes and hey, one day they just may jump.
So what about the event and my ride? Well my second full entry in the Expert Class on the Evo was a real challenge. My aim is to ride this class next year to really push myself and help with my learning and exposure to different terrain and techniques but on a modern bike which is bit more forgiving and lighter (hopefully making me a better and more competitive inter rider on the older machines).
My aims (or New Years Resolutions) for 2018 are to move on from that target for the last 2 events which was to compete each section with a minimum of at least one successful attempt (3′ even if the other 3 laps were 5's). I achieved this at Plas Onn albeit with a total score of 120 (aver 3 per section). So for 2018 my target is to get down to 80 by midyear and 65 by year end! Lets see how it goes…
But what of Plas Onn? Well the Expert route was a real challenge. Nothing dangerous but a real set of good challenges. So what were my highlights?
Well Russ was on Section 2 an this was a real treat. My main challenge here was the exit. A 40 – 50ft incline broken down into four distinct steps made up of roots, banks or rock steps (but not in a direct straight line so minor course adjustments were needed between each). I was unable to find a natural rhythm and on the first 3 laps failed at different points but was pleased on the last lap to get out for a scrappy two.
The next Section (3) in a similar way was simple to view but tricky to ride. Dropping into the section, a 180 right hand uphill turn fed straight into a narrow uphill gully strewn with roots. Adjacent to the root cluster on the riders right had side was a 2ft drop and this really phased me. After getting off line on the first attempt and getting a five my brain just locked on the following attempts. My worry of committing to hard, getting off line and being kicked right stopped me from really committing and carrying enough speed to get me over the rocks. As before, two additional fives and scrappy 2 was the result. Plenty learnt and something to reflect on and practice.
Section 5 on the other hand had everything on my favorite list! What a great complex section. Dropping into the section into the stream you immediately had a 2 ft bank step with a root running across it. Up the bank, around a tree and drop back into the stream, the opposite bank then had a 4 step staircase. Yep, 4 concrete steps in the side of a muddy bank! The usual loop up and down some banks then drop back into the stream for the exit up a lovely rock waterfall. Probably about 5 ft high and enough angle and loose rocks to keep you busy, Loved this section and ended up with a respectable total of 6 marks.
The next sections were all stories of a similar theme. Loads learnt, plenty to challenge me and a great workout for me and the bike. I must admit it was great to try the Evo in both first and second across the sections and get use to how the power comes in and pulls. I think by the last 6 sections on the last lap I had ran out of energy but went home with a great smile on my face.
As always, thanks have got to go to the organisers, observers and everyone who works endlessly in the background to keep the club running which allows us to do the sport we love.
The first competition for 2018 is on the 7th January and Nant Mawr Quarry. See you all there.
Top Places:
Pre 65 Expert: Kev Ellis, BSA (40); Darren Walker, AJS (101)
Pre 65 Intermediate: Phil Alderman, Triumph (8); Roly Jones, Ariel (12); Vernon Roberts, BSA (15)
Pre 65 Clubman: Terry Lloyd, Triumph (8); Roger Smith, BSA (12); Peter Cottrell, BSA (27)
Pre 65 Beginner: No enteries
Twinshock Expert: Tony Gush, Majesty (24); Dave Pengilley, Kawasaki (73); Julian Price, Fantic (79)
Twinshock Intermediate: Adrian Kent, Bultaco (4); Stephen Knight, Fantic (5); Paul Cook, SWM (8)
Twinshock Clubman: Mark Litherland, Bultaco (16); Phil Cottiga, Fantic (23); John Sowden, Honda (30)
Twinshock Beginner: Pete Thomas, Fantic (37); Chris Jones, Yamaha (38)
AC Mono Expert: No enteries
AC Mono Intermediate: Paul Cartwirght, Gas Gas (22); Ian Emery, Yamaha (26); Martin Powell, Honda (34)
AC Mono Clubman: Steven Blaxall, Fantic (27)
AC Mono Beginner: No finishers
Modern Mono Expert: Jim Barrie, Vertigo (52); Jake Jones, Beta (74); Declan Marsden, Gas Gas (81)
Modern Mono Intermediate: Jim Droughton, Montesa (56); Spencer Bradley, Gas Gas (75); Patrick Forde, Beta (77)
Modern Mono Clubman: Steve Walker, Sherco (21); Hayden Raindford, Sherco (25); Jim Marsden (44)
Modern Mono Beginners: No enteries
Bike Stats:
Pre 65 – 21
Twinshock – 30
A/C Mono – 9
Modern Mono – 17
Total = 77
Classes
Expert – 10
Intermediate – 38
Clubman – 20
Beginner – 9
Bikes
Pre 65:
AJS – 4
Banville – 1
BSA – 8
DOT – 0
Francis Barnett – 2
James – 0
Norton – 0
Other – 0
Triumph – 1
Villiers – 0
Twinshock:
Armstrong – 0
Beamish Suzuki – 0
Bultaco – 7
Fantic – 8
Honda – 4
Kawasaki – 1
Montesa – 1
Ossa – 0
SWM – 3
Yamaha Majesty – 1
Yamaha TY – 6
Aircooled Mono:
Aprilla – 2
Beta – 1
Fantic – 2
GasGas – 1
Honda – 2
Yamaha – 1
Modern Mono:
Beta – 9
GasGas – 2
Honda – 0
Montesa – 1
Scorpa – 0
Sherco – 3
Vertigo -1