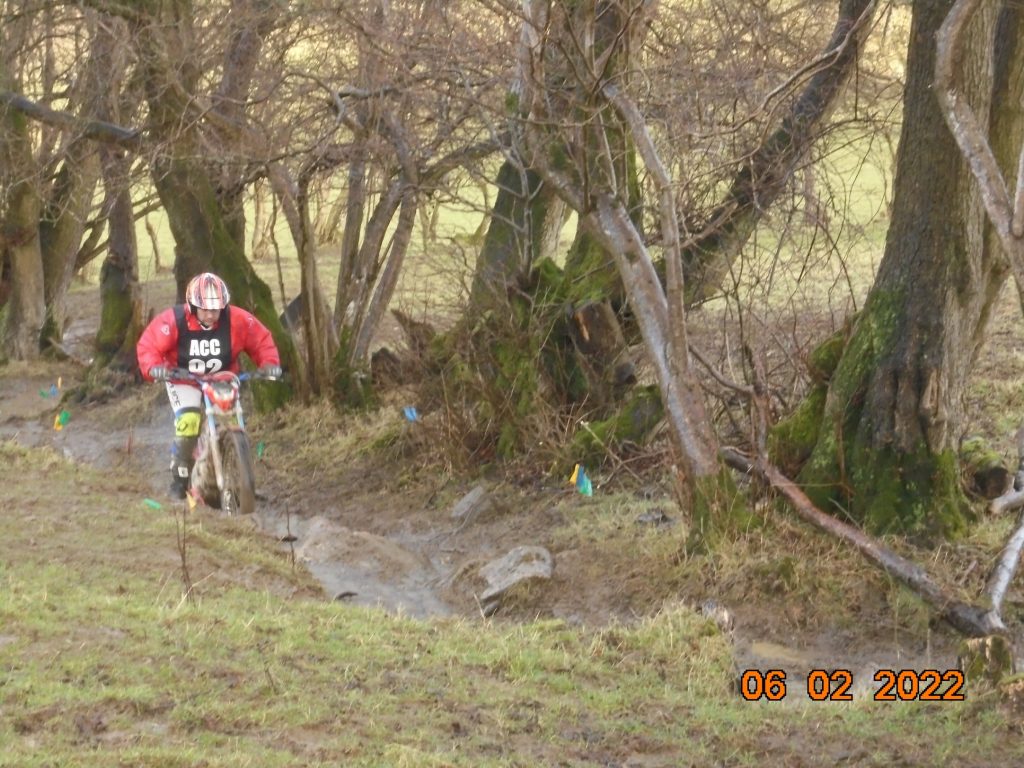 The removal of Covid restrictions in Wales allowed an uncapped event, and it was great to see 102 riders sign on for what turned out to be a very wet and muddy day at Plas Onn. We have to start in these circumstances by thanking to observers who stood out in very challenging conditions!
The 102 riders were made up of 29 Pre 65's, 25 Twinshocks, 19 AC Monos and 29 Modern Monos. Its great to see such a great representation in the classic classes and long may it continue!
The Novice class started the day with 8 riders, 32 in Clubman, 43 in Intermediate and 19 in Expert. The highest contested class of the day was the Pre 65 Intermediate with 14 riders, AC Mono coming a close second with 13 riders.
We have a great set of reports this time including a observer report and two from the youth riders.
Zain Pughe-Hutchinson – Modern Mono / Intermediate (Youth B)
The trial was very good as I like the place each time I ride there .
I decided to ride the green route instead of my normal yellow and glad I did .
I liked how the sections were set not hard but not too easy either .
The sections up the stream were great I enjoyed the ride in between 9 and 10 .
Thank-you to everyone who helped out and needed the hot chocolate after. The only thing I didn't enjoy was the long queue at section 5 as it was big all day.
Thank you all from Zain
Kaan Pughe -Hutchinson – Modern Mono / Novice (Youth C)
It was very slippy, wet and cold and was scary in places . I did like it because it was fun and entertaining .
My fav  section was number 9 at the bottom of the gully because it was nice and simple in the stream and my least fav section was number 4 because I couldn't get off the bank to get to the start and had to ride the yellow route instead of white . Section 5 had lots of people and I got cold waiting but I had a go.
Thank you from Kaan
Mark Newman – Pre 65 / Intermediate
Firstly I must start off by praising all the officials and observers , that's everyone who gave up there time over the weekend. You all did a great job and together that's what makes this team so good. These trials are by far the best club trials I've been too.
So "THANK YOU "
Riding the green intermediate route on my 250cc Francis Barnett 
my favourite section of the day had to be 10 with its up and down sweeping slopes, rooted banks and muddy holes,. Nothing to tight, but still slippy. I love this type and the Francis Barnett gripped like a good un!

Section 5 Paul's, this was another great section similar to 10, sweeping up and round across the loose rocks and flowing water ,with a climb out over the fallen tree trunk.. Nothing too tight, just a lovely ride if you kept it smooth.

Section 2 Russ's, loose rocks, muddy climb. What's not to like about this, until you are possibly over confident and not paying enough attention and your off line by a couple of inches, you need a dab and your foot finds a hole. A twisted ankle and the bike lies down, what a knob, that's all it takes. From then on I'm finding it difficult to lean the bike over as any twist on the ankle and I know about it ,suddenly my score starts to mount up.

Marks section 1, I just couldn't make the first turn around the tree. Cost me a 1 every lap, need to work on that.

A couple of unnecessary dabs on sections I'd cleaned beforehand starts to see my score In the 20's, same old story, can do better.
All in all great day and I didn't even really struggle getting into section 4 which I'm sure someone will give you the low down on that .
Tony Williams – Modern Mono / Novice
First of all a big thankyou to observers for standing out in the wet and cold conditions. A tricky trial this one, ground conditions did catch us out.
My favourite sections….
Sec 8, in the little quarry over rocky parts, all tight right hand turns. Manged to clean it then on to 9. Down into the stream, up over some slippery rocks, tight right then tight left turns. Quite tricky, nice testing section. Then the marathon trek up the stream to 10, this really drained you, you had to concentrate all the way.
Now onto 10, Michael Griffiths the observer, a hard man… A steep little climb, very wet then tight left, then tight left up step, then a very tight left back to the outs. Just managed to clean it.
Now must go back to section 4, what a comedy show…. good riders falling off before going in to section, it was so slippery there on a steep bank it made it a real challenge for white route but another great trial by Aqueduct again, a very enjoyable trial.
Michael Griffiths – Observer Section 10
Well where do I start. Blooming wet on arrival and a warm welcome waiting. Nearly got soaked getting my kit on but all well in the end. Went for a butty and ordered. The lovely young lady prepared it all and was after the bap to put it all on, alas de burger was nattering like Ena Sharples and it took a loud 'DAD' to alert him to his duties. All eaten and supped so Russ sent me walking up to the top of the hill to section 10.
By gum it looked a bit naughty , specially after a lap or three. Very soon after the start time Tony Williams arrived and zoomed round the white routs. Yes Tony you are getting better at each trial. Quite a few arrived and needed a bit of a nudge to get a bike in the section. It didn't help one rider, scored a five walking the section with a slither on his nether regions down into the stream . I'll not tell them it was you David……..
 It was nice to see Steve Jones riding again and doing well on his C15. Just hope he didn't find any low branches as he didn't finish. There were a really nice entry of 4T bikes and to watch Ben Butterworth on his Ariel is a great pleasure. Reminded me a bit of an Irishman riding something simular. There were a couple of Triumph twins that sounded great , Mark Gaskell and Jim Hough flying the Meriden flag.  Also a Cub or two (nearly said plethera but couldn't spell it ) and the James and Francis Barnet models well represented with Selly Oak providing the Bantams. Oh yes one or two European and Japanese bikes. The modern bikes and Peter Ruscoe had a bad-un letting Chris Carlich stuff him..
 Some riders seemed to be on a bit of a go-slow and an hour and three quarters after the start a gang arrived and were more interested in having a mothers union meeting so I had a bit of a strop and requested they extract the digit. One did have the decency to ask if I was cold and wet (sarcastic blighter) but no I was fine with loads of layers on and Gortex on the outside, the thermals meant I was warm as well (plus the walk up the hill).
The riding standard on my section , in general was very good though Steve Blackburn looked most miffed when told he had just been given a 5. Shock on his face was amazing especially when after asking "why a 5"? Was informed for making the section look too easy.. Thought he was going to wet himself with the sounds he made, nowt like a bit of banter on the section !!!!!  
Darren Riley with his rather nice looking Sherpa ended their trial with me as the clutch packed in . There were some good looking Bultacos out. Mike Jones on the Cub was showing some promise but Mike you want to relax a bit more and possibly slow down a bit. These are sections not enduro. Keep at it though as it will get easier.
I'm rather glad no-one was about when I collected the section markers as it was a bit like dancing on ice  wearing clogs. Nearly slithered into a sitting position a couple of times but managed to stay upright. Not many bikes or vans about when I got back to my car. All in all a cracking trial and I'm looking forward to the next one, though you will have to wait 'till April before I'm back moaning at the slow coaches as National duties call during your next trial . Won't see you in May as the SSDT gets in the way. Thanks all for a super day and well done Aqueduct on setting out yet another cracking event.
Stephen Harding – Modern Mono / Clubman
First of all as usual a huge thanks to all the Aqueduct team for putting on such a great event again and all the observer's for braving the cold wet and wind for at least 4 hours, it must have been freezing for them, and  not forgetting Chris DeBurger for keeping us fed and watered and the land owner for the use of the venue .
On arrival we were directed to parking by Sue and Geoff where we parked up and got ourselves a good brew and a bacon butty off Chris DeBurger and then went over to Jan and Chris to get signed on and collect my bib (No 1 no pressure) ! The weather was cold and as I was fuelling the bike it started to pour down, but luckily it cleared up just before Russ gave us the event instructions.  So on to some of my favourite sections. 

Section 6: You start off from a bit of a steep bank (very slippery ) and drop down into the stream and back up a very steep slippery muddy bank. Over a tree root and then onto the top of the bank before a tight right around a tree before dropping back into the rocky stream. Then out, back up the bank on the opposite side and again wet and slippery steep slope and left past another tree and along the bank a bit before dropping back down steep into the stream. Back up over some large boulders and a tight right then out of the section.  Tricky and slippy but enjoyed it, first clean of the day for me.

Section 7: You start off from the bank of the stream and straight away dropped into the stream and keep right. Ride up stream and keep right past a log lying in the water and avoid the tree stump to the right then a bit of a right up the bank and along the edge of a slippy grass bank. Then dropping back left into the stream and up over 2 large rocksand a tight slippery right and out of the section. Another good section and a clean for me .

Section 8: A bit of a ride back up the main track and into the main farm yard and turn right into the entrance to the small quarry behind the barn. You start off and turn a bit of a left across some quarry slate and then turn tight right and up a what was by now, very wet muddy slippy shale and rock and at the top of the mound keep right and drop down into the main part of the quarry. Then across the very loose slate and head towards a steep incline and a tight right as soon as you reach the top and along a tight ridge keeping an eye on the fence on the left as you exit the section. Another clean for me.
 
Then on to 9 and 10, another two good sections and a bit of a long rocky ride up the fairly fast flowing stream and a bit of a workout over the rocks in-between them.

Over all I had a great day and think I brought half the field away with me. Once again a big thanks to everyone involved for putting on another great trial for over 100 riders. Cheers
The regs are now open for the March event and will be at Nant Y Ffrith.
Before we move into the usual stats, we have to close by once again say a huge thankyou to the club team for all of the effort they put in over the preceding months to make this happen, the observers for still taking the time to support and the land owner as always.
Top Places
Pre 65
Expert – Ben Butterworth, Ariel (5); Chris Gascoigne, BSA (16); Jim Hough, Triumph (16)
Intermediate – Peter Edwards, Drayton Bantam (5); Carl Winstanley, James (10); Craig Haworth (15)
Clubman – Simon Willmore, BSA (3); Steve Walker, Francis Barnett (5); Paul Brimelow, Cotton (14)
Novice – Terry Lloyd, Triumph (41)
Twinshock
Expert – Kev Ellis, SWM (55); Steve Williams, Aprilia (66)
Intermediate – Tim Cuffin; Majesty (15); Dave Pengilley, Kawasaki (19); Jim Droughton, Majesty (23)
Clubman – Callum Grant, Fantic (12); Elwyn Beedles, Honda (15); William Leigh, Yamaha (22)
Novice –
Air Cooled Mono
Expert – Chris Garlich, Gas Gas (13); Peter Roscoe, Gas Gas (27); Terry Musgrave (86)
Intermediate – David Matthews, Yamaha (9); Robin Foulkes, Yamaha (11)Tie; Paul Edwards, Fantic (11)Tie; Mike Jones, Gas Gas (13)
Clubman – Andy Steele, Yamaha (25)
Novice –
Modern Mono
Expert – Jim Williams, Vertigo (35); Julian Price, Beta (44); Hayden Rainford, Montesa (51)
Intermediate – David Ellis, Beta (12); Zain Pughe-Hutchinson, TRS (23); Neil Liptrot, Gas Gas (24)
Clubman – Phil Clarkson, Beta (10); Brandon Trumble, Beta (17); Sean Halstead, Montesa (18)
Novice – Glyn Roberts, Montesa (43); Tony Williams, Scorpa (52); Logan Price, Beta (61)
Observer List
1 – Mark
2 – Russ
3 – Jeff Hughes
4 – Gordon
5 – Paul
6 – Elwyn
7 – Geoff
8 – Dave
9 – Roger
10 – Michael Griffiths
Stats
Bikes Classes
Pre 65 – 29
Twinshock – 25
Air Cooled Mono – 19
Modern Mono – 29
Route Classes
Expert – 19
Intermediate – 43
Clubman – 32
Novice – 8
Bikes
Pre 65
Ariel – 1
BSA – 11
Cotton – 1
DOT – 1
Francis Barnett – 1
James – 1
Matchless – 1
Triumph – 9
Villiers – 1
Twinshock
Aprilia – 1
Bultaco – 3
Fantic – 5
Honda – 6
Kawasaki – 1
Majesty – 3
Montesa – 1
Ossa – 1
SWM – 1
Yamaha – 1
Air Cooled Mono
Fantic – 3
Gas Gas – 9
Honda – 2
Scorpa – 1
Yamaha – 2
Not listed – 2
Modern Mono
Beta – 10
Gas Gas – 5
Montesa – 5
Oset – 1
Scorpa – 1
Sherco – 2
TRS – 1
Vertigo – 3