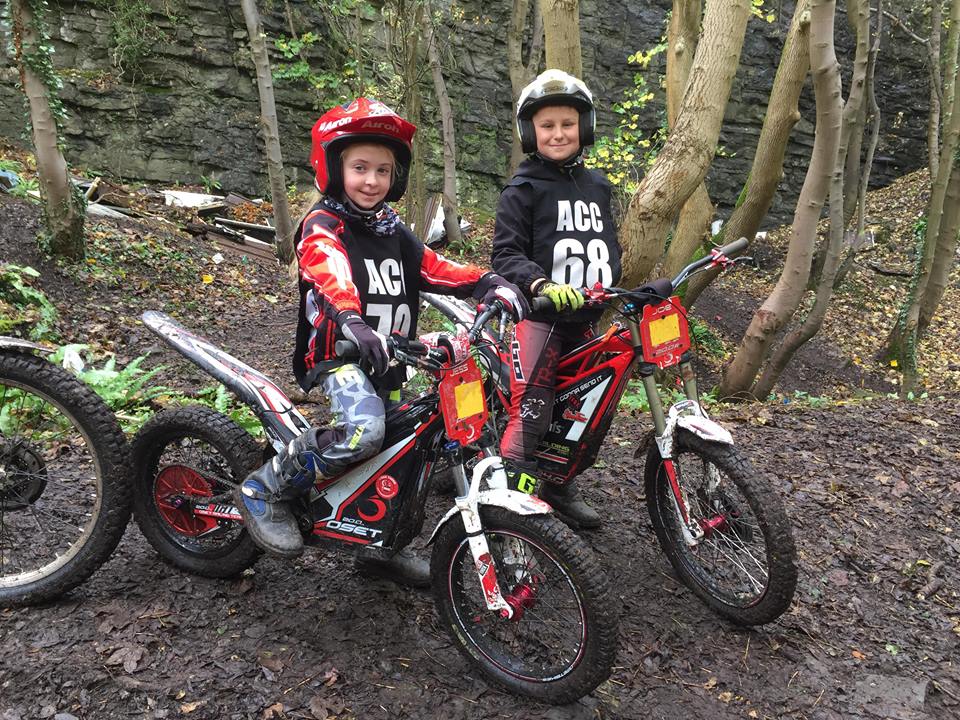 Event Report by Rob Sloggett, Steve Balxall, Kev Williams, Ian Emery and Paul Owen
You know when you are in the right trials club when the following happens.
1) America gets hit by a horrendous hurricane
2) The tail of said Hurricane hits the UK coastline the day before the trial
3) Clerk of the Course and helper's look out the window, say "well tomorrow we will have 70 riders expecting an event, the weather forecast looks OK tomorrow and we have promised a minutes silence to remember Jim Pickering, we had better put on our wet weather gear and put some flags in the ground"
And that's just what happened! Sometimes its easy to take for granted what it takes to put on a trial but every month, month in, month out, Aqueduct continue to put on GREAT trials and looking at the sound bites from Facebook, the October event at Pen Y Graig was seen as yet another great event.
With the Evo sold and the Bultaco looking like it still has a few more weeks work to finish it, I grabbed a clipboard and got given Section 1 for a great days observing. The 69 bikes were split once again with 10 running Expert, 33 Intermediate, 23 Clubman and 3 Beginners. It was great to see Joe and Jess (pictured above) out on a pair of Osets on the clubman route and enjoying trials at a very early age. We certainly look forward to seeing them again (maybe on a nice petrol powered Whitehawk 80…..).
The event started in a reflected mood and with Aqueduct being firmly a Pre 65 and Twinshock club it was only fitting to start the event by honoring the passing of Jim Pickering with a minutes silence. I have only recently got properly into the Pre 65 scene and had the opportunity to speak to Jim a few months ago, buy some products off him and enjoy the warmth around the sport that both Jim and Jayne radiate. I know many club member knew him much more personally and I probably don't need to say much more other than he will be greatly missed but leaves such a legacy behind him.
We are lucky to have a number of riders provide the words for this months report and I hope you enjoy their reflections.
Steve Blaxall – Intermediate (AC Mono)
This report details the sections that cost me the most marks. All the sections were a challenge and I really enjoyed riding all of them. But these are the "What If" sections that got me thinking when the scores come out. We all do it – don't we?
Section 1 – What a start! Walking the section looked fairly straight forward except for the first turn. How the heck am I going to tackle this turn i thought. There seemed to be 2 opinions listening to the riders. Take a longer sweeping line turning right and back on your self before going up the bank. I watched a few try this – nearly all lost traction. Or as I observed, a few riders started off by going up the left bank and turning right swooping down into the dip carrying momentum then turning right up the opposite bank with no grip issues. I am going to try it that way I said to myself. So 1st lap, 1st section I set off up the left hand bank, swooped down right and up the opposite bank not really knowing what to expect. I went a little too high I think, took a dab, got flustered and completely missed the next turn. What a muppet! What a great start with a 5. Lost 8 marks for this section in total my worst/hardest section- but I did manage 1 clean.
Section 2 – This section had a downhill entry to the left with a tricky little turn right at the bottom over some small logs. Then immediately left up a steep bank with a left turn at the top. From there it was a fairly straight forward run to the exit cards. Just taking care over roots etc. I entered the section on my 1st lap too fast and not enough thought, (probably dwelling on the 5 I just got) missed where I wanted to turn right over the log. I now had to make a very tight right off the chosen line then an even tighter left to get up the bank – it cost me 2 dabs. Cleaned this section for all the other laps. All it needed for me was a far slower approach to the downhill start. After this very shaky start, I settled down and started riding better getting cleans until I came to section 8.
Section 8 – This section had a easy start but a tough finish. When I first walked the section it looked easy. Downhill past a couple of trees. Tight right turn around a tree all downhill still, then an interesting drop into a man made gulley/trough, turn left to ride along this, up a bit of a step then to the end cards or so i thought! and so did some other riders walking the section and at least one riding it. What we all hadn't noticed were the the green markers up the bank after the trough. This now meant turning right coming out the trough, going up the bank, then a tight left round a tree before heading downhill to the end cards. The first 2 laps I could not get the turn correct coming out of the trough and was always in the wrong place to take a gentle line around the tree. This was costing me a couple of dabs each time. On lap 3 I tried altering my line and going for a very tight line round the tree. It worked!.I got a clean and I repeated this for the last lap.
Section 10. This section started off with a good steep climb, at the top was a sharp left U-turn to come back down again. Knowing when to kill the throttle before the top I found was critical, if you were going to make the turn without a dab in the limited room available. Down the hill, then a long right turn before lining up, to attack a rocky bank followed by a steeply cambered left turn .This part of the section really kept me focused. Once down off the camber it was off to the end cards. Very happy, I only dropped 2 marks here, 1 at the top of the hill climb and the other by going to high on the left camber.
I would also like to say a big thank you for persevering with setting out this trial in what must of been horrendous conditions. It is most appreciated.
Kev Williams – Intermediate (Twinshock)
As always an absolutely brilliant trial put on by the Aqueduct team, thank you to all involved. My 3 favorite sections were 1,3 and 8. So what about them?
Section 1 – It consisted of getting up on the left bank early then swinging it around to the right around a tree on a slippery uphill then weaving through a few trees along a off camber bank then dropping down into a left turn then back up the bank and through the out gate.
Section 3 – It started with a tight right turn around a tree then up a slippery bank through a couple of trees then a left turn straight into a right turn around a tree then up a steady climb through the out gate.
Section 8 – This one started with heading off to the left then dropping down a bank into a gully between two concrete walls following it through and then out the other side over some lose rocks turning to the right up a slippery bank with a couple of roots then straight into a tight left around a tree and another right through out gate. I really enjoyed every section and it's a fantastic venue.
Ian Emery – Intermediate (AC Mono)
The day started with miserable sideways rain as we made our way down into the quarry but things soon warmed up. Here's a run through of my first lap.
Section 1 – This was a tricky start with a nasty cambered right turn which required a swoop to the left to gain enough turning circle to avoid a tree on the left at the top of the first bank. After that it was a steady camber cross, a drop back to the track and a U-turn back up the hill to the ends. A clean for me, very pleased.
Section 2 – Simple section dropping down between two trees over exposed roots, to then climb the far bank with a cambered left turn on plenty of grip, to a meandering path to the ends. Clean
Section 3 – This was nasty. A drop in to an immediate tight right with a tree just in the wrong place to snag your front wheel. Once past that a series of full lock turns in and out of trees on a gentle climb to the ends. Needed concentration to prevent the front from washing out. Clean.
Section 4 – Started with a drop into a gully with a sweeping right hand turn and climb, then across several undulations before finishing with a left round a tree to the ends. Clean.
Section 5 – A drop in to an immediate cross camber to the right of a tree where the fall of the ground dragged your front towards the tree if you weren't careful. Once past that point there was a nadgery, twisting climb before a tight right, and down and across to the ends. Clean again, feeling good.
Section 6 – A steep drop of c12ft to then make a tight right over loose rocks and into a narrow gap between two trees. Up and around a mossy, rocky bank, to then thread through a footrest grabbing rock and out. Clean.
Section 7 – Started with a muddy bog crossing which was fine if you stayed in the furrow, but lethal if you strayed into the mud. A right turn over some undulations, roots and rocks, to a swooping U-turn on the far bank, to then shoot up a final climb with a nasty exposed root at the top to the ends. Clean, could I keep this up?
Section 8 – Up the bank and left/right before dropping down a step into a concrete bunker with a nasty exit comprising a jumble of rock steps quickly rolled by a tight right over exposed roots, to a U-turn left around a tree and back down the to track. Care was need not to be too aggressive on the steps out as too much speed meant the front wouldn't find enough grip on the roots to make the right turn. Clean, pressure building….
Section 9 – Had a chat to Christine as I walked the section. Worked out my line carefully. The section comprised an initial climb over some logs before a long left at the top led to a descent over exposed logs set at an angle, a U-turn at the bottom, and a climb out. As I rode the long left I saw the marker flags ahead, aimed for them, and promptly rode down the bit I should have been riding up missing the correct line by about 3 feet. Doh, a big 5.
Section 10 – Still reeling I approached the last section. This was tricky. A steep climb of c15 ft, a U-turn at the top and back down again. A 90 right followed with little run up to a fairly big rocky step, followed immediately by a 90 left whilst still on the climb, to then cross a slippy rock strewn camber and a drop down to the ends. I got my concentration back and stayed clean right the way round until the final camber crossing when disaster struck again – the front just slipped away in a split second leaving me lying on my side, face in the earth. Another 5 !
So that was my lap, 8 cleans and two 5's. I rode the next three laps for 2 dabs, one on S3 on that nasty turn, and one on S8 coming out of the bunker. Got to say I really enjoyed the day. The sections were again well thought out and congratulations to the riders who kept their nerve and stayed clean all day.
Paul "Moz" Owen – Intermediate (Pre 65)
The morning started off wet and as we all gathered for the riders briefing we also did a minutes silence for the late, great Jim Pickering.
So here are 3 of the sections but all 10 were spot on.
Section 1 – Well it was tricky as you hit a tight right hand uphill turn straight away and there was a slippy off camber between the trees. Then you stopped down a step and a sharp left alone the top of the bank and stopped straight down onto the lower section were there was 180 degrees left back up the steep bank.
Section 8 – An easy drop down into a big walled concrete bunker then a climb out of it to a uphill right turn and over slippy tree routes and then a sharpe 180 left turn behind a tree and over some small fallen trees to the out gate.
Section 10 – A steep uphill climb to a sharp turn left, back down the mound, go ontp a slippy muddy turn tight back up a rocky section then straight to a off camber left hander that could easily catch you out as you ran down to the exit gate.
Section 8 and 10 were my downfall as I had a silly dab on them but was really happy with only dropping 2 from a possible 200. But I still wasn't enough to win though. (Hehe)
Rob Sloggett – Observer (Section 1)
"Get down to the section and have a look at the green and red route, I think I have left a couple of big boulders on the bottom turn that probably need moving…." said the Clerk of the Course. Well a quick walk of each route had a common entry for all routes with beginners, clubman, and then combined inters and expert having ever tightening right hand 180 switchbacks incorporating an initial bank to the left then a short climb as the second phase of the section developed. The beginners and clubman had a short run to the exit flags with the clubman having an extra tricky left / right combination with a sharp left to the exit gates.
To be honest most of the points were dropped on the first part as riders tried different lines and took in some cases deliberate single dabs to ensure the first turn was executed with the minimal loss. An observation here was the difference between riders who have mastered the art of the long single deliberate dab and those who dropped a single dab but then had a second "tap dab", losing a silly second point.
The Inters and Experts has the complexity of splitting off after the first grouping and then dropping part down the bank, traversing across with the left hand side on the high side then dropping back down into a gully. Both route's then had a 180 degree turn with a short blast up a bank towards the end gates. What looked tricky at the start and I am sure when the section was marked out actually offered little resistance to the riders and very few dabs were lost in this element. I think chatting to Russ after, knowing the level of the riders in this grouping, the inters could have benefitted from a tighter turn forcing either a well placed dab or tighter control on the turn and the challenge of getting the throttle roll on timing just right. The Experts probably could have benefitted from a set of offset gates up the bank to force a level of diagonal activity.
I think its testimony to Russ and the team to always want to improve the sections and their openness to get feedback from riders and observers alike as well as trying new aspects at each venue keeps the events fresh, challenging but safe. Its not an easy job creating sections and when you have the bar set high from our experiences of hosting the Kia rounds and more national Experts and Intermediates driving longer distances to attend our events, comments aside they always get a great balance!
It was great to see all of the riders coming through but I have to call out Joe and Jess on the Osets who only finished 1 mark apart and through my section had such different riding styles. It was also brilliant to see Pete Thomas on his Fantic throwing himself at the first cluster and as each lap progressed improving his score at each pass.
Finally, I was gutted to only see 3 Bantams out! I am desperatly trying to get ideas for exhaust routing etc so I will have to have a better look at Nant Ucha next month.
Our next event will be held at Nant Ucha on the 4th November and for those reading this, just a reminder to pay attention to Decembers date. It did move from the 2nd to the 9th but has now moved back to the 2nd again…. Make sufre you take note and update your diaries. These are the last 2 rounds of the 2018 Championship.
As always a huge thank you to the observers, the team who manage the signing on and results, as well as Russ and the guys who spend time before the event marking out the sections. Finally a big thank you to the land owner and of course Chris for the catering.
See you all at the next event (if I'm not riding, you many see me observing).
Top Places:
Pre 65 Expert:Kev Ellis, BSA (11)
Pre 65 Intermediate: Garry Shaw, Triumph (0); Paul Owen, BSA (2); Tim Lewis, BSA (3)
Pre 65 Clubman: Roger Smith, BSA (5); Peter Cocking, BSA (7); Terry LLoyd, Triumph (10)
Pre 65 Beginner: Chris Atherton, BSA (7)
Twinshock Expert: Ian Jones, Fantic (2); Steve Shelley, Honda (7); Matt Spink, Fantic (7)
Twinshock Intermediate: Steve Williams, Aprilia (0); Colin Leese, Honda (1); Andrew Williams, Honda (1)
Twinshock Clubman: John Sowden, Bultaco (9); Graham Pennington, Ossa (14); Andy Steele, Yamaha (14)
Twinshock Beginner: Pete Thomas, Fantic (11)
AC Mono Expert: Martin Powell, Honda (32)
AC Mono Intermediate: Paul Young, Gas Gas (6); Jeremy Sutton, JMC (6); Ian Emery, Yamaha (12)
AC Mono Clubman: Ken Williams, Honda (15)
AC Mono Beginner: None
Modern Mono Expert: Sam Atherton, Gas Gas (10); Declan Marshall, Gas Gas (25)
Modern Mono Intermediate: Jason Davies, Gas Gas (2); Andrew Dean, Beta (10); Paul Hempkins, Beta (14)
Modern Mono Clubman: Steve Walker, Sherco (8); Jim Marsden, Gas Gas (13); Steve Kelley, Montesa (15)
Modern Mono Beginners: 1 rider DNF
Electric Clubman: Joe Subbings, Oset (29); Jess Widdowson, Oset (30)
Observer List:
Sec 1 – Rob
Sec 2 – Izzy
Sec 3 – Dave
Sec 4 – Celyn
Sec 5 – Gordon
Sec 6 – Chris
Sec 7 – Russ
Sec 8 – Mark
Sec 9 – Chris
Sec 10 – Jan
Bike Stats:
Pre 65 – 12
Twinshock – 24
A/C Mono – 11
Modern Mono – 20
Electric – 2
Total = 69
Classes
Expert – 10
Intermediate – 33
Clubman – 23
Beginner – 3
Bikes
Pre 65:
BSA – 6
Drayton Bantam – 1
Norton – 1
Triumph – 4
Twinshock:
Aprilia – 1
Bultaco – 1
Fantic – 8
Honda – 6
Montesa – 2
Ossa – 1
SWM – 1
Yamaha TY – 4
Aircooled Mono:
Aprila – 1
Beta – 2
Fantic – 1
GasGas – 1
Honda – 3
JCM – 1
Yamaha – 1
Modern Mono:
Beta – 8
GasGas – 4
Montesa – 3
Sherco – 3
TRS – 1
Unlisted – 1
Electric
Oset – 2