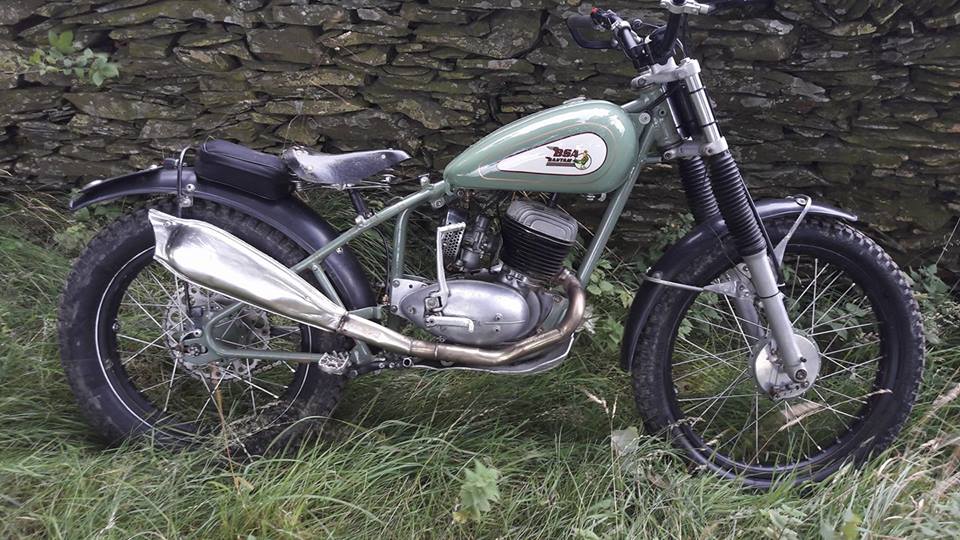 Event Report by Rob Sloggett
Well, Pen Y Graigs event on the 1st October has got us into a position where their are only two more events in the Championship (but more on that later). The long break since Plas Onn on the 2nd July (only broken by the Kia round and the Foel non-championship) expected to see a good turnout. Unfortunately the event clashed with another Kia round so entries were down on the normal number but that did not stop the 58 riders turning out to a great days competition.
As always the clerk of the course and his team made superb use of this excellent venue with some firm favorite areas exploited and a few new bits thrown in for good measure. For me, Section 10 on the inter route was a great opportunity to test some little used skills. An entry up a short double bank then required a left hand turn to then traverse a left side drop camber comprised of earth and rocks. A quick right / left up camber combination then resulted in a short downhill run with a curved run out on the flat but strewn with rocks.
Section 5 was also an interesting one for me and appeared to take marks across the inters. A simple entry then required a right hand turn with some roots showing as you entered a short gully. Dropping into a small opening you were then presented with a short upward climb with a twist. The first climb was straight forward but you were then presented with a second climb offset about 5 foot to the left. This required a tight S turn to realign which killed momentum and really required smooth control at the throttle point. Too late and you bogged down, to early and you ran the risk of missing the climb. To make things worse, at about 2/3 of the way up, the rear wheel really bit in lifting the front wheel. A great section!
So what of the results? Well an interesting couple of observations (sorry no pun intended). Firstly 4 of the results were sorted by furthest clean (mine being one of them)! This for me is one of the great aspects of this sport. Reviewing the results and seeing the outcome so tight is such a great feeling as firstly it gives you someone close to really compete against (in a lighthearted sporting way….) but also makes you think "damm, that one stupid dab I did not need in Sec x….. argh….". Both Mono clubman and Mono inters top positions were decided this way. Such great tight competition!
Also in other classes the results were so tight. Pre 65 inters positions 2 to 4 were separated by only 3 marks, clubman positions 2 to 5 also by 3 marks and the list goes on. We are really lucky to have a great level of competition and whilst everyone has the odd bad day (needless to say I have had plenty of those in the past), the venues, course set up and classes always give everyone the opportunity to have a good competitive days sport.
So what of the Championship? Well with 2 events left, some classes are near enough sewn up. But what of those where it is wide open?
Well the Pre 65 Clubman class is going to be interesting with 5 riders between 109 and 90 points. Whilst Terry Lloyd is out in front on 109 with the next 2 riders sharing 92 points each, Roger Smith could, if on a good run close this gap significantly. Lets not lose sight of Keith Baddley and Graham Miller, both on 90 who could really upset the final standings. Peter Elvidge has not ridden since round 5, but if he appears back on the scene, who knows what could happen.
In a similar way the Twinshock Inter group are tight between 2nd and 4th. Jeremy Suttons DNF on this event has left the door open for Alex Barrie to take the 2nd place spot and with their finishing places being so close this will be a great one to watch come to a conclusion.
With Phil Cottiga and Keith Jones trading blows (not literally) in the Twinshock Clubman class, it only takes John Sowden to get in between them and mathematically anything could happen.
Aircooled Mono looks pretty sewn up as does the Modern Mono class but I am sure people are scrutinising the table and planning their last 2 events as well as asking themselves if next year is the time to move up to the next class.
We look forward to seeing you all at Nant Ucha on the 5th November and until then, dont forget that this superb venue is available for practice.
As always, thanks has got to go to the organisers for such a fantastic event. The observers as always were brilliant and the back room team keeping the signing on and results flowing always need recognition. Oh and Chris for the food….
Top Places:
Pre 65 Expert: Kev Ellis, BSA (29)
Pre 65 Intermediate: Vernon Roberts,BSA(1); Mark Newman,Triumph(15);Tim Lewis,BSA(16)
Pre 65 Clubman: Roger Smith,BSA(1(; Graham Miller,Triumph(4); Mark Gaskell,Triumph(5)
Pre 65 Beginner: No enteries
Twinshock Expert: Tony Gush,Majesty(8)
Twinshock Intermediate: Jim Williams,SWM(8); Stephen Knight,Yamaha(8); Adrian Kent,Bultaco(10)
Twinshock Clubman: Keith Jones,Yamaha(2); Phil Cottiga,Fantic(3)_; Mark Litherland,Bultaco(10)
Twinshock Beginner: Steve Williams,Bultaco(12); Chris Jones,Yamaha(34); Craig Fowler,Yamaha(35)
AC Mono Expert: No enteries
AC Mono Intermediate: Ian Emery,Yamaha(14);Neil Francis,Aprilia(19); Paul Cartwright,GasGas(26)
AC Mono Clubman: Steve Blaxall,Fantic(12)
AC Mono Beginner:No enteries
Modern Mono Expert: Declan Marsden,GasGas(46)
Modern Mono Intermediate: Andrew Dean,Beta(23FC); Rob Sloggett,Beta(23); David Molyneaux,Montesa(41)
Modern Mono Clubman:Tony Rainford,Sherco(4FC); Hayden Rainford,Sherco(4); Spencer Bradley,GasGas(6)
Modern Mono Beginners: Nigel Rigg,Honda(7); Ewan Edwards,Oset(11); Pete Rainsford,Montesa(30)
Observers:
Sec 1 – Albert
Sec 2 – Annette
Sec 3 – Harry South
Sec 4 – Gordon
Sec 5 – Geoff
Sec 6 – Dave
Sec 7 – Russ
Sec 8 – Brad
Sec 9 – Aidy Green
Sec 10 – Jan
Bike Stats:
Pre 65 – 15
Twinshock – 19
A/C Mono – 6
Modern Mono – 18
Total = 58
Classes
Expert – 3
Intermediate – 25
Clubman – 23
Beginner – 7
Bikes
Pre 65:
AJS –
Banville –
BSA – 8
DOT –
Francis Barnett – 1
James – 1
Norton –
Other –
Triumph – 4
Villiers –
Twinshock:
Armstrong –
Beamish Suzuki –
Bultaco – 5
Fantic – 3
Honda – 3
Kawasaki –
Montesa – 2
Ossa – 1
SWM – 1
Yamaha Majesty – 1
Yamaha TY – 4
Aircooled Mono:
Aprilla – 1
Beta –
Fantic – 1
GasGas – 1
Honda – 2
Yamaha –
Modern Mono:
Beta – 6
GasGas – 5
Honda – 1
Montesa – 3
Oset – 1
Scorpa –
Sherco – 2