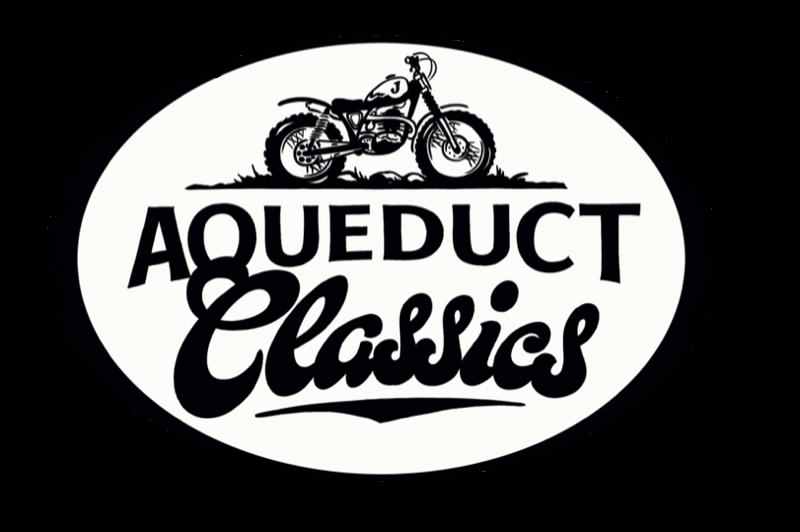 Event report by Rob Sloggett and Paul Owen
Sunday 16th October saw Aqueduct Classics return to its Championship round after hosting a very successful event for the Kia Twinshock series. A fantastic turnout of Pre 65 and Twinshock bikes where 58 riders enjoyed a damp but warming days competition. The 21 Pre 65's were joined by 16 twinshocks, 9 Air Cooled Monos and 12 modern Monos. The Clubman route was the most popular of the day with 28 bikes contesting this class and a further 20 in the 50/50 group. 6 Experts and 4 Beginners made up the final totals.
This month's reports is contributed to by Rob Sloggett (Twinshock 50/50 class) and Paul Owen (Pre-65 50/50 class).
In an interesting twist, it was great to see Allan Seedhouse on a fully electric adult size trials bike mixing it with the pre-65's. Who would have thought that 50 years of development would take us this far? Well done Allan for your 21 mark score on the Mono Clubman class.
Paul Owen (50/50) – BSA Bantam "Bessie" Rigid
It was a miserable wet start to the day but seeing all the regular friendly faces and the smell of burning oil fumes soon made you forgot about it.
Section 1 was a double step incline, around a tree to the left followed by a slippy off cambered steep bank up around some trees and a steep drop out to the exit. Section 2, you would climb a bank on loose stones, around a left hander on a camber, down the bank into a left hand steep climb then back down to another short off cambered bank with a very trick sharp right hand turn to the exit gate. Section 3 was my most enjoyable section, you dropped into a big bomb hole and climbed out to turn right down another bank and a left hand slippy off cambered climb and drop back into the gully and a slippy routed bank , sharp right turn back down over some rocks and climb back up the other side to a left turn exit.
Section 4 was a uphill climb over roots then a drop back down a bank to a steep drop and up a short bank, over a fallen tree to a drop back down the bank and a tight right up hill exit gate. Section 5 was in the open and in the rocky part of the quarry, with 2 steepish up hill banks then drop back down to a 2nd gear rocky climb and a foot high rock step at the top of the bank. It might not have been that big of a step but on the rigid framed bantam it felt bigger. Section 6 was a proper hard section and on the rocky ground, between trees an off camber bank to another rocky section and up to the exit gate. Section 7 didn't suit the rigid as it had to many big rocks but it was a muddy start over a few rocks, a left hand turn over some bigger rocks, and a right hand turn into a tricky rock left hander that claimed many riders attacking the slippy run to the exit gate.
Section 8 was heading back down the old quarry with a steady climb over some roots and rocks. You turned right across a flat section to a left then sharp right turn down an off cambered bank then to the exit. Section 9 was similar to 8 to ride, but a down hill start to a right turn, back up the bank to a left drop out and exit gate. Section 10 started between some trees and a drop down then a climb up the opposite banking, around a tree to a left-handed drop, then a right left off camber exit and then back around to start the following lap.
I think it was a great trial and all the competitors enjoyed it.
Rob Sloggett (50/50) – Yamaha TY
It was so nice to get back on the bike after a prolonged break. A puncture in June gave me a DNF and having observed in the Kia Round last month it has been 4 months since my last competitive ride. And boy did it show!
My first lap was nothing short of a disaster with missed flags and basic errors quickly tallying up the start of a high score for me. Needless to say, after the first lap I put my brain in gear, rewalked every section and the final 3 laps at least gave me something to be more pleased with.
Once again, Aqueduct marked out an excellent trial with a good number of sections on the 50/50 route giving a nice blend of extra aspects to make the rider think and challenge the mind.
I think the first section that springs to mind was Section 6 (I think). If I cant remember the number I can certainly recall the entrance! A beautifully crafted first obstacle offered 3 options across a 4 ft. gate. Image an inwardly curving tree to the left, a rock the size of an average family car size wheel in the middle, or sneak past this to the right but then have to immediately turn left if you took this line. Lap 1 I went for the final option and got it totally wrong! Dabbing with my right foot as the bank dropped away as the left hand turn beckoned, I struggled to control my speed with the front brake only as I had no access to the rear brake. Luckily a good run out allowed me to save it for a 3 but it wasn't my finest display. Funny how things hooked up on the second lap as the same route resulted in a clean for that aspect and a silly single dab later on. The final 2 laps found the large rock dislodged and a much more favorable route presenting itself.
Section 7 was another one which took a large number of marks across 50/50 class and offered a second half that presented a really stretching level of complexity. An easy entrance turned right into a 180 degree counterclockwise loop with rocks and roots thrown in for good measure. You were then offered a second 270 loop, also counter clockwise but whilst being flat, this 3ft corridor was paved with football size boulders. Plenty of routes to try, none really worked for me!
This was a top event in a class venue and as always a big thanks have got to go out to the landowners, organisers, club officials and observers.
Don't forget that our next event is on Sunday 6th November at Nant Ucha Farm. This is our Annual Charity event with the proceeds going to a number of chosen charities.
Top Places:
Pre 65 Elite: Kev Ellis, BSA 350 (39)
Pre 65 50/50: Gary Shaw, BSA C15 250 (7); Phil Alderman, BSA 250 (8); Paul Owen, BSA Bantam 175 Rigid (18)
Pre 65 Clubman: Peter Cockins, BSA 250 (1); Roger Smith, BSA 250 (2); Jon Flower, BSA C15 250 (4)
Pre 65 Beginner: Keith Lloyd, Drayton Bantam (1); Stephen Johnson, BSA Bantam (26)
Twinshock Elite: Danny Littlehales, Fantic 200 (23); Stephen Knight, Yamaha 175 (56)
Twinshock 50/50: Jeremy Sutton, Ossa 350 (31); Jed Downes, Honda TLR200 (32); Steve Blackburn, Montesa 349 (47)
Twinshock Clubman: Stephen Collinson, Fantic 300 (1); Mark Blackwell, Honda TLR200 (2); John Sowden, Bultaco 340 (8)
AC Mono Elite: Terry Musgrave, Honda TLR 200 (44)
AC Mono 50/50: Paul Cartwright, Beta 260 (34)
AC Mono Clubman: Neil Francis, Apprilla TX311M (1); Steven Blaxall, Fantic 212 (2); Richard Osbourne, Aprilla (3)
AC Mono Beginner: Pete Thomas, Fantic 155 (14)
Modern Mono Elite: Declan Marsden, GasGas 125 (102)
Modern Mono 50/50: Alec Roberts, GasGas 300 (18); Andrew Dean (35)
Modern Mono Clubman: Ken Williams, Beta 250 (5); Jim Marsden, GasGas 200 (8); Richard Corbett, Beta Rev3 250 (12)
Modern Mono Beginners: Connie Jones, Beta Rev3 125 (25)
Class Breakdown:
Pre 65 – 21
Twinshock – 16
A/C Mono – 9
Modern Mono – 12
Elite – 6
50/50 – 20
Clubman – 28
Beginner – 4