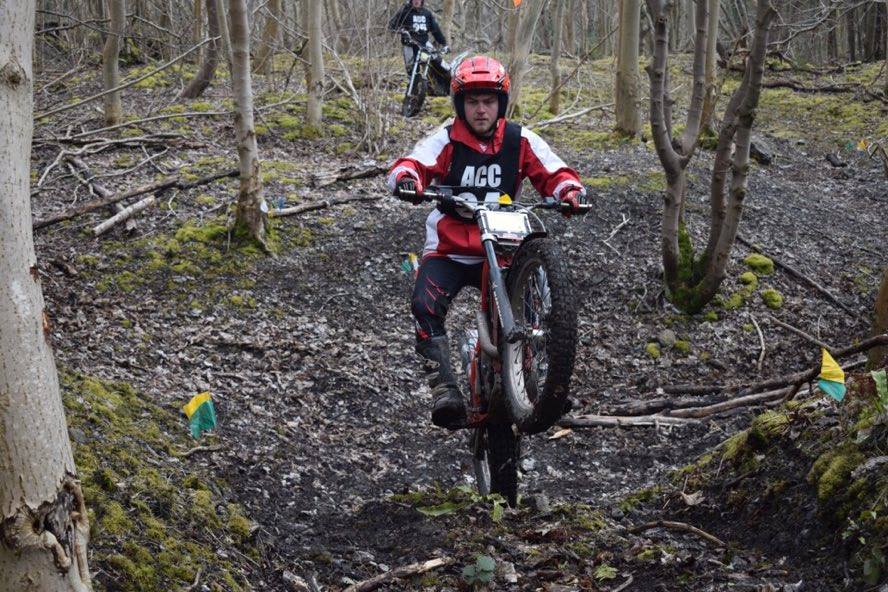 Event Report by Paul Owen, Mark Gaskell and Jon Flower
Sunday 3rd April saw Aqueduct Classics put on another fantastic Pre 65 and Twinshock Trial where 66 riders enjoyed a dry days competition. The 18 Pre 65's were joined by 23 twinshocks, 7 Air Cooled Monos and 18 modern Monos. The Clubman route was the most popular of the day with 35 bikes contesting this class and a further 20 in the 50/50 group. 7 Experts and 4 Beginners made up the final totals.
This month's reports is contributed to by Paul Owen (Pre 65 50/50 class), Mark Gaskell (Twinshock 50/50 class) and Jon Flower (Pre 65 Clubman)
Paul (Moz) Owen: (50/50) – Rigid Bantam
There was a good turnout of riders and lots of friendly faces and banter as we rode down the farm track to the bottom of the old quarry.
Section 1 was a nice tester to how the day's sections would be, on lap one it was nice and flowing between trees and on a light cambered bank but the roots of the trees then made it rather tricky on the following laps.
Section 2 had a raised mound on the entrance gate then a steep downhill to a sharp left, then it was around a small right handed banking back down into the gully then a long climb up to the bank top to the exit.
Section 3 was a drop into a small steep bomb hole with a sharp left turn over some slippy routes, across some rocks then a left right turn and a long climb up a steep loose incline to the exit.
Section 4 was the shortest section, with a small climb and around 2 trees over some rocks and another small bank then to the out gate.
Section 5 was a downhill start to a level platform then left around a tree, sharp right then down a steep bank to some rocks and another drop into a tight mossy left hand turn and a long steep climb back to the start gate between trees with slippy routes showing.
Section 6 was a shorter version of 5, but with a rocky gully that caught a few good riders out.
Section 7 was top of the rocky quarry, with a steady drop down 2 steps to some large rocks and a left hand turn that lead into a sharp right turn up a banked rocky section across some larger rocks then down a bank to the exit.
Section 8 looked the easiest but you had to concentrate around the slippy twisting bank as not to lose the front end.
Section 9 was a left, right, left twist then up a uneven bank to a sharp right, over a steep mound, between some trees and an off camber path to the exit gate.
Finally Section 10 started on top of the bank and you dropped into a right-hander and left up a steep bank then between the rock face and a tree that dropped into a bomb hole, climbing out to a left turn and back along a level bank, then a sharp 180 right turn downhill and along another off camber bank to a 180 left then down another bank to the exit gate.
Every section was challenging and the bits between the sections were nice to ride as well, the quarry has loads of grip but also tricky and slippy on the loose shale where it counted.
Mark Gaskell (50/50) – Whitehawk 175
Aqueduct Classics third trial of the season at the superb Pen y Graig quarry opened to almost perfect riding conditions. The numerous elevation changes make this venue a real pleasure to ride. Riding the green, or intermediate route, my main concern was whether my recent bout of man-flu would affect my day.
Section 1 looked to be a relatively simple slalom around trees and small mounds, with a slippery looking root to catch anyone not concentrating. That gave me a hard fought 3 on the second lap, for not concentrating.
Section 2 started with a fearsome looking drop from the track, before twisting around the gates to a short climb out. The drop looked far worse than it actually felt on the bike, but I was still glad each time I reached the bottom safely!
Section 3 gave me the "which gear" question, as I looked at the steep bank we had to ride up. The approach to the climb was over a jumble of rocks and a bomb hole, making the run up difficult. As it was, the grip afforded meant the climb was easy.
Section 4 again looked simple, but needed caution over a rocky gate if you were to stay clean.
Section 5 had quite a steep descent, followed by an off camber left turn, then quite a steep loose climb out. Those people who walked down the section treated the turn with far more respect that the twit who stood at the top and thought he didn't need to. Silly three.
Section 6 caught a few out with a tricky little rock step, me included. It was easy with a dab, and I did manage a clean once.
Section 7, the rock garden, looked trickier than it actually felt under wheel. If you managed to keep the bike on line it handled the rocks easily. If you didn't, it required a fairly huge dab to get the plot back on track!
Section 8 shouldn't have taken any marks from me, but when my front wheel found a small tree stump, it did.
Section 9 required a steady throttle around a short climb and turn, before an off camber exit. Another silly dab.
Section 10 started badly for me, when another competitor's bike fell on me, not once, but twice! This resulted in a badly bruised wrist, and my back wheel knocked out of line. This required a trip up to the car for spanners, and a restorative brew from excellent catering van.
The section itself was one of my favorites, having several direction changes and banks which I managed without losing a mark.
All in all, a brilliant days riding, with some great company. The silly dabs I blame on the man-flu!
Jon Flower (Clubman) – BSA C15
One of my favorite venues was host to the third round of this year's Aqueduct calendar, with its vast amount of varied potential Pen y Graig Quarry makes a great trial!
The first unofficial section is making your way into the quarry! Working your way down the big hill and along the track under the bridge warms the old girl up just right! The lay of the land and the sterling job of the setters always make a great lap of ten sections, finishing one lap and dropping down a little way to arrive back at section 1!
Section 1 began with a short climb from the track, leveling out and heading sharp left around a tree, leading you down over some lose rocks in a small gulley. A right turn lead you down some more into a little valley, a little way on was followed by a sweeping left turn that took you uphill, over, and back down the other side of a mound about 6ft ish. You were then met with a small but sharpish bank back up onto the track and out the finish gate.
Section 2 was a cheeky little number that took you off the track into a steepish downhill descent, as you began to level out a tight 90* turn took you through the gates and into a slight uphill round to the left. Control was needed as you immediately leveled out and had to negotiate a 180* right turn which required full lock on the BSA, as you proceeded forward you dropped down a little bank and made a left 180 at the bottom round a tree. This lined you up for the final part of the section, which was a large climb up quite a steep bank, which swept round to the left halfway up, and crested to flat over loose ground through the end gates
Section 3 began on the level heading through a couple of trees on some leafy terrain, this soon changed as you dropped down about a foot into a bit of a sinkhole, as you back wheel dropped down, you immediately had a steep soil bank about 2 or 3 foot to hop up, as it crested you landed on some exposed slippy roots and kinked left on the camber. A kink right took you along a grassy/ mossy bank, followed by a left turn off the bank, down and back on yourself. As you headed across there were loose rocks underwheel, a right turn up a bank brought you out onto the rocky track, which was loose under wheel and continued steeper up a large climb. Control was needed to pull round onto the track and up it without losing traction as you turned. As you got to the top of the track you turned left onto the level and rode out the end gates over a small hump.
Section 4 was quite a short section but wasn't without its challenges, as it made use of the undulating, rocky, mossy terrain. You began making your way forward into a swift sharp climb up a mossy shale bank, as your front wheel crested onto the level you had to turn sharp 90* left and follow the front of the bank. The ground then quickly changed into large loose rocks which you rode over between two trees. Between the trees was a slight raise in the rocks which dropped away a few feet as you went over them. You then dropped down to level and made a blip up and over some other rocks, round a tree on your left side, as you came around the tree the exit was in front of you, but a large rock was in your path, you could go round or over it, either way it would have been easy to let it catch you out!
Section 5 made use of some very large steep banks, on two levels on the way down, and one big climb up and out. You started dropping off the track at the top, and entered straight into a large downhill on hard ground, this leveled out quite graciously and you made a 90* left turn through a couple of trees and across the level for a short way. You then swung wide to the left, so you could make a 90* turn to the right, over a ledge and down a large steep loose soil bank (first time I've used my back brake in years!). This didn't level out anywhere near as graciously as the first descent, as you had to negotiate a sharp 90 deg left whist avoiding / riding over rocky outcrop. Once you had made this turn you had a short way on the rocky level with a kink right, this prepared you for the final stage. A tree was the marker point where you made a tight left turn slightly back on yourself, you entered onto the uphill as you came around, and were met with a long, steep, narrow climb all the way back to the top. The climb got steeper as it went up on loose dirt and followed round to the right and the left before cresting back out onto the track.
Section 6 was a short jaunt making use of a rocky gulley. You started heading in and to the left of a tree over the rocky terrain. Reaching the tree you came around to the right and down gently, negotiating between rocks and over them at the same time. Continuing on, a small drop down into a bit of a gulley, lead you across it and up the other side, around a tree and back down into the gulley to the exit gates.
Section 7 was another short section, as you entered you were met with a challenging drop off of about a foot, leading onto a descent down a loose shale bank. This leveled out and then you made your way across a carpet of large loose rocks, to a rocky plateau. A left turn led you into another drop off the same size as the first, and into a steep loose downhill out of the end gates at the bottom.
Section 8 began on loose ground straight into a climb up a rocky bank, a tree was the marker point to make a left turn around it and come back down. At the bottom a small rocky chicane lead you around another tree to the right, this lined you up to head towards a tree trunk for you to ride over, upon the other side an immediate left turn was awaiting on some slippy ground, followed by a right turn out of the finish.
Section 9 began on the track and made a small climb up and round to the left, as you leveled off the line took you around to the right and along the side / over some slippy tree debris. A 90* left turn lined you up for a bit of a climb up a steep bank on loose rocky soil, as you crested you followed round to the right and worked your way through the trees to another right turn. A shallow descent over a grassy surface lead you through trees to another right turn, this was followed by a tricky adverse camber climb around to the left and out the finish.
Section 10 began up on a bank, with a descent down and around to the right kicking it off. At the bottom a 180* turn awaited to the left, followed by a climb back up the bank. Over the brow, a kink right awaited, dropping you off a little ledge and leading your front wheel downhill onto some lose ground and roots. You then found yourself riding on the camber on very loose ground and rocks as you made your way alongside a tree to the left. As things leveled out a slow full lock turn to the left was called for over stony ground. The two sets of gates before the exit lead you slightly downhill, but also had the camber factor again, and very loose soil and rocks under wheel. Finally a sharp right off the camber and downhill lead you out of the end gates!
Our next competition returns back to Pen Y Graig on May 22nd. As always we would like to take this opportunity to thank the land owners, club officials, observers and the catering team for giving everyone such a greats days competition.
Top Places:
Pre 65 Elite: Jack Butterworth, Triumph (10);
Pre 65 50/50: Phil Alderman, BSA (8 fc); Paul Owen, Bantam (8); Vernon Roberts, Bantam (13)
Pre 65 Clubman: Peter Cockins, BSA (0); Roger Smith, BSA (4); Jon Flower, BSA (5)
Twinshock Elite: Danny Littlehales, Fantic (14); Steve Shelley, Honda (16); Stephen Knight, Yamaha (24)
Twinshock 50/50: Rob Jones, Honda (8); Mark Gaskell, Whitehawk (13); Ian Emery, Ossa (15)
Twinshock Clubman: Karl Kavanagh, Fantic (3); Phil Cottiga, Fantic (5); John Sowden, Bultaco (7)
Twinshock Beginners: Pete Thomas, Yamaha (25)
AC Mono 50/50: Gordon Wilson, Honda (14); Paul Cartwright, Beta (26); Alex Barrie, Honda (34)
AC Mono Clubman: Neil Francis, Aprilla (1); Steve Blaxall, Fantic (10); Simon Edwards, Yamaha (45)
Modern Mono Elite: Richard Beddoes, Beta (10); Bob Shelley, GasGas (71)
Modern Mono 50/50: Declan Marsden, GasGas (10); Jim Droughton, Montesa (14); Tom Walker, Sherco (20)
Modern Mono Clubman: Ken Williams, Montesa (0); David Molyneaux, Montesa (5); Andrew Dean, Beta (6)
Modern Mono Beginners: Wayne Francis, Sherco (79)
Class Breakdown:
Pre 65 – 18
Twinshock – 23
A/C Mono – 7
Modern Mono – 18
Elite – 7
50/50 – 20
Clubman – 35
Beginner – 4