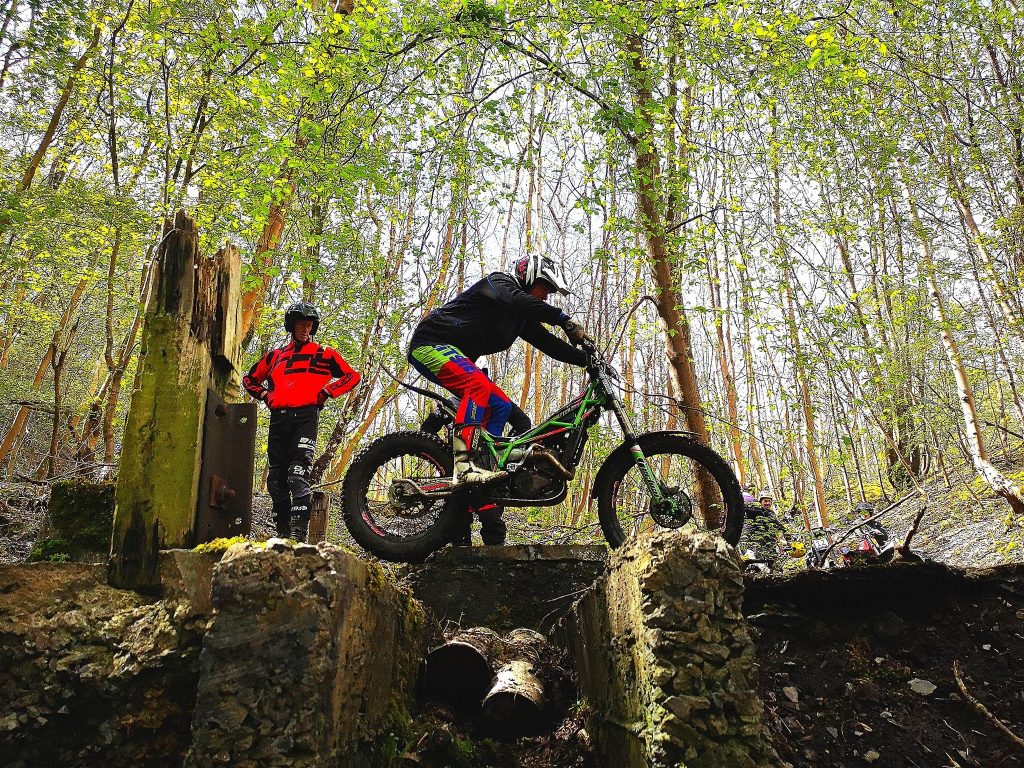 As I started to write this report, I popped over to the last one to see the format and structure and took a look at the date. The last competition was 20th September 2020 when 60 riders enjoyed what we thought was going to be the first on many Covid friendly events but things moved on and lockdown hit again. Wind the clock forward 231 days (yep that's the number) and Aqueduct, after official guidance being checked, opened the regs up to 30 riders to get things moving again.
Before I go any further I have got to say that even though it was only 30 riders, Russ and Mark still marked out 10 sections with 4 routes and made sure each section had an observer. This was only cut down in entries and the same fantastic level of effort was put in by the club to make sure as we returned to completion so on behalf of all of the riders a huge thank-you to all of the organisers for Sundays competition!
So back to the event… as I had volunteered to dog sit I was unable to grab an observer board so I cant give you the usual niceties such as "it was a lovely fresh morning when 30 keen riders turned up at Pen Y Graig for the first event of 2021", but if I could that's probably how it would read… so lets just cut to the chase and listen to the riders views.
Now a word of warning…. we encourage our riders to express their personalities in their reports so just bear that in mind when reading ahead….
Stephen Harding – Modern Mono Novice Route
First of all I would like to give a massive thanks to all the team at Aqueduct putting on such a great event again and keeping us all informed of the mine field of government regs throughout this tough time ,big shout out to Russ and Mark for spending a day in the pouring rain to mark out the sections .
I was so nervous starting as I had not ridden for 7 months and a bit worried about my fitness (lockdown belly) haha, so here are some of my favourite sections of the day, and also a massive thanks to all the observer's , without them the event couldn't take place.

I rode with 5 other guy's and we started at section 9, It was a bit of a tricky start ,a drop down from the start, down and then straight back up a slippy shale bank on to a ridge and then left along a ridge and a steep drop down over a tree root and then still a drop and a tight left past a tree through the flags and then up and out of the section.

Section 10, down at the bottom of the quarry, a nice easy entry into the section and a fairly straight line through the slippy mud through a couple of rocks and then a tight left exit , a nice flowing section to calm the nerves and a bit of a breather to be honest.

Section 6,Deep in to the quarry, we start from a fairly muddy puddle through the start gate and a really tight right round some rocks in some really slippy mud, then up on to a bit of a ridge then down past Paul the observer and up tight left past a tree and on to an off camber shale bank and round to the left over some rocks and a couple of tree branches and out .
Section 7, a bit of a nemesis for me. From the track you could see the start and finish but not an easy section, from the start you drop down a very steep slope and as you get to the bottom you have to climb a bit and then tight left past a tree and then straight up a long a really steep shale climb where I just kept on getting the back wheel spinning and a few dabs. On the 4th lap I took some good advice from one of the guys in our team , I think it was a Mr Williams on the Honda TLM (really nice bike too) and I cleared it on the 4th lap.

Section 8, one of my favourites ,as you drop in you are straight back up and a really tight right through the flags and then along a shale ridge then a small drop down and back up and a tight right on to an old concrete platform and over a small gap and then out of the section.
Over all I had a brilliant day, big thanks to everyone involved , without all of your time and effort we wouldn't be able to do what we all love and enjoy. Thanks
Paul Beswick – Pre 65 Novice Route
Great to be back on the bike again and we the few, 30 actually, gathered to enjoy the four laps of ten sections laid out for us by Russ and Mark. Rob asked us to add a few words about our three favourite sections. To be honest it's all a bit of a blurr and to be honest I can't remember some of the sections but I do remember how easy it was to get lost in them but that was probably more down to me and my one brain cell than anything else. It took a lot of concentration to keep your feet on the pegs and I'm really pleased how things turned out. More luck than judgement as I've never made so many skin of the teeth recoveries for ages.
Talking to the other members of the group, I really like riding round in groups of six and I hop we retain this when all the covid restrictions are just a dim memory, I wasn't the only one. Us wobblers never change lol.
Sections 5, 7 and 8 come to mind thinking back but I think it was section 3 especially on the first lap that was particularly challenging. All the sections were flowing which I love with some loose rock's and shale thrown in to catch the unwary and punish lack of concentration. What a great venue this is because with the recent weather I was expecting mud, mud, mud but no what we got was smiles, smiles and even more smiles. Hopefully I will be lucky enough to get a ride at the next trial and fingers crossed I won't get lost in the sections so often. Either way I can't wait. Thank you to every member of the Aqueduct classic team that consistently put on such enjoyable events.
Mark Gaskell – Pre 65 Intermediate Route
Trying to remember when I last rode in a trial? Certainly more than six months ago. That's the excuses started already! Arriving at 2 minutes past the start time in the instructions, I'm met by the familiar faces of Russ, Mark, Geoff, Jan, Suzanne and Christine, albeit behind facemasks! Sanitising and signing on completed, time to say hello to the rest of the 30 competitors, and hope that they are as rusty as me! At the briefing we are split into groups of six, and allocated a section to start at, in order to avoid contact as much as possible. Our group is Mark Newman, Ian Emery, Paul Young, Graham Miller, Steve Blaxall and myself. 5 inters and a clubman.
Our first section is No.3, the first element of which is a full lock, downhill, left hander between tree stumps. My first attempt goes wide for a 5, me underestimating how tight the turn is compared to the momentum of the Triumph. Not the best start to the day. Still, it can only get better from here can't it? Next lap I make the turn, but need a couple of dabs. Third lap I try an alternative line advised by Mark, and clean. Last lap I have a plan to pivot turn on the back brake. It fails, and 5 again!
Section 7. Down an off camber slope, round to a tight left, then a tight right at the bottom of a steep bank, weave uphill to the end. The steep bank has a slippery tree root just where you would be asking for the throttle. Safety dab on lap one, annoying dab on lap two, clean on lap three, and disaster on lap four! More grip (and right hand) than expected turned a floating turn into a falling dismount. 5.
Section 1. Should be easy, but the middle element is a left around a tree on a polished off camber slope. Target fixation on the flags means a two on lap one, a dab on two, before remembering not to look at them for cleans on laps three and four.
I hadn't realised just how much I missed this sport, and the way this club organises it. Superb, safe days riding. Many thanks to all for your hard work!
Julian Price – Twin-shock Expert Route
I would start by saying writing one of these reviews is something similar to the Catholic Confession so I'll start by saying my name is Julian Price, may the Trials Gods bless me, and it is a couple of years since my last review (and I still haven't grown a set).
Anyway, when I saw Robs increasingly cunning request for reviews come through, I thought having recently retired, and I should make the effort, so here it is.
I'm calling this one "Listen you Pillock"
Introduction
In a previous paragraph I referred to being under- endowed in the testicular area.
I would like to point out that unfortunately, this hasn't quite made me feminine enough to take advantage of a wonderful characteristic that the fairer sex has in spades. The ability to listen! This would have been huge benefit when dealing with the challenge on section 8 on the red route! More of that later.
With a reduced entry of 30 there were only 7 riders entered into the expert route and we formed a cosy bubble. These guys really deserved to be in this class, whereas did they deserve to have me tagging along? I guess we'll never know. It was a great group and with the event having no championship points, advice flowed and the chatting was amiable. I have noticed since moving on to the reds five years ago one advantage of being less able and no threat to any standings means guys are happy to advise and help. This is assuming they save the shouts of "oh god, what's the fool done now" until I'm out of earshot.
Ok, this review is not going to be of every section but suffice it say I was not going bad for me with dabs here and there.
Now, I have made several observations over the years, and one of which is these high achievers I was riding with really seem to be able to focus, and have a real determination to not dab at all costs and this can do attitude helps further by keeping traction with full weight on bike giving something of a win win. Note to self, must try harder and hang on a split second longer before dabbing!
Section 7 Red route.
This section was ably manned by our mate Steve Jones having rendered himself unable to ride on a previous two wheeled "venture" and decided to observe to the delight of the riders, as we all know a fully manned up trial is great to ride.
Aware that our group of 7 did not have to rush looking at the sections given the entry was only 30, I was getting used to a quick couple of minutes and we were off! ( me and Ian Jones usually prefer a good 10 minutes per section)
So far, a particularly talented rider in our group had gone first on every section and pretty much "showed us how to do it" by cleaning them straight off!
Now, you might well say well this fella has shown you how to do it so get on with it but you have to factor in the chasm of difference in my ability and his so I literally felt no better off.
My turn came, and down the first descent I went, weaved through the trees (I couldn't do the lovely floaty turn the real experts were doing) so I dabbed my way round, up the bank and over the loose rocks for a fairly satisfied 3, Yay!
Now remember the title of "listen you Pillock"? Well, here, while watching the others I get some good coaching from the maestro on what to do next time.
Well, for a reason unknown to science I managed to listen. I still couldn't do the show off floaty turn, but the other advice was heeded and I even managed to clean it on another lap.
Anyway, buoyed up by my 3 on what I initially thought looked like a hard section we moved to the next section.
Section 8
Now section 8 looked simple. It was simple and was probably the shortest of the day. A flat start followed by a tight turn through a pair of trees, all doable then to the final part. A small rock step followed by a left turn and up short steep, slippy bank. No problem for the willing "first in every section maestro", but hey, it looked tricky at the end. The next rider was a very good rider and the slippy bank caught him out. A five! What! These guys don't five much so suddenly everyone took notice. Suddenly there was doubt in the air and it was contagious!
Well I think only 2 guys got around the section maybe 3 but the rest failed.
I took my turn and of course failed completely. I might as well have just thrown the bike on the floor after I went through the start flags. I did what others did and rushed the tight turn and didn't commit to the steep bank. It didn't help that there were some hard looking lumps of concrete either side of the section waiting to do you extra harm. That little bank was just long enough and just steep enough to stop you from forcing your way up.
Well the news was out that the clever dicks were making a fool of themselves and sure enough the cameras crews turned up to add insult to injury. With all the fog going around in my brain I couldn't think of anything witty to say and resorted to sign language.
I'll cut to the chase. It took 20 points of me but I will also refer to my "Listen you Pillock" title. After failing next lap, (and I wasn't the only one) another proper expert turned and advised just go really slow. Do not rush it, and you will get straight up from the bottom. Well my brain was just too male. I couldn't listen.
I just did the same rubbish attempt lap after lap safe in the knowledge that better riders than me were failing too!
So, when the trial was over me and another riding buddy could not accept we had been beaten by such a simple little section. We returned to the scene of the crime. By now a little less adrenaline was flowing and my brain decided to listen to the advice earlier freely given.
Up to the step, slowly does it, look up the bank because that's where you are going and the bike flew up like there was nothing there. Round and round we went time after time, looking at each other both thinking WTF!!!!
Brilliant trial, testing well set sections took marks off all in the class without killing the making up the numbers me. Result! I had a smile on my face the rest of the day. I am safe in saying the bubble really enjoyed it.
So that was a flavour of my trial. As ever, I try to improve my riding and I think I have over the last few years. I'm just not sure if the pace of the sections difficulty is growing faster than my ability to improve????
I will share my own mantra with you.
If you do what you've always done, You'll get what you always got!
So, listen to advice because what have you got to lose?
I'll finish by saying being 2021, I will not be changing my gender in order to improve my riding, (still don't understand how you can do that, Is it just me?)
But I will try to improve.
Big thanks to all that help make these days happen.
Ps. I may have to go into hiding after upsetting the gender police and religious types in a single review!
Feet up.
Top Places
Pre 65
Expert – Ian Smart, Triumph (18); Jim Hough, Ariel (20); Danny Littlehales, Francis Barnett (20)
Intermediate – Jim Droughton, Triumph (25); Phil Alderman, Triumph (26); Kev Williams, Triumph (27)
Clubman – Steve Walker, Francis Barnett (2); Graham Miller, Triumph (13)
Novice – Paul Beswick, BSA (2); Keith Lloyd, Drayton Bantam (4); Kevin O'Toole, Triumph (11)
Twinshock
Expert – Phil Houghton, Fantic (2); Julian Price; Fantic (56); Terry Musgrave, Aprilia (74)
Intermediate – Dave Pengilley, Kawasaki (7); David Matthews, Bultaco (11); Mark Newman, Ossa (35)
Clubman – Paul Hornsby, Fantic (10); Owain Charles, Yamaha (22); Allan Thomas, Fantic (32)
Novice – Alan Hotchkiss, Fantic (32)
Air Cooled Mono
Expert – No finishers
Intermediate – Ian Emery, Gas Gas (25); Paul Young, Gas Gas (33); Neil Francis, Aprilia (52)
Clubman – Ken Williams, Honda (0)
Novice – Pete Rainsford, Yamaha (27)
Modern Mono
Expert – No enteries
Intermediate – No enteries
Clubman – Dave Riley, Vertigo (0)
Novice – Chris Matthews, Beta (5); Steve Harding, Gas Gas (19)
Observer List
1 -Karen Newman
2 – Ian Jones
3 – Martyn Humphries
4 – Gordon
5 – Paul Jones
6 – Mike Griffiths
7 – Steve Jones
8 – Dave
9 – Graham Pennington
10 – Russ