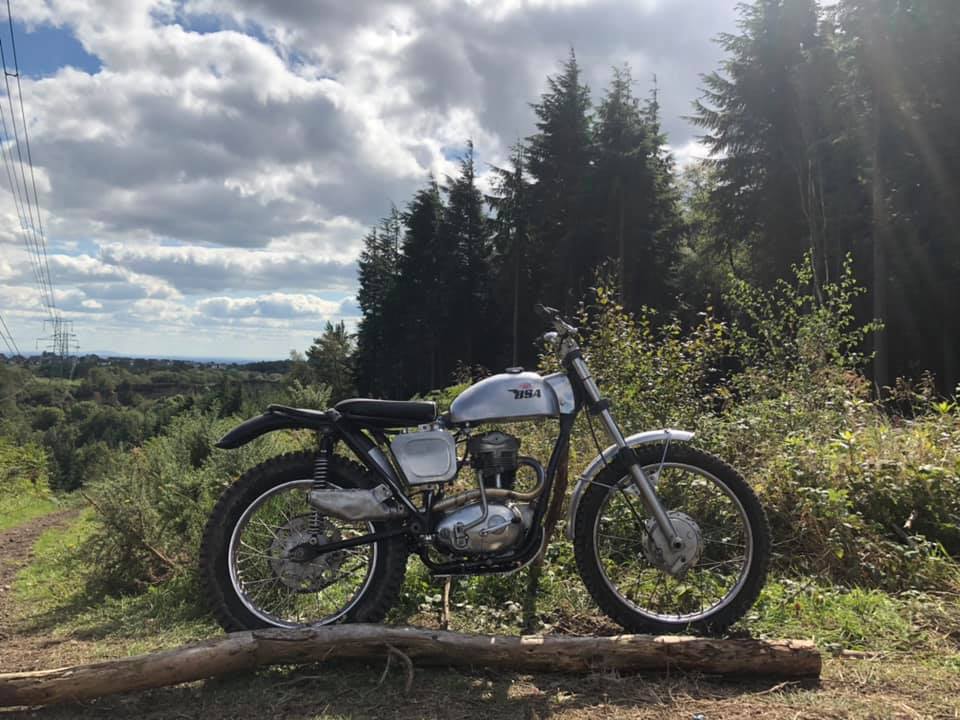 Event Report by Rob Sloggett, Mark Gaskell Suzanne Bowkett and Kevin Williams
The August break had seen 7 weeks off since the last competition and what a way to start back with a visit to a great new venue and great weather!
Nant Y Ffrith Farm boasts some great terrain and this event really just scratched the surface and hopefully we will get the opportunity to use it again. Whenever new venue become available, the ongoing goodwill of the landowner is inevitably infliuenced by the respect the riders play to both the land and the way we showcase the good nature of our sport and I think Sunday ticked all of these boxes.
So what of the numbers? Well 69 riders signed on with 20 Pre 65's, 21 Twinshocks, 11 AC Monos and 17 modern monos. The classes were split with 12 Experts (of which 6 were in the Twinshock class), 29 Intermediates, 14 Clubman and 14 Beginners (of which 7 were in the Pre 65 class). Single enteries were seen in the Pre 65 Experts, AC Mono Clubman and AC Mono Beginners classes
Mark Gaskell – Inters Route, Pre 65
A great new venue and gorgeous weather, what more could you want for on a Sunday?
My score wasn't helped by a silly five when a dead branch flicked my chain off in section 7, and an even sillier one in section 10 when I went the wrong way! Excuses out of the way, difficult to narrow them down, but here are my three standout sections of the day:
Section 3, from the gate, a gentle turn up and round a tree stump which needed gentle throttle to avoid overshooting the next element, a full lock left hand turn. Off full lock and straight onto full throttle to climb a ten foot bank with a tree root becoming more exposed with each lap. Traverse the top of the bank before plunging off to the ends cards. Short and steep.
Section 4, you know you are in for a treat when the start of the section is a long way down hill! Sure enough it started with a short climb over a earth bank, which dropped onto a path and left. Slalom over some tree roots then run wide left on the bank to make a hard right onto a steep and loose 20 foot climb, followed by a left and a gentle climb up through the trees. Plenty of climbing! The last element was a short descent to a right turn and the end. Lovely!
Section 6 was my nemesis. Straight, over a step, then up a long steep bank, veering right over a rockery, then finishing with a full lock left round a tree and full lock right over a root. I didn't get this section right all day, two 2's and two 3's .
Kevin Williams – Inters Route, Pre 65
Another brilliant trial put on by Aqueduct and there new venue did not disappoint and a fantastic day was had by all.
My 3 favourite sections were:
Section 4, this had to be my favourite section. It started with a good climb up a dry dusty bank then it dropped into a gully then over some roots then you had to swing it over to the left slightly onto the bank then immediately turning sharp right up a decent climb then it carried on up to the left then finally dropping down between some trees back into the gully and through the out gate.
Section 5 started with a good blast at a steep bank with exposed slippery roots then turning to the right behind a tree and up a second bank then dropping immediately into a rocky channel weaving through a pair of trees and out over a slippery log which ran on a diagonal.
Section 8 started with a little climb up onto a boulder then turning to the left around a tree then back to the right through another two trees and up a steep solid rock climb then it led across to the left were you had to get over a rock step then it dropped around a couple of trees and out.
Rob Sloggett – Inters Route, Twin shock
After the DNF on the Bultaco at the last event, I had not had time to look at the Butaco (one of the downsides of working aways from home), but it did give me a great reason to use the Majesty purchased a few months ago. Having riden a Whitehawk 200 in the 80's I loved the Yams but never actually owned a Majesty so when one came up locally it seems silly not to buy it! My plan for this event was to get a feel for the bike on what was a lot of banked climbs and being the shorter wheelbased Mini with a 200 engine I was advised that it could be light on the front end. The gearing was also very different to the Bultaco so I wanted to get a good feel for the limits and torque from the bottom end that 2nd gear would give me and a few sections allowed me to really get to know the bike.
Section 4 was the first one to set me a challenge. With two good climbs (one into the section and one within the section) it felt like a 2nd gear run but the climb into the section felt just a bit wrong for second so first it was. The entry and fiddly bit in the gully offered little complevity but one into the bed of the gully, half way up we hd a 90 deg right turn straight up a long pulling bank with roots. To get a good run at it you had to really snake up the left hand back then sweep down to make the 90 deg turn and snp the throttle to make the climb. Weight well forward and keeping smooth was key but the lenght of the climb really pushed 1st gear to the limit. A 5 on the first lap due to being well off line was followed by a pair of twos but it felt cleanable and on the last lap it all come together. If not under competition pressure I would love to go back and try the same combination in second. I suspect it would pick up clean and not bog down and probably be a lot less buzzy at the top end of the rev range.
Section 5 was probably one of my favourites of the day as the opening bank combination was definately in my weak spot. A cross camber climb with two sets of roots offered two lines to aid you on the right hand turn at the top of the bank. You could either come off the power early and run the front wheel below the second set of roots but then the rear wheel ran low to the tree that sat in the middle of the bank or you could fire much higher up the bank, take the front wheel about the second root line and allow the rear wheel to run a line between the two root formations. I went for the latter and once again first gear was my selection (my thought process being second was more likely to fire the front wheel into the air). The observer after the event certainly commented about the high rev range I was pulling but a think the 4 cleans (albeit with a single dab lost of lap 3 I think at a later point of the section) made me content with the outcome.
Section 6 was definately a second gear blast up a long climb. The first 20 foot greeted you with a small step then another 10 seconds climb gradually getting steeper with a rock and root cluster and it bent right gave you something to think about. You then had to fire across a short root crop to then be faced with a tight 180 deg left around a tree to the out cards. The turn picked up single dabs for me and I struggled to get a feel for the turning geometry and the climb caught additional signle of pairs od dabs leaving me to drop 10 on this section (25% of my overal score). A great section though….
Section 8 was up there with Sectoin 4 as one of my top sections and one that had a second to first shift down as the challenge switched from climbs to tight steps. This one was great to understanding the control and speed of second as the start had a brief upward climb but with an left right combination of turns at low speed then into a bomb hole with a right turn to line up to a steep bank which you had to sweep left straght after the crest. A swift change down to first to line you up to a root / rock step which needed the front wheel to be lifted with enough speed to carry you over the lip then a simple run down to the end flags.
Two silly fives contributed to my score but a great deal of learning on the new bike and certainly one I am going to enjoy riding whilst the Bultaco gets checked over and the frame and a few other bits powdercoated, the hubs relined and a couple of other things to sort. The inter route is definately a challenge and pushes me outside of my comfort zone but thats what this sport is about I suppose….
Suzanne Bowkett – Observer Section 4
Absolutely loved the new venue!! Russ and I were on section 4. White route separate from the rest so a bit hectic at the beginning but loved observing it!!
Bit of a tough one but lots of happy smiling faces think judging by the comments everyone enjoyed it.
As always, we received great feedback on social media and some of the comments are below:
Big thanks to the organisers and observers ! Very good trial at a new venue, sections well set out , challenging but that's trials ! Great atmosphere and chat with the riders, brilliant day really enjoyed it – Paul Corfield
Was a fantastic day today Geoff, big thanks to you and your team and what a lovely place – Jeff Hughes
Thanks to the whole team for organising and to those that helped him on his way round Jack really enjoyed his first trial – Ian Moody
The usual close by thanking everyone involved and I look forward to seeing you all at the next round.
Top Places:
Pre 65 Expert: Kev Ellis, BSA (35)
Pre 65 Intermediate: Simon Thornley, BSA (0); Dave Lovell, Triumph (5); Graham Greaves, Triumph (20
Pre 65 Clubman: Rob Godwin, Francis Barnett (2); Tim Godsmark, BSA (6); Andy Steele, BSA (21)
Pre 65 Beginner: Jeremy Sutton, BSA (0); Peter Cockins, BSA (3); Chris Kenny, BSA (4)
Twinshock Expert: Chris Gasgoine, Montesa (29); Dave Wood, Ossa (33); Jim Williams, SWM (46)
Twinshock Intermediate: Dave Pengilley, Kawasai (5); Vincent Brett, Honda (15); Stephen Knight, Yamaha (17)
Twinshock Clubman: Steve Blackburn, Montesa (9); Mike Kelly, Fantic (14); Darren Riley, Bultaco (16)
Twinshock Beginner: No finishers (
AC Mono Expert: Matt Spink, Honda (23); Jerry Hawker, Honda (75); Paul Young, Gas Gas (107)
AC Mono Intermediate: Paul Cartwright, Gas Gas (8); Gordon Wilson, Honda (10); Ian Emery, Yamaha (15)
AC Mono Clubman: Ken Williams, Honda (31)
AC Mono Beginner: Jack Moody, Scorpa (90)
Modern Mono Expert: Nigel Sproson, Montesa (74); Robin Foulkes, Yamaha (80)
Modern Mono Intermediate: Paul Hempkins, Gas Gas (18); Jason Davies, Gas Gas (25); David Molyneaux, Montesa (28)
Modern Mono Clubman: Neil Lyth (1); Jamie Jones, Beta (1); Perry Tattam, Beta (15)
Modern Mono Beginners: Jeff Hughes, Beta (0); Johnathon Hughes, Sherco (24); Talei Mallard, Beta (31)
Observers:
Section 1 – Dave Williams
Section 2 – Geoff Jones
Section 3 – John Sowden
Section 4 – Russ and Suzanne
Section 5 – Chris De Burger
Section 6 – Mark Samuel
Section 7 – Izzy Cartwright
Section 8 – Angela Godsmark
Section 9 – Chrissie Samuel
Section 10 – Jan Jones
Bike Stats:
Pre 65 – 20
Twinshock – 21
A/C Mono – 11
Modern Mono – 17
Total = 69
Classes
Expert – 12
Intermediate – 29
Clubman – 14
Beginner – 14
Bikes
Pre 65:
BSA – 10
Francis Barnett – 1
Norton – 1
Triumph – 8
Twinshock:
Bultaco – 1
Fantic – 4
Honda – 3
Kawasaki – 1
Majesty – 2
Montesa – 3
Ossa – 1
SWM – 4
Yamaha TY – 2
Aircooled Mono:
Aprilia – 1
GasGas – 2
Honda – 4
Montesa – 1
Scorpa – 1
Yamaha – 2
Modern Mono:
Beta – 7
GasGas – 2
Montesa – 2
Sherco – 4
Unlisted – 1