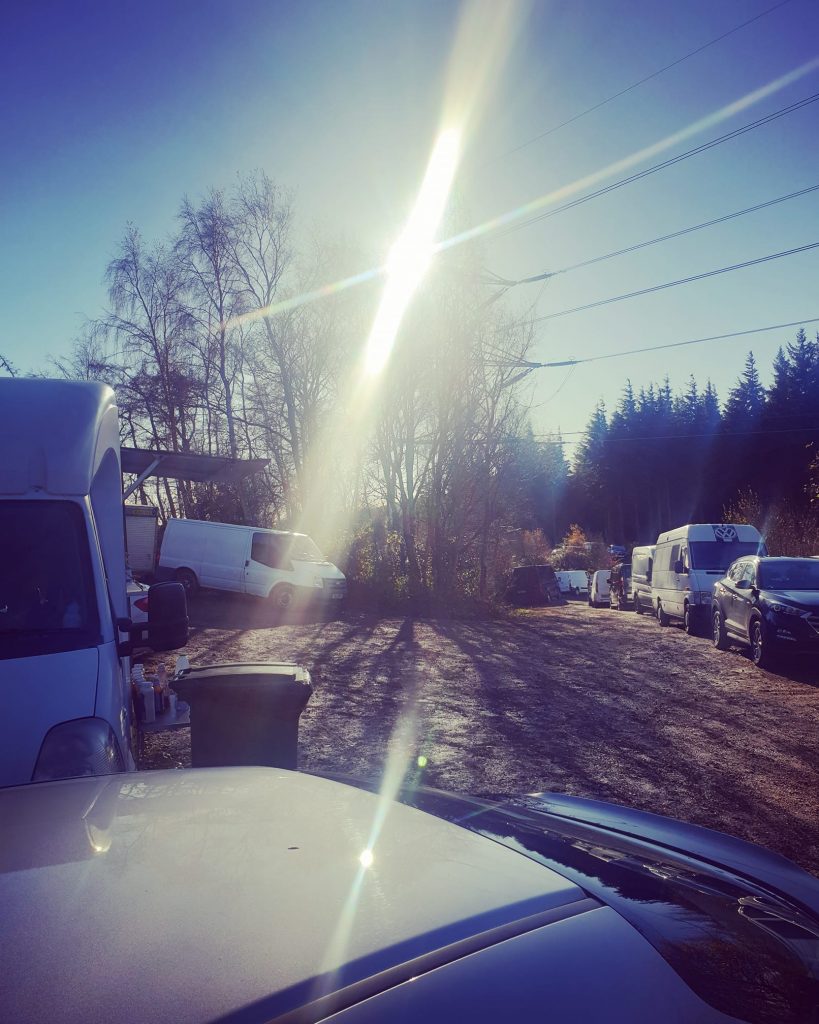 I think probably for the first time in the clubs history "sorry, regs are now closed" appeared on the Facebook page and website. That is never a message the organisers want to send out but maintaining a safe event and keeping queueing to a minimum has always been the priority of Aqueduct Classics. The flip side of that, is that it demonstrates the popularity of the club within the Pre65 and Twinshock sector but also the fact that it now attracts a good following of modern monos who like the layout of the sections for developing or older riders as well as a healthy stream of younger riders…
Long may it continue (and I suspect on current form…. it will…)
So what of the day? Well we ended up visiting Nant Y Ffrith (a stunning venue) with 107 riders of which 19 were Pre 65, 29 were Twinshock, 13 being AC Monos and 46 Modern Monos
Leading in with the Novice group, we had a fantastic 15 riders in this class, 34 in Clubman, 39 in Intermediate and 19 in Expert
Without going into the Regs forms in detail, from what I can see with the bike types and capacities, at least 7 of out riders were in a Youth class and that is also encouraging to see!
A huge thank you to Mark, Steve, Damien, Dave, Michael and Ian for their section reports below.
Mark Newman – Pre 65 / Intermediate
Massive thanks to everyone involved in setting out and running this trial its a superb venue and as usual everything went to plan apart from my riding..
Some challenging sections and a great ride round but my best sections just happened to be the ones I cleaned ….no really….yep !

Section 6 was looking tricky, in through the start gates over to the left due to a right turn up a steep bank between the trees, along the bank drop back down then a camber across between the trees, sharp right (looks slippy) but keep it going and you can find the grip. Along the bank and a steep drop down to the exit..

Section 9, a lovely flowing section. Up and down and round the trees over roots etc. I just love this type of section, even though it was a relatively easy one you had to be aware the roots will catch you out ..

Section 10 very similar to 9, down and between trees, an off camber up over some logs up and round taking it easy as too much and you can over shoot the tight left and right to make the end cards..

Got to mention all the sections we're challenging but not dangerous and lots to think about, a great trial great company and cold but clear and dry. I felt for the observers as it was a really cold day stood outside for several hours, so we can enjoy our day. I can't thank them enough..
Steve Harding – Modern Mono / Clubman
First if all a huge thanks to all the aqueduct team for putting on such a great event again, and not forgetting all the observer's for braving the cold and without whom it wouldn't be possible to have such a great day.
I turned up at about 9:30 and was greeted by Sue who directed me to a parking space and then I started to prep myself and the bike for the 11o'clock start. I had time for a brew and great bacon and egg bap from the great Chris deBurger (bap ,barm, roll ,cob, batch, call it wot you like ) but it was good. This was my first time riding the yellow route with Aqueduct and I was a bit nervous as it felt like a bit of a big step up for me. So 11o'clock arrived and it was time to start, Russ put us into groups and I was in group 1 to 20 and was sent all the way down to section 4 to start . I wa​s not with my normal group and felt a bit nervous but I met up with Mark Kirk who I had met on a previous trial and we were both doing yellows for the first time so I was glad I could ride with him and his buddies for the day , cheers boys .

Three of my favourite sections.
From the start, section 4. After a good long ride from the car park along a very slippy mud and rocky track you turn a tight right on to a very steep long rutted drop to arrive at section 4. You started on the main track and straight into a bit of a ditch and straight up a steep muddy slope with a small tree stump just to put you off then keep climbing and a tight right and drop down on an off camber bank and turn back up left to a really tight right between two close trees and drop down with a bit of a left and then back up on to the track. Phew my first yellow clean. #

Section 7, Russ on watch. You start off from the main track again through the ditch and straight up on to a very slippy steep incline and another log to negotiate before climbing even further and over a large sandstone to the top then a tight left round the tree and a slippery left and right down to the exit and back on to the track. A tricky section but enjoyed it,.

Section 8. A bit of a tough one for me but I gave it a good go on each lap as I was determined to finish the yellows .You start off in the dark woods on a steep incline so I started well before the start gate to get a bit of a run on such a steep start. As you go through the start it was a very steep slope and straightaway you had to get over a big root and then immediately turn left and slow the bike down before going into the old ruins and negotiate the rough sandstone rubble before turning a tight right and firing it up the corner wall and climb the steep banks then a right and tight left over a small stone wall out of the section. Overall I had a great day, some tough sections but learning all the time.
A massive thanks to everyone involved , a great venue and very well organised as usual. Well done aqueduct, and thank you…
Damien Morey – Pre 65 / Clubman
Yellow route was just right for me, very challenging, just about same as clubman on Redrose etc.
Section 1 Steady twisty climb with roots and walls Took points
Section 2 bloody horrible Tight turn back on yourself over roots and rocks manage that then horrible slippery log to go over before exit
Section 3 Up between trees tight turn between trees on exit that went worse as day went on
Section 4 Twisty slippy up and down on banking tight exit hard to keep grip
Section 5 Slippy start steady turn in mud High banking on exit
Section 6 In round the back of trees over log tight turn between trees then exit
Section 7 In up slippy bank onto top tight turn round tree went very slippy later in day
Section 8 Up bank over rock pile exit through gulley and step that cut away as day went on
Section 9 Steady winding Section up banking tight left turn on exit
Section 10 Big drop then round trees and out
Rider verdict, Some went better, some went worse, 2 was very tricky, 5&7 went very slippy. All could take points if you lost concentration, 2&7 where the hardest for me 
Dave Pengelli – Twinshock / Intermediate
Arriving at this excellent venue early I was surprised to see how many eager riders were already kitted up ready for action, I was directed down a newly graded road to be parked by Geoff,
The action started promptly with a quick brief from Russel and the team where we were split up to ease the queuing, I opted to start at section 1 saves confusion later on when trying to decide when and where the 4 laps finish. must be an age thing!!!!!!!
Section one was a tricky opener under the watchful eye of Elwyn Williams. Into the section up a slight rise, over a rock then between two trees which had to be ridden accurately or the result was sore knuckles, quick turn to the left up another rise while turning right at this point there was an overwhelming desire to dab on the right whether it was needed or not, tried to resist the temptation but it got me in the end.
Section 2 had me pacing up and down looking at a root near the top of the bank before another tricky root just before the end card's I did not like the look of it and could not decide on a line, the observer calls the next man in; yes, he is on the green route watching closely taking note of all the major issues I had been looking at, with steady throttle he rode the section as if was a mere grassy bank. Note to self don't look too hard. Rode it not as good but a clean recorded,
Across the track to section 3 a nice little section to settle the nerves then a bit that I really enjoy a nice long blast along road and track to the next cluster of 3 sections, there was a bit of queuing here but what a great opportunity to catch up with lads that I had not seen for a few years and talking bikes/bits and banter, The Kawasaki seems to start a conversation I am always surprised how many people have owned one or know someone who has had one in the past, what could be better on a fresh Sunday morning.
From here another run up a track to where Russ was observing again a well thought out section which could catch you out if slightly off line, then off to section 8 set in an old ruined building it had everything a climb, tight turn's, rocks and a cross camber turn to finish off which looked very tricky. I tell myself don't look at it too hard remember section2 !!!!!! then a couple of very good riders 5 it while I sit in the queue, too late for another look! rode into the section nice and steady I had already decided first sign of trouble on that camber and a big dab was going to be planted firmly on the ground to ride around and boy did I need it…. well pleased to get out for a 1, second lap I cleaned it and thought I have got that mastered now, soon to be proved wrong with marks lost on laps 3 and 4, while others around me cleaned it with ease, oh well that's trials for you.
Sections 9 & 10 were exposed at the end of the venue, could have been a different day there it was freezing cold; a special shout out must go out to the ladies observing here they must have been frozen by the time they had managed to get a hot drink and food from Chris.
Having had experience of running trials some years ago I know first-hand that to run a trial of this quality it is not just a matter of rocking up on a Saturday putting a few flags out and then a quick tidy after the event. The aqueduct team put an awful lot of time & effort into running trials and it is good to see all the positive comments on-line following an event.
Finally, but most important.
A massive thank you to all the observers standing out in all weathers so we can enjoy our sport, it makes a trial when all sections are manned and again credit to aqueduct members who give up a ride to observe, so don't forget lads a cheerful thankyou goes a long way on that last lap you never know it may just get you the benefit of the doubt on that next iffy 5 or 3.
Michael Jones – AC Mono / Expert
What a trial, had to pull out the old trusted 1998 GasGas as the Tiger Cub and TRS were out of action.
To start section 1 & 2 were a lovely introduction to the treats the Forrest had to offer a mix of rocky steps and tight loose camber turns surprising how dry it was for winter which was nice.
Section 3 was great, had a technical part where you had to just clear rocks with your sump guard to get correct approach for a steep bank and immediate turn, it got easier with the day, noticed had a classy observer hut like ray mears would make. The trail riding in between was a highlight down towards 4/5/6 there was a bottleneck here which provided a welcome resting point it was a bit slippery down here but again nice selection of camber turns and banks. Section 8 was a stand out due to the atmosphere with the haunting abandoned house and the way the section weaved around it. 9 was my personal favourite probably because it was bone dry and had a lovely log to hop over which felt good. 10 felt easier that the previous 9 which provided a confidence boost going into the next lap. Great location was especially nice as I live in coedpoeth so only 5 mins away, thanks to all the observers/organisers.
Ian Jones – AC Mono / Expert
Good to be back, after a hip replacement in June my surgeon, a keen motorcyclist said to me you'll ride better now I've levelled you out, so having never ridden this venue before I was keen not to miss this one, so luckily I entered a week before, just as well really as the entries closed a few days after with just over a hundred entries .
As I arrived at the wooded venue I was greeted by Geoff, had a quick chat and I parked by section 10, after a quick brief by Russ it was off to section 1, my riding partners Julian price and Tony Gush looked at the rock step and said it caused problems at the last trial, instant panic for me, but good rides from Jim Williams and Kev Ellis eased the worry a bit. I cleaned the step but had a couple of dabs on the tight turn after,.
Section 2 consisted of sharp drop and a cambered turn then over a few tree roots and out, my first clean ride, we somehow missed section 3 and after a nice ride round arrived at section 4 , a ride around some trees made a bit trickier by the overnight rain, Julian was unlucky here as he thinks a branch caught his kill switch lance and stalled his beta instantly, after a shaky first lap I was settling down with some good rides and some daft dabs but I was trying not to put pressure on myself being a bit rusty.
The short wait at the sections was nice to have a breather and chat, section 7 observed by Russ was a slippery, had a couple of cleans on this one but on the last lap being over confident ended up on the deck with a worried Russ running over to offer his help, sorry mate.
All in all a cracking trial in which I managed to clean each section at least once but ended up with a score of 22, no favourites but all good sensible sections, nice to see Colin Sager who I've known for 40 years getting into the spirit of things on a tidy Honda Tlm .
Many thanks to the Aquaduct team , land owners and Chris de burger for everything they do in these
Before we move into the usual stats, we have to close by once again say a huge thankyou to the club team for all of the effort they put in over the preceding months to make this happen, the observers for still taking the time to support and the land owner as always.
Our next event is on December 5th at Plan Onn.
Top Places
Pre 65
Expert – Chris Gascoigne, BSA (19); Pete Morris, Triumph (43)
Intermediate -Carl Winstanley, BSA (10); Dave Lovell, Triumph (14);Paul Owen, BSA (14)
Clubman -Steve Walker, Francis Barnett (6); Peter Cockins, BSA (13); Paul Brimelow, Cotton (14)
Novice – Damien Morey, Cotton (20); Alan Dyson, BSA (22)
Twinshock
Expert – Tony Gush, Majesty (20); Kev Ellis, SWM (20); Jim Williams, Honda (24)
Intermediate – Tim Cuffin, Majesty (10); Dave Pengille (12); Tony Dillon, Fantic (13)
Clubman – William Leigh, Yamaha (16); Dave Lycett, Honda (16); Steve Blackburn; Montesa (22)
Novice – David Broderick, Bultaco (9); Steven Gardner, Yamaha (41); Joel Riley, Yamaha (58)
Air Cooled Mono
Expert – Chris Garlich, Yamaha (6); Colin Sagar, Honda (11); Ian Jones, GasGas (22)
Intermediate – Paul Jones, GasGas (10); Mike Jones, GasGas (17); Alec Roberts, Scorpa (23)
Clubman – Andy Onions, Yamaha (20); Andy Steele, Yamaha (54)
Novice – Mike Roberts; Fantic (19)
Modern Mono
Expert – Dafydd Belton, Vertigo (27); Julian Price, Beta (36); Neil Brooks (38)
Intermediate – Hayden Rainford, Montesa (11); Tony Mvkenzie, TRS (15); Zain Pugh-Hutchinson, TRS (16)
Clubman – Oliver Cookson, Vertigo (12); George Jones, Beta (22); Dyfan Smith, Beta (22)
Novice – James Onions, Scorpa (11); Kaan Pughe-Hutchinson, Beta (14); Logan Price, Beta (16)
Observer List
1 – Ewyn
2 – Dave
3 – Susan Caldwell
4 – Paul
5 – Roger Kenyon
6 – Mark
7 – Russ
8 – Carys Belton
9 – Suz
10 – Chris
Stats
Bikes Classes
Pre 65 – 19
Twinshock – 29
Air Cooled Mono – 13
Modern Mono – 46
Route Classes
Expert – 19
Intermediate – 39
Clubman – 34
Novice – 15
Bikes
Pre 65
Ariel –
BSA – 8
Cotton – 2
DOT – 1
Francis Barnett – 1
James – 1
Triumph – 6
Twinshock
Bultaco – 4
Fantic – 7
Honda – 7
Kawasaki – 1
Majesty – 4
Montesa – 1
Ossa – 1
SWM – 1
Yamaha – 3
Air Cooled Mono
Fantic – 2
Gas Gas – 4
Honda – 2
Scorpa – 1
Yamaha – 4
Modern Mono
Beta – 13
Gas Gas – 6
Montesa – 5
Oset – 1
Scorpa – 2
Sherco – 4
TRS – 7
Vertigo – 4