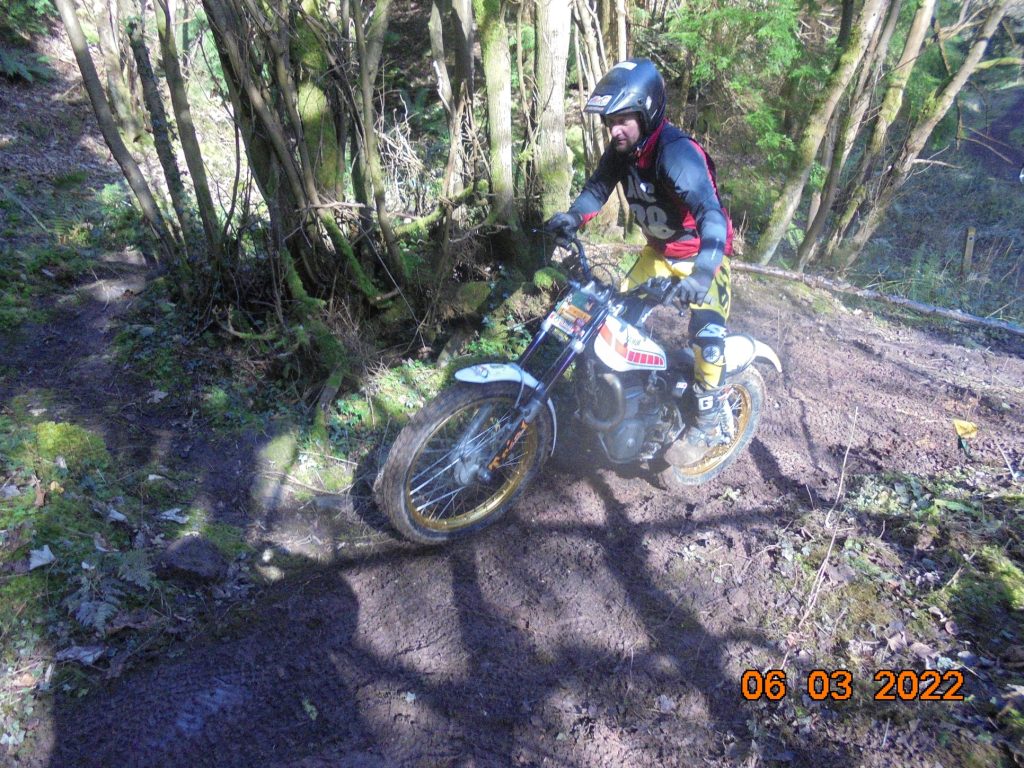 March saw a return to the fantastic Nany Y Ffrith Quarry. This is an exceptional venue with so much space and terrain on offer but also sets of well established favourites offering the 4 routes a bit of everything (well unless you want wet running streams but we have enough of that in some of the other venues in spades!
So what of the 4 routes, well the 91 riders who signed on were split into 6 Novices, 32 Clubman, 39 Intermediates and 14 Experts.
In terms of the different classes, we had a good turn out of 23 Pre 65's, 28 Twinshocks with 14 AC Monos and 26 Modern Monos. It was great to see such a bias on the Pre 65 and Twinshock class with some lovely bikes in attendance.
Mark Gaskell – Pre 65 / Intermediate
I confused a few people, as I turned up in a van instead of my usual box trailer. From the look of the score, I left any riding ability I had in the box trailer! No less than six 5's, all unnecessary!
Superb venue, clear blue sky, and the usual Aqueduct organisation and sections we have come to expect.
Section 1. Let's not talk about my performance in section 1.
Section 2. Maybe not section 2 either.
Section 3. Managed to lose just one dab here.
Section 4. Now this had me worried on the first lap, as the tree sticking out on the left hand side of the drop was exerting some sort of gravitational pull to my clutch hand, the consequences of which could be painful. So I paddled round for a 3. Then someone removed the tree! Next lap I managed to get away with a safety dab on the roots at the last turn before the exit. Third lap clean, but then another safety dab on lap four.
Section 5. A silly 2
Section 6. Clean!
Section 7. A steep drop to a tight left hand turn before a tree. Holding the Triumph's engine against the back brake meant I cleaned it twice, and safety dabbed once. On the last lap a stone rolled the front wheel off line and I was too tired to fight it, 5.
Section 8. This was a tricky little section. If I cleaned the climb, I paddled the descent, and visa versa. Grip was there, but only at the perfect throttle opening and positioning. Frustration and elation combined.
Section 9. The hillclimb. Bread and butter for the Triumph (as long as it doesn't spit its chain off, or jump out of gear!) First lap, up the climb with ease, then run straight into the left hand tree before the end flag and stop dead. 5, and a sprained finger.Section
10. Cleaned it once for Jan's camera. Fived it three times for no apparent reason.
Despite my dreadful score, I really enjoyed the trial. Thank you again to all involved!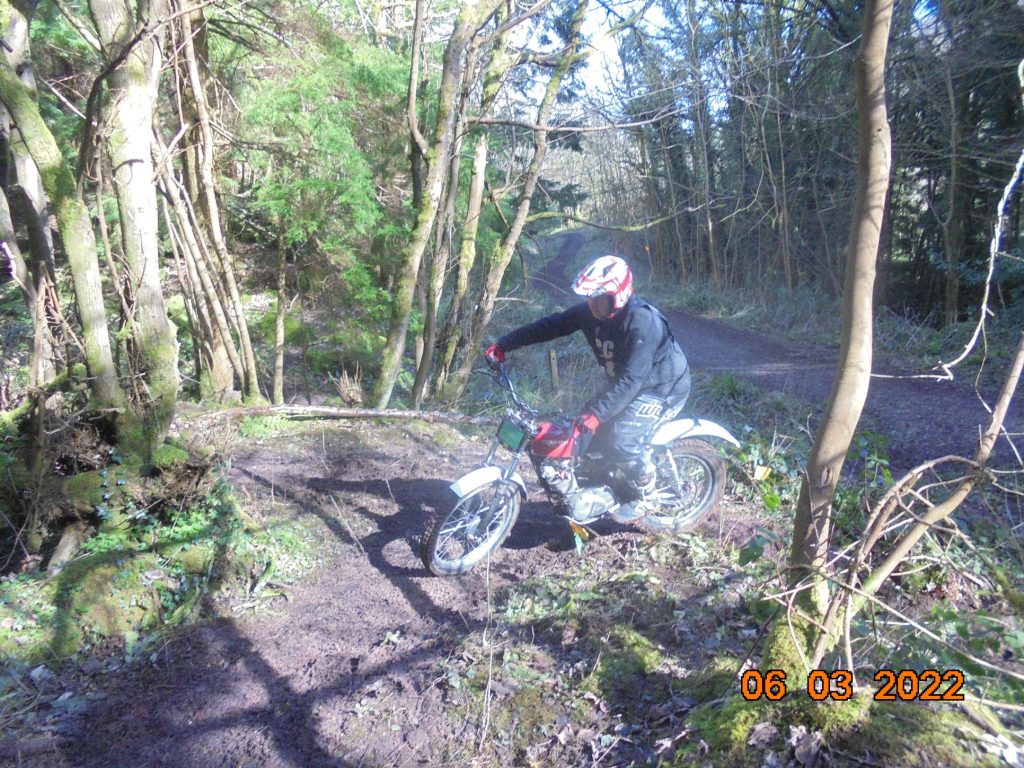 Terry Lloyd – Pre 65 / Novice
Another excellent trial at a superb venue The white route was very good.
Section 1 comprised of two turns on a bank and out.
Section 2 in around a tree, up a bank and and a tight turn right to the outs.
Section 3 was just a straightforward ride through a gully.
Section 4 was very easy just up a shop bank and along although being down for two marks when I thought I was clean.
Section 5 down a fairly long section turn around a tree up out over some rocks and a step.
Section 6 just a straightforward ride through mud and a right turn out.
Section 7 some nice tight turns through trees had to be very careful.
Section 8 up A bank left turn along a camber what is a left to down of rocks.
Section 9 was quite a long uphill section with two turns up to the outs.
Section 10 up a shop bank with a left turn Along A bank with a left turn out around a tree many.
Thanks to you all once again.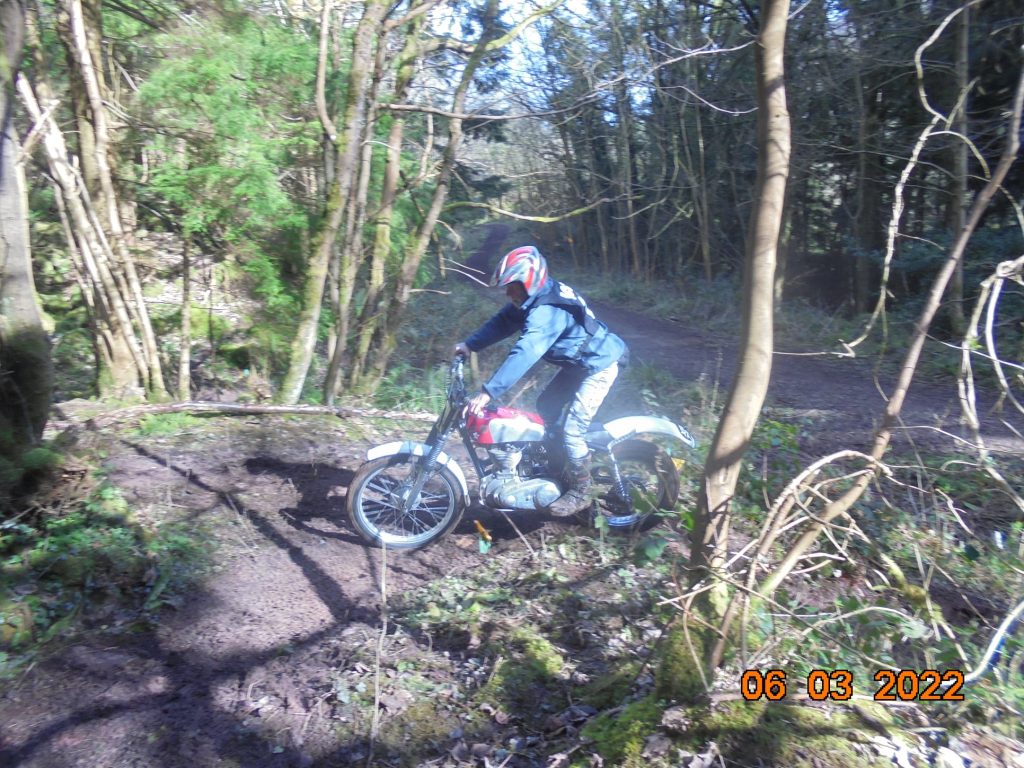 Steve Harding – Modern mono / Clubman
As usual a huge thanks to all the aqueduct team for putting another great trial at another great venue and big thanks to Russ and Mark for spending their Saturday setting up the sections and all the observer's for giving up their Sunday so we can do what we love doing. Not forgetting Chris Deburger for keeping us fed and watered, and the land owner for letting the club use the venue.

Where do i start?
What a great place for a trial, it has pretty much everything.
I'm finding it hard to pick my favourite sections as I thought they were all spot on and there were some good distance rides between some of them to give you a bit of a breather,
So here are a few of my favourites that I have narrowed it down to.

Section 4: Geoff on watch so no messing about, haha . You start off on the main track at a bit of an angle towards the left then through the start gate then up a bit of a bank. Then a tight left on an off camber bank and up over a bit of a step and then in to the woods. Still climbing and head towards a short tree stump and keeping it to the left and then turn tight right round a tree then back down and a bit of a left to the top of a very steep bank. Then drop down back towards the main track and a tight left through the end markers. A good section but cost me a couple of daft dabs.
Section 5. After a bit of a down hill ride from section 4, on the first lap there was a bit of a queue but it soon went down. Gordon on watch. A bit of a technical section this one, for me anyway. You start off from a bit of a slope down through the start gate and immediately down an off camber bank to a bit of a tight right round a tree. Climb up to a bit of a tight left then tight right and an immediately drop down a steep bank into the bottom of a bit of a gully. A bit of a left and then fire it back up a steep bank and a really tight right as you get to the top. Then keep it right and drop down again before going back up towards the end of the section, up over some rocks and roots and out back to where you stated. I dropped a few on this one but enjoyed it.
Section 7: Mark on watch. Another good section this one. You start off again from the main track and cross a bit of a ditch and then straight up a bit of a steep slippery slope into the trees. You then turn right and in between the trees, you come to the top of a very steep slope so anchors on all the way down to the bottom then immediately turn tight left round a tree, a bit of a right towards the next tree where there was a large root sticking out to catch you out then a bit of a left. Then up out of the section. A daft dab or two on the first lap but after some encouraging advice from Mark I cleared it on the next three.

Overall I had a great day riding with Tony Williams and had some laughs and banter on the way. Once again a big thanks to everyone involved, as usual you smashed it, well done and can't wait to see you all at the next one, Cheers.
David Matthews – Twinshock / Intermediate
Think all the sections were set just right, all were cleanable but you don't want someone riding clean! Three sections challenged me the most; 2, 7 and 8. The Bultaco was running well and I was enjoying getting back on it.
Section 2: A ride up and over tree roots that seemed to be taking marks. Had seen a few mishaps so approached with caution. I didn't have a problem with the roots but the exit, a tight right turn kept taking a mark each lap so decided to have another look last lap and managed the elusive clean. Got a thumbs up from the observer so happy days.
Section 7: Well what can I say pretty straight forward looking section. When I saw the steep drop I thought this will be interesting stopping , Bultaco brakes not the best! First lap tried cutting across the camber and needed a dab, had a chat with Russ who suggested a different line. 2nd lap managed a clean, well chuffed, unfortunately that was the the only clean but 3 dabs so pleased with the ride.
Section 8: My favourite, very challenging up over the mud. Tight left at the top, over roots then slippy decent, tight muddy turn right towards the exit. As hard as I tried, unable to get a clean but overall happy after seeing others struggle.
Pleased to get the win ,thanks again Aqueduct
Before we move into the usual stats, we have to close by once again say a huge thankyou to the club team for all of the effort they put in over the preceding months to make this happen, the observers for still taking the time to support and the land owner as always.
Top Places
Pre 65
Expert – Chris Chell, BSA (17); Chris Gascoigne, BSA (39)
Intermediate – Andrew Scott, BSA (11); Carl Winstanley, BSA (17); Roly Jones, Ariel (20); Dave Riley, Cotton (20)
Clubman -Steve Walker, Francis Barnett (7); Paul Brimelow, Cotton (8); Steve Jones, BSA (15)
Novice – Terry Lloyd, Triumph (2)
Twinshock
Expert – Jim Williams, Honda (25); Paul Smart, Fantic (31); Steve Williams, Honda (41)
Intermediate – David Matthews, Bultaco (16); Tim Cuffin, Honda (20); Steve Edgeley, Yamaha (21)
Clubman – Elwyn Beedles, Honda (6); Graham Pennington, Ossa (7); Tudor Roberts, Fantic (12T); Williams Leigh, Yamaha (12T)
Novice – Oliver Barker, Bultaco (4); Tim Swift, Honda (22); Joel Riley, Yamaha (31)
Air Cooled Mono
Expert – Tony Gush, Beta (6); Chris Garlick, Gas Gas (13); Andrew Williams, Beta (31)
Intermediate – Mike Jones, Gas Gas (14); Neil Brooks, Fantic (16); Robin Foulkes, Yamaha (17)
Clubman – No riders
Novice – No riders
Modern Mono
Expert – Paul Jones, Montesa (12); Julian Price, Beta (24); Jerry Hawker, Montesa (28)
Intermediate – Paul Hornsby, Vertigo (15); Neil Matthews, Gas Gas (23); Ade Robinson, Gas Gas (28)
Clubman – Phil Clarkson, Beta (5); Mark Bill, Beta (6); Bobby Chadwick, Beta (22T); Stan Trojnar, Beta (22)
Novice – Tony Williams, Scorpa (2)
Observer List
1 – Dave
2 – Jeff Hughes
3 – Chris
4 – Geoff
5 – Gordon
6 – Rob Jones
7 – Mark
8 – Paul
9 – Russ
10 – Suz
Stats
Bikes Classes
Pre 65 – 23
Twinshock – 28
Air Cooled Mono – 14
Modern Mono – 26
Route Classes
Expert – 14
Intermediate – 39
Clubman – 32
Novice – 6
Bikes
Pre 65
Ariel – 1
BSA – 10
Cotton – 2
Francis Barnett – 1
Matchless – 1
Triumph – 8
Twinshock
Bultaco – 4
Fantic – 6
Honda – 9
Kawasaki – 1
Majesty – 1
Montesa – 1
Ossa – 1
Yamaha – 1
Air Cooled Mono
Beta – 3
Fantic – 2
Gas Gas – 4
Honda – 1
Scorpa – 1
Yamaha – 3
Modern Mono
Beta – 10
Gas Gas – 7
Montesa – 4
Scorpa – 1
Sherco – 1
TRS – 1
Vertigo – 2