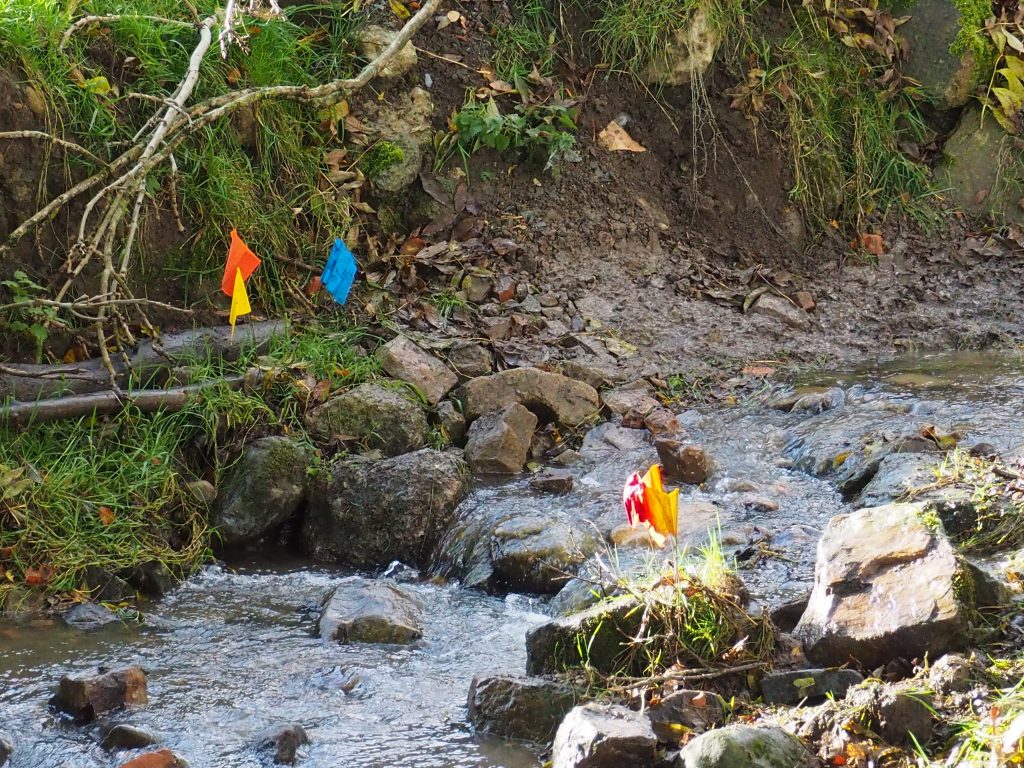 Event Report by Rob Sloggett, Trevor Bennett, Paul Owen, Mark Gaskell and David Williams
Whilst the initial forecast promised a 40% chance of rain, the day remained beautiful and dry as we visited Nant Ucha Farm for the last time of 2019. I am sure we will be back again soon next year as this is a very popular competition (and practice) venue and with the stream not being over fast or high, the club was able to mark out a nice mix of muddy banks and rocky stream sections for the 69 riders who turned up.
The riders were broken down into 20 Pre 65's, 15 Twinshocks, 7 AC Monos and 27 Modern Monos with 7 Experts, 25 Intermediates, 23 Clubman and 14 Novices making up the distribution.
Trevor Bennett – Twinshock Clubman
Firsy Akky trial I've done in a good few years, I've threatened to but never got round to it, but after doing the Akky Kia trials or turning out to observe them I knew it would be a good do. An early start so a quick check of the weather forecast as I was entered at the Castleside Kia. Pissing down up there, sunny at Nant Ucha. No brainer really as I wanted to give a new to me Beta tr240 a shakedown test before I took it out to the Costa Brava trial in a couple of weeks. Out of the house at 07:30, foggy as a flippin foggy thing so steady away down to the M6. 2 Hours later I pull into the farm in glorious sunshine. Geoffs there to welcome us and have his first rugby dig. Park up as directed, give him a bit of stick back and time for a brew.
Walking down to the butty van I remembered I hadn't stopped to fill my petrol can up (dozy beggar) and didn't fancy driving the Sprinter back down that lane against all the traffic coming up. Danny Littlehales sorted me out with a tankful, cheers mate. much appreciated. Bacon butty and brew in hand it was time to go see who's here. Oh look there's a Jones a Jones and ooh look another Jones the place is full of them. Sign on with the lovelies Chris and Jan, have a bit of craic deciding which route to ride. The Marks (Samuel and Newman) decided for me and back to the sign on to put the red card back in the box and while I'm there convince Chris it would be a good idea to chaperon Mark out to the Andorra trial I am transporting bikes to in April. An instant yes was her response. BINGO Mark you owe me a beer. Gear on bike started and another Jones walks up with a shocked look on his face. Blimey Trev, didn't expect to see you mate says Russ. Another brew (cheers chaps) pre trial speech and we are off.
Section 1 Russ is observing so the craic will be fierce if there's any cock ups. Sure enough a cheer goes up and loads of laughter when someone gets it wrong. Doesn't matter to me much I only want to ride the bike around and make sure it's ok so I can put up with any banter and don't suffer from nerves at a trial. Simple enough to start with drop into a stream, out up the bank, drop back in around a tree and back out through the end cards. Clean every lap.
Section 2 Turned out to be my bogey section. Drop in, cross the stream up the bank, engine stops, no petrol, FIVE. It's going to be one of those days I think. Smarts drags my bike up the bank out of the way (cheers mate) and I look to see what happened. No fuel coming through so I blow back up the pipe and it runs free. I presume it must be blocking the built in filter so will have to keep on clearing it. Section 2 took a dap of me every lap because my mind was on it stalling first time round.
Section 3 Drop into stream, ride over a couple of rocks to give a good low line onto the root step then wall ride around the bank to come out past the obs. Dropped 2 here when I tried to take it tighter on the 3rd lap, clean the other 3.
Section 4 Is this the Albert I read so much about. A bit of banter with him while I walk the section. Ask him to be gentle with me as I'm in mourning over the WC defeat and we're both off on the right foot. Drop into stream under that dodgy branch that should of been cut out Russ around the dead tree, up a fairly flat section then sharp turn right up a steep bank. The little Beta catches me out as the front end comes up and I have to have a couple of dabs to pull it round through the end cards. One more dab on the next lap and we have it sussed, clean after that.
Section 5 Down in the woods. A few slippy roots to cross before we drop into the wider stream and ride across to a muddy lefthander, Back across the stream and up a big nasty root step, first 2 laps clean and a 2 lap dab when I found extra grip and came out with the front wheel pawing the air and just got it dropped down between the end cards. Last lap clean.
Section 6 Steady enough twisty start over roots and rocks, drop into and cross the stream and out up over rocks on the opposite bank. Clean every lap.
Section 7 By the bridge. Drop into and cross the stream out up tight right around a tree. back into the stream and cross on a diagonal and out over rocks. Clean every lap.
Section 8 Twisty ride up a muddy slope and the drop down through end cards. One of those sections where it would be easy to lose marks because you presume it is simple to do. Tried different gears the first 2 laps to see how the Beta would pull them. Stuck with second when I found there was ample power. Clean every lap.
Section 9 Favourite section. Drop down to stream to start and then ride up against the flow. Cleaned first lap and then dropped 2 next time round when I went in in 3rd gear, rookie mistake but that's what happens to me when I don't stop and check what gear I'm in. I just rode down the bank and straight in when Jan waved me on. Clean next lap and drop another when I slipped off line and bounced out over the rocks at the end hanging on determined not to paddle out.
Section 10 Simple enough twists and turns to start and then up over roots to happy smiling Mark giving me his best banter. Plenty of time for that in Andorra mate, we'll have a blast. Clean every lap.
All in all I achieved what I wanted, apart from the fuel issue (which I later found to be a 'no breather' so it was vacuuming) making me wonder. The bike performed as it should. A great club trial at a great venue. I came away thinking I should of done better. I had myself down for 18 which I was hoping would not be to bad. Russ's 'check the scores on the doors' comment had me searching the results minutes after I had got back in through the door (amazingly speedy) I was on 17 and had won the clubman twinshock. BLIMEY CHARLIE never expected that. It made the 200 mile 10 hour day round trip well worth the while. What with that, the great trial, amazing organisation, happy people, good banter and good food I will be back for the next one in December. I might step up to the inters route and make a fool of myself but as long as I'm riding my bike I'll be happy among you. Thanks to all observers, organizers and caterers you did a great job. See you next time.
Paul Owen – Pre 65 Intermediate
Nant Ucha Aqueduct Classic Trials. A dry day but it was still wet from a few days rain. The venue is always set out good and the club always make the best use of it. Here are 3 of the 10 sections.
Section 1 was down the bottom of the soggy feild. We entered the stream and followed it up the slippy lose rocks and then a tight right turn up a 4 foot tree rooted greasy bank and a sharp turn left passed the observer and drop back down to the rocky stream with a muddy right turn to the out gate. I pick up a silly 5 on the 3rd lap as the front end was sliding top of the bank as I was turning left and I hit the coloured flag. I blame the observer who had to jump out the way and I believe he stood on his own coat and squashed his butties (hehe). The observer was my best mate and event organiser Russell Jones, and he gave me a 5 so I dont mind about his butties and coat (HAHA).
Section 7. You entered the wide section of the stream from the right and followed it up between the rocks to the left side and over a log as you turned slight right along the waters edge and then back across to a tricky rocky exit of the stream that seen me have a dab and up a steep muddy bank to the out gate.
Section 9. Was a down hill start and across the stream on green slippy rocks and around a tight right on the edge of the water as you turned and attacked the 2 steps of the rocky climb up the stream. It was a constant battle to keep the bike rolling over the rocks as every lap seen me take a different line as you headed to the out gate. This section took 3 dabs off me, 1 on lap 1 and 2 on lap 2.
The trial was very enjoyable and every section was challenging but ridable and even though I dropped 9 marks it was still enough to just take the win for the green route.
David Williams – Modern Mono Clubman
Hi all "bit about myself before I continue" my name is David Williams and I've been riding since a young age and since the "80s" I've not ridden since in over 15 years and did my first trials with my wing man John Warren at Pen y Graig at the July trials riding white route and we both only dropped 1 mark. Then I decided to go to yellow clubmans route for the October trial and I dropped 6 marks. So for November Nant Ucha I thought play it safe and do another on clubmans as I was "very tempted to ride intermediate" My score was 29! But I didn't get any 5s it was mainly silly dabs…but a lot where justified due to the slippy sections So my three sections I would like to mention are…. Clubmans
Section 3 Down a average drop into the stream and a right turn through a narrow part and up over a medium but slippy tree root step, that instantly gave you not time to tackle a sharp right turn that have no grip at all!!! So had to take dabs and 3 it every lap apart from managing to get a 2 on final lap!! Really wouldn't mind if this section can be added again or at least this annoying but challenging corner
Section 4 This was a interesting one at the drop got a bit harder over time going into the stream and a few low branches…but then face two ways out of the stream, either a tight but short slippy climb, or to go up a higher bank faced with slippy slightly tree routed and rocky bank…. I chose the higher bank as it had a bit more grip and a extra second of momentum to get up. Scoring 4 in total as I didn't get my line correct first 2 laps but happy to earn 2 cleans last 2 laps
Section 9 Arrrr a interesting one…as it was only for clubmans and above So anyone on white route didn't see this one. So will explain best I can. Fairly difficult but ridable. Almost immediately into a stream with a choice of left side that was narrow "with the chance of dabbing" or up the middle over 2 rocks that I found fairly ridable if enough momentum was given at the bottom!! Then faced with some annoying rocks just before the final gate!! First lap I did what I thought the hard part was and took 2 dabs, 2nd and 3rd lap I cleaned it and final lap I took a STUPID dab all at the final part lol but a total of 3 marks in total My total score for the day was 29 not happy with my score! But I blaim myself taking too many unnecessary dabs that as we all know add up!!!!
Above all a excellent event with Aqueduct trials club and as I always look forward to them!! See you all at the next one Thanks again to the organisers and observers!!
Mark Gaskell – Pre 65 Intermediate
After the atrocious weather we had on the Saturday, Sunday made a refreshing change. Mild, dry and sunny at Nant Ucha Farm. My three stand out sections, Intermediate route, Triumph Twin.
Section 1, Russ. Drop into the stream, avoiding knocking your head on the tree. Ride upstream on deceptively slippy rocks, then keep tight to the left to give enough room for a sharp right over a six foot root infested bank. Left, drop off a ledge and tight right through the end cards. On lap one I gave the bank too much throttle, much to the amusement/terror of those nearby/in the way. This required some footwork to recover the plot before it all went South. Lap two and four clean. Lap three however started to go wrong when I didn't concentrate on the deceptively slippy rocks, and ended up on the wrong line for the bank. Over compensating with the throttle (who, me?) resulted in me landing the front wheel outside the flags, and directly in front of Russ's coat and buttie bag! That could have been a life ban!
Section 7, Christine, with help from Albert. Starting next to the bridge we rode into the stream, slalom right left around some rocks, then up a short step. Swing right and thread the wheels through or over a jumble of varied height rocks, then pick a line to ride out, over between or round some more rocks and up a bank. The bike handled these beautifully, until lap three when the pilot allowed a deflecting front wheel to point the bike sideways at the bottom of the bank. Attempting to recover by using more of the surrounding land than usually necessary, and more throttle, resulted in me parking on a tree stump somewhat short of the flags.
Section 9, Jan. Do you ever have one of those sections that you can't seem to get right no matter what you do? This was one of them. Riding across the stream into a tight right turn, either "float" turn or run the front up the bank. This left very little room for the decision to ride round or over the rock you were immediately faced with, which in turn decided the line up the waterfall after it. Turn right after the huge boulder and ride over a succession of smaller rocks to the exit. I managed each element successfully, but not on the same lap. I had a 5 within inches of the end flags when I hit the wrong rock, and dropped the bike in the stream. I had a 5 when too much throttle (who, me?) after the first right put me into the deeper part of the stream, which I dropped the bike trying to recover from. I think the remaining scores were a 1 and a 3, if so, I'm really pleased with the 1!
I believe the setting out on Saturday was challenging, even more reason to thank everyone involved for giving up their time for our enjoyment. Thank you!
Rob Sloggett – Walking around taking photos of riders after helping mark out the day before
I wasn't sure whether I was going to turn up on Sunday… Let me explain why quickly. After helping mark out on Saturday, Russ offered to let me drive the 4WD buggy from the forest up to the car park. Mark in the passenger seat and Russ in the flat bed, he passed the keys through to me. CLUNK… THUD… OOPS. Hang on that was not my fault… Russ you didnt tie it in a knot! Yep if you have not worked it out, the buggy has two keys. An igntion key AND an isolator key. Both needed to start it but when one of them has fallen under the plastic panelling and all you have is a 10mm spanner to strip the whole buggy you know you have a problem. As I said, I'm not taking the fall on this one…. but as I had to shoot off home for a preplanned appointment, I had to leave them there (I did feel bad!)
Anyway back to my part of the report. I have been helping to mark out on the Saturday for a few months, and asked Mark and Russ if I could focus on the white route. My reason for this is the Beginners for me represent the future of the sport and if we can maintain interest and develop sections that are not dangerous but each time allow the rider to experience at least one skill or obstacle type, they will continually develop and feel like they have had a good days competetive sport as well as going home happy and having learnt something. The difference between practicing and competition I have found is that when you practice you tend to ride within your comfort zone / skillset but in competition you have no choice but to ride whats between the flags.
Section 3, was definately the hardest white route section of the day. Whilst not dangerous, it offered an end set of flags that had the riders riding across a gradual right to left camber and then being presented with a moderately tight right hand 180 being approached up a bank. For me the natural line would have been to run out wide, hit the bank straight on using the full width of the over run and then complete the final bit of the turn on the flat. The photos, vidoes and scores indicate that this was probaly the hardest of the Begineers sections of the day with the range of scores from 7 to 14 and in most cases this single section was about 40% of the riders total marks for the day. The feedback on Facebook seems to indicate enjoyment?
The other section for me was Section 8. Sometimes you have to work with what you have for the White route and with the top part of the section being very steep and rooted banks, there is no way we would put the beginners up there as any deviation from the line would result in a tumble, so it was a case of using a flat rutted area and then a muddy expanse up hill to the end cards. The aim here was to give some tight turns over rutted ground to develop slow throttle control and then a short blast where more throttle would be needed to commit the run to the out markers. Once again, the range of scores was from 1 to 13 so it just goes to show how hard it is to gauge the section for the cross section of experience, skills and bike (bearing in mind it ranges from a high end Modern Mono, a 50cc Beta, bog standard TY 175's and older heavy Triumph 500's) .
I spent the Sunday having a relaxing day. I had been ill the week before and did not have the energy to ride so I grabbed my camera and spent the day taking some competition shots as they had a full coverage of observers. It was great to spend some time persuing another one of my hobbies that I have not had much chance to do and I hope people have enjoyed looking at the pictures on Facebook.
The feedback on Facebook from the riders provided a few sound bites as follows:
Another great trials. Sections were spot on. Very tricky and slippy but ridable. Was great to see Albert Higgins pay a visit to nant ucha – Paul "Moz" Owen
I loved the trial so much…. I fetched the bib home! Thanks to everyone involved with putting on a great trial, especially the person who organised the weather! – Kevin O'Toole
As always!! Another amazing turn out and familiar faces! Bit of a challenge due to the slippy sections but although I droped some extra marks I enjoyed the challenge!! Much appreciated to everyone!! – David Williams
The final event of 2019 returns to Plas Onn, always a great venue and a cracking place to wrap the year up. As always we have to pass our thanks over to the Kynastons for use of the land and all of the Aqueduct team, observers and Chris DB for the catering.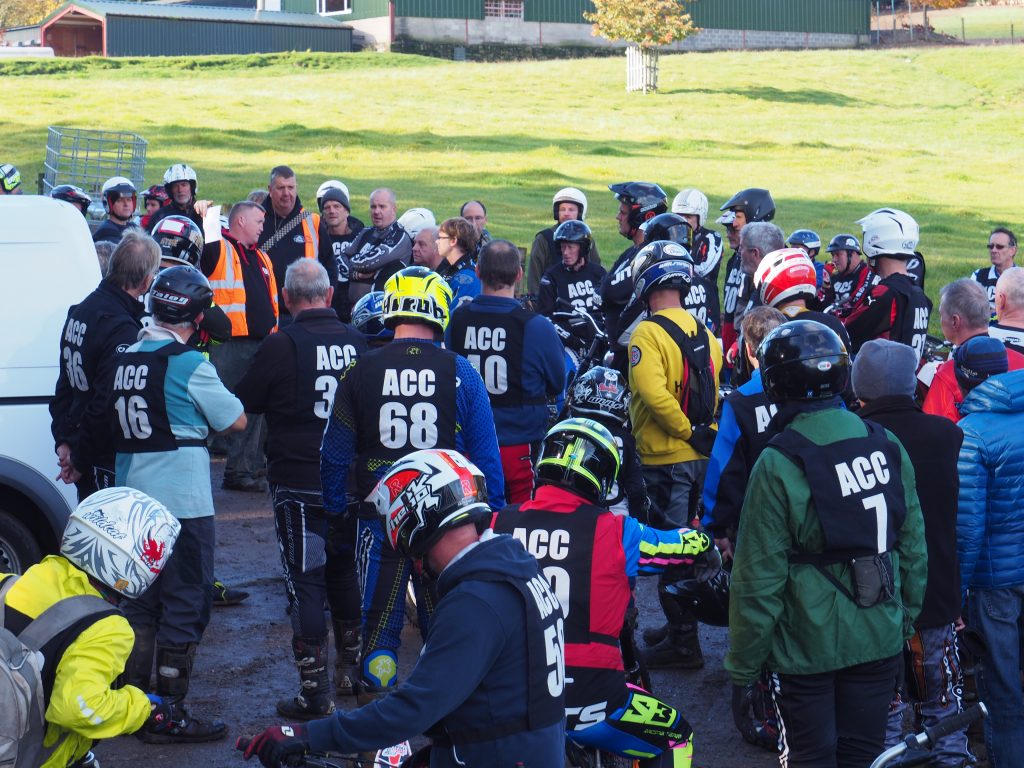 Top Places:
Pre 65 Expert: Danny Littlehales, Francis Barnett (38); Kev Ellis, BSA (59)
Pre 65 Intermediate: Paul Owen, BSA (9); David Beddoes, Francis Barnett (13); Kevin Walker, Triumph (18)
Pre 65 Clubman: Terry Lloyd, Triumph (26); Graham Miller, Triumph (33); Steve Jones, BSA (35)
Pre 65 Beginner: Kevin O'Toole, Triumph (22); Chris Kenny, BSA (31)
Twinshock Expert: Ian Jones, Fantic (42)
Twinshock Intermediate: Dave Pengilley, Kawasaki (5); Tim Cuffin, Yamaha (6); Vincent Brett, Honda (15)
Twinshock Clubman: Trevor Bennett, Beta (17); Allan Thomas, Fantic (40); Graham Pennington, Ossa (43)
Twinshock Beginner: William Leigh, Yamaha (19); Chris Jones, Yamaha (33)
AC Mono Expert: No finishers
AC Mono Intermediate: Gordon Wilson, Honda (8); Paul Cartwright, Gas Gas (12); Ian Emery, Gas Gas (14)
AC Mono Clubman: Ken Williams, Honda (46)
AC Mono Beginner: No starters
Modern Mono Expert: Ian Smart, Montesa (28); Paul Edwards, Beta (55); Nigel Sproson, Monyesa (78)
Modern Mono Intermediate: Hayden Rainford, Montesa (17); David Ellis, Beta (20); Steve Walker, Sherco (23)
Modern Mono Clubman: Paul Haraker, Beta (5); Ad Gray, Gas Gas (6); Colin Steele, Beta (15)
Modern Mono Beginners: Chris Matthews, Beta (27); Jeff Hughes, Beta (28); Sean Halstead, Gas Gas (32)
Observers:
Section 1 – Russ
Section 2 – Suzanne
Section 3 – Ange
Section 4 – Harry
Section 5 – Dave
Section 6 – Gordon
Section 7 – Chris
Section 8 – Izzy
Section 9 – Jan
Section 10 – Mark
Bike Stats:
Pre 65 – 20
Twinshock – 15
A/C Mono – 7
Modern Mono – 27
Total = 69
Classes
Expert – 7
Intermediate – 25
Clubman – 23
Beginner – 14
Bikes
Pre 65:
BSA – 11
Drayton Starmaker – 1
Francis Barnett – 2
Triumph – 6
Twinshock:
Beta – 1
Bultaco – 1
Fantic – 3
Honda – 3
Kawasaki – 1
Ossa – 1
Yamaha TY – 5
Aircooled Mono:
Aprilia – 1
Fantic – 1
GasGas – 3
Honda – 2
Modern Mono:
Beta – 11
GasGas – 4
Montesa – 4
Oset – 1
Sherco – 4
TRS – 1