by Paul Owen, Geoff and Jan Jones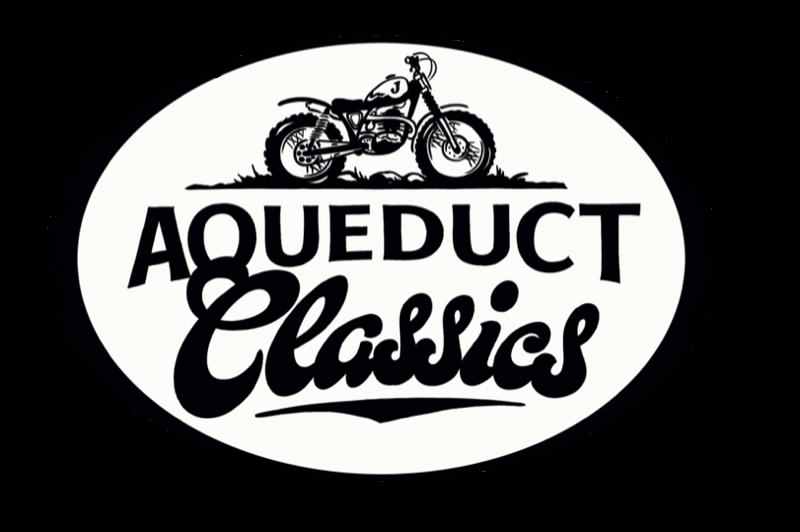 A delayed start to the 2016 season as a result of respecting our kind landowner's wishes of protecting the venues after the heavy January storms resulted in Round 1 of the 2016 series kicking off at Nant Ucha on Sunday 14th February.
Cupid was certainly in the air as 86 riders took the love of their lives out for a day's competition. What more could a pre-65 or twin shock classic ask for apart from a gallon of fuel, 40 sections and an owner fuelled up on hot steaming team and bacon rolls from Chris De Burgers catering!
Oh by the way, those modern lasses also turned up in good numbers so the speciality teas sold quite well along with the jambon et fromage croissants.
This month's report is kindly contributed to by Paul Owen (50/50 Route) and Geoff and Jan Jones (Observers Section 5).

Intermediate (50/50) Green Route – Paul "Moz" Owen (Rigid Bantam)

Section 1 and 2 were similar as you stopped into a rocky downstream with a few turns and a tricky exit. Section 3 and 4 were up stream but 4 was a slippery uphill bank then dropping back into the stream for a challenging 2nd part to that section, up an ever changing slippy rocky exit.

Section 5 was shorter but was a tight left turn up a steep bank to turn across wet roots and a steep drop out on more slippy conditions. Section 6 was a longer, bigger version of 5 with an off camber middle section, a long slippy drop out that you could easy lock the front end up and taste the welsh soil, then you crossed the stream, up a bank to section. You were greeted there with a tight Uphill S-bend and drop into a muddy downhill and around an up turned tree roots to the exit, then back across the stream for section 8 and 9.

Section 8 had you back in the stream, up a bank with loads of grip, you dropped back into the water for a step-up the back onto the bank to the exit, section 9 was back in the stream, around a few large rocks and a challenging exit across slippy green rocks then tree routes to the exit gate. You then followed the markers to the top of the stream and stopped down a bank to start section 10. Here you had to cross the stream again to a rocky slippy channel that kicked the bike all over the place, across the water again to a steep exit out, then it was out the woods, across the field and back to section 1.

It is a great venue to ride and all the sections were very rideable, slippy but safe and nothing dangerous. Sections 4, 9 and 10 being the most challenging for me on the rigid bantam, but with great company from 80+ competitors, it made for a great day out, roll on Round 2!

An observer's view at section 5 – Geoff & Jan Jones

We were all blessed with a fine but cold day for our first trial of 2016 at Nant Ucha Farm, the sections had been eased off albeit slightly due to the threat of an impending snowstorm, which in the end did not materialise.

The white route which although it appeared to be quite an easy line, tightened up rather sharply through a muddy slot with hidden roots at right angles to the slot just before the exit, which I think caught several competitors out breathing a sigh of relief after relaxing for the end gate.

Yellow route had a slight climb around a tree with a ninety right downhill, to exit the same way as the whites, which obviously being on the brakes downhill and across the aforementioned tree roots, caught out the unwary with one or two slips, and curses just before the exit gate.

As for the intermediates and experts their job was vastly more difficult obviously, with a sharp left around a tree with exposed shiny roots, a steep slippery climb crest the bank with another sharp right around a tree at the top, to drop back down sharply. Whilst that was it more or less for the intermediates, they had a short run out to the exit. The experts then we're routed back up another sharp slippery climb to crest the bank again, with a sharp right and a drop off to run to the exit, which was designed to rob the unwary of marks. I think the overall impression was of a highly successful trial, according to comments that we received from a good selection of riders on the day, with good flowing sections, just difficult and technical enough to be challenging but totally rideable .

As always we cannot close an event report without thanking the club officials, volunteers, observers, land owners and catering team who allow us each month to keep our bike engines spinning and (in some cases) our feet on the pegs. Whilst we cannot promise a valentines theme next month, it would be great to see you on the 6th March at Plan Onn, Selattyn.
Top Places:
Pre 65 Elite: Chris Gascoigne, Francis Barnett (5); Jack Butterworth, Triumph Twin (6); Russ Jones, Francis Barnett (7)
Pre 65 50/50: Roly Jones, Dot (9); Harry Lyons, BSA Bantam (11); Steve Walker, Francis Barnett (14)
Pre 65 Clubman: Jon Flower, BSA C15 (10); Terry Lloyd, Triumph Tiger Cub (16): Tim Godsmark, BSA (37)
Twinshock Elite: Danny Littlehales, Fantic (15); Martin Roberts, Yamaha (21); Oliver Foulke. Majesty (22)
Twinshock 50/50: Garry Shaw; Bultaco (16); Rob Jones, Honda (22); Ian Emery, Ossa (24)
Twinshock Clubman: John Sowden, Honda (14); Martin Johnson, Bultaco (15); Karl Kavanagh, Fantic (24)
Twinshock Beginner: Pete Thomas, Yamaha (67)
A/C Mono Elite: Phil Hulme, Yamaha (21)
A/C Mono 50/50: Alex Barrie, Honda (8); Gaz Thomas, Yamaha (17), Gordon Wilson, Honda (19)
A/C Mono Clubman: Neil Francis, Aprilla (17); Andy Steele, Yamaha (20); Steven Blaxall, Fantic (61)
Modern Mono Elite: Robert Wilde, Gas Gas (9); Owen Edwards, Montesa (10); R Beddoes, Beta (12)
Modern Mono 50/50: Philip Clarkson, Beta (11); Jim Droughton, Montesa (17); Alec Roberts, Gas Gas (20)
Modern Mono Clubman: Mark Bill, Honda (3); P Hempkins, Beta (8); Ken Williams, Montesa (20)
Modern Mono Beginner: Andrew Dean, Gas Gas (43); Jonathon Hayes, Gas Gas (54)
Class Breakdown:
Pre 65 – 24
Twinshock – 24
A/C Mono – 9
Modern Mono – 26
Elite – 23
50/50 – 27
Clubman – 28
Beginner – 5