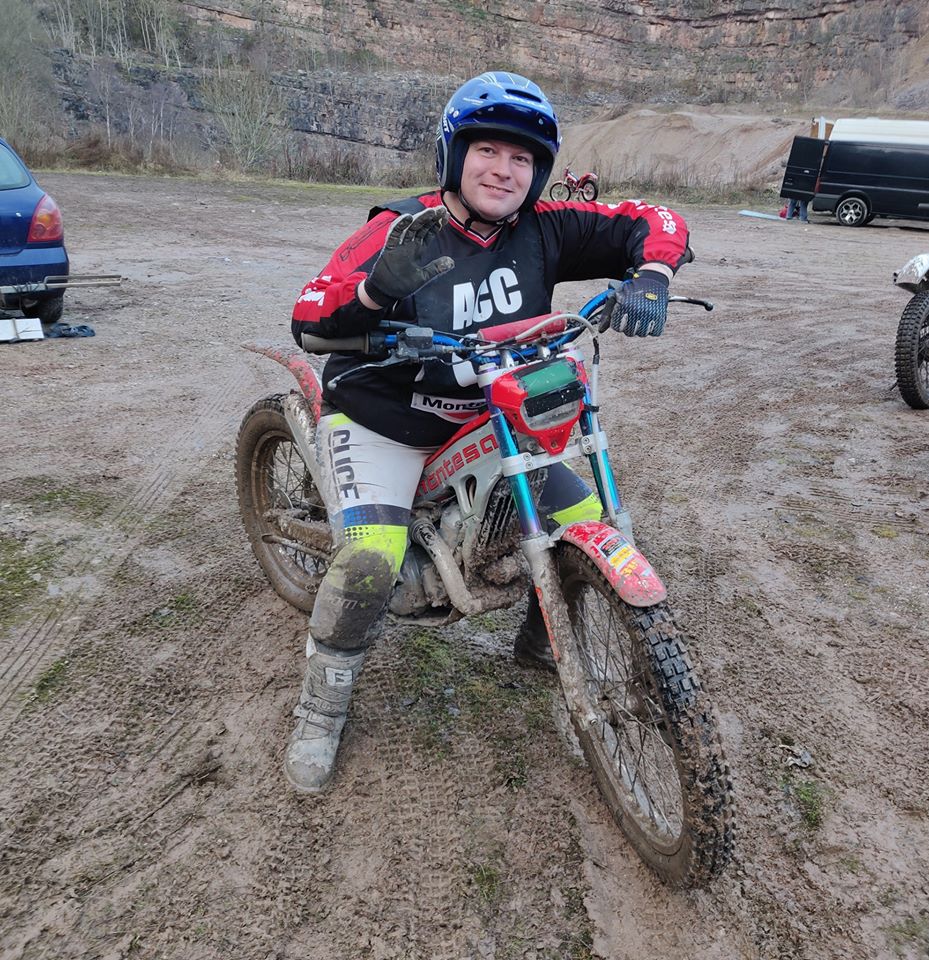 Event Report by Rob Sloggett, Paul Owen and Ian Emery
The first event of the year has become a bit unpredicatable. Only in the way that the normal entry is in the mid 80's but for some reason last few saw over 100 riders sign on. For some reason Russ had "a feeling in his water" that this event was going to top that so picked the brilliant Nant Mawr Quarry as the January venue again. Luckily the natural hardstanding bowl in the centre of the venue can accomodate a large number of vehicles regardless of the weather so its the ideal choice.
Well he got his prediction spot on because 132 riders signed on (up from 104 the year before) and these were broken down into 40 Pre 65's, 30 Twinshocks, 24 AC Monos and 48 Modern Monos with 34 Experts, 37 Intermediates, 46 Clubman and 15 Novices making up the distribution.
Whilst the ratio of modern bikes was quite high, the last few events has seem a number of newcomers to the sport and obviously the forgiving nature of a modern bike on sections laid out mainly for the Pre 65 and Twinshock scene is a great way to ease yourself in. Aqueduct has always welcomed the modern bike scene into the events (obvously with the hope that at some point the rider will "see the light", sell their modern bike and buy a nice Twinshock or Pre 65). But that is not compulsory…. the friendly nature of the club is just happy to see riders having a good days sport on whatever they are happy riding.
Paul Owen – Pre 65 Expert
A early January crisp winter morning saw the 2020 aqueduct classic trials kick off. I'd decided to move up to the expert red route from the greens after clinching the championship a few times now. I knew it was going to be a big learning curve for me and with 130+ competitors turning up that morning, I had a look around to see some very experienced expert riders. Here are 3 of the 10 sections I did.
Section 1. This was a muddy entrance and across a small slippy bank. Then you dropped across the water and out up a bank to a immediate right turn and a off camber climb up a muddy bank to the top and then a very tight right hand turn down where I thought I was going over the bars every lap. And as you just got it stoped you turned sharp left on a small steep drop into the water and then turn right to the out gate.
Section 5. I was dreading this section as it was a big challenge for me. You dropped in right after the start gate and with a tight left turn in the slippy mud it was straight up a very steep bank as you had to turn sharp right on the off camber around a big massive rock and plunge back down to the flat. I suppose it wasnt bad but was something new for me with moving up. As you slowed at the bottom you turned left between a log and rock and gentle back up a mound. Around a tree and out to the exit.
Section 8. This one looked impossible for me but I gave it a go. You started on the quarry path and rode over a big mound as you dropped to a tight left then right as you climbed up some big rocks and then with a sharp left and keeping the clutch covered with high revs you either skipped up them or found every holes going like I did. Just as you got out, there was a sharp right turn and you followed the path along to the right and over a few more rock to the out gate.
This was a cracking trial and a great venue at Nant Mawr quarry in Oswestry. A big thanks to the observers and the club officials for a great start to 2020 and to burn off some excess turkey. Happy New Year everyone .
Ian Emery – AC Mono Inter
Here's a few of Sunday's sections which stick in my mind for good and bad reasons………
Section 1: this started with a cross camber traverse alongside fairly deep water filled ditch, to then turn 90 right dropping off the bank, into the water and out the other side, climbing the bank and round a slippy, rooty tree. A steep descent followed dropping sharply into the ditch which had a dog-leg left right where you had to be careful the far bank didn't grab the front wheel and halt progress. I watched a few people slip off the first camber into the water which made the climb out and up the hill impossible. First section, first lap, always a bit nervous, but managed a steady clean which I repeated each lap.
Section 2: tricky one this one. Started with a drop into the gulley bearing slightly left to then fire up the far embankment and swoop round a tree to the right. A descent followed with a drop back into the gulley and a bike's length u-turn up a 2 foot rooty step and round and out. The turn round the tree was technically very hard. You needed enough speed to get round the turn wall-of-death style. Too slow and your right hip or footrest would hit the tree, too fast and the front wheel would float and you needed it to be on the ground to traverse the camber. Oh, and just as you were climbing there was an exposed root on the turn meaning if you had any power on you would spin to a sudden halt and crash into the tree. First lap I rode round on the back wheel but couldn't control the planting of the front wheel back on the ground as the camber fell away without a steadying dab. Following laps I got it right twice and needed a dab again for a high front wheel. Overall very pleased with a score of 2.
Section 3: another one where you had to be careful. Started with a left turn and steep climb dropping onto a grooved track of slippy grey clay. A 90 right turn was required which was tricky to keep the front flowing before going up and over a hump. A cross camber followed where you needed full control of the front to place the wheel in a narrow slot as the traverse continued. The bank on the left was very steep and offered no traction and the slot was beginning to collapse only being held in place by a small sapling which threatened to snag your right hand as you passed carefully through. It really was like tip-toeing through with gentle throttle only. If you got through OK a tight right followed with a sneaky dog-leg just before the ends. Happy with 1 for the day.
Section 7: My nemesis! Technically didn't look that hard but cost me a lot of marks. Started with a 90 right had to done as a left right 270 as you needed to gain a bit of clear ground before shooting up across a flat rock slab on the hillside followed by a long left turn over a jumble of loose rocks, still climbing before turning back down. First lap I just didn't have enough momentum and escaped with a 2, second lap even worse with a 3 losing speed and chucking rocks out behind, third lap much more speed but hit a displaced rock with the front and ran over a marker for a 5, last lap rode it like a main rode clean asking myself why I couldn't have done that previously.
Section 8: Geoff on duty, better not mess up. Started with a climb up and over a steep embankment with a 90 left followed by 90 right, to then climb a series of big jagged rock slabs, up round a high flag on loose gravel before dropping back down over more big rocks and out. Got it right 3 times but needed a 1 once when I slipped off my rear brake pedal on the descent down from the front which messed me up for lining up for the rocky climb. Lucky to escape with a 1. Section 10: didn't like this one either. Too many big rocks, too many big holes between the big rocks. All in the wrong place in relation to each other and where my wheels were at any point in time. Rode the Yam round like a pogo-stick gritting my teeth.
Happy with my score though, couldn't have done better. All in all, a really good day. Thanks as usual to the section setters, observers and results team.
The feedback on Facebook from the riders provided a few sound bites as follows:
Well!! What can I say about last weekend?!! The turn out of riders was unbelievable!! Fantastic sections as always My first time riding intermediate, dropping 43 marks which I think was ok for my first time! Even tho I had a bit of a crash on section 2 on first lap But thanks to whoever picked me and bike up? As it's still a bit of a blur!!? Got some bumps and bruises but the bike didn't even get a single scratch! "cheers Russ for helping me ride a better line after" as I managed to do it lap 3 and 4. I am already looking forward to the next trial next month!! Massive thanks once again to all the observers!! – David Williams
Great trial today well worth traveling to it, big thanks to all involved and to the observers. Well done will be down again for sure. Cheers – Jeremy Clark
What a brilliant trial today . The green route was just testing enough for me cleaned most of the sections once and then made some mistakes the next time. Section 10 was my bad one but bloody brilliant. Thanks to all organisers and Marshalls for a Bostin day – Mark Lucas
Well that sort of round off the event report for the first comp of the year. We are always rooking for riders to provide copy and as you can see from the reports above, they are very personal and different and thats what we like…. different. So after the next few events, if you have enjoyed reading this, why don't you put 30 mins in your diary to write a short report. I mean the observers stand around for a full day so its not a lot to give back for a day sport is it……
Top Places:
Pre 65 Expert: Phil Houghton, Triumph (7) tied with James Francis, BAS (7), Chris Chell, BSA (10), Tony Gush, DOT (10)
Pre 65 Intermediate: Simon Thornley, BSA (3); Sam Alderman, BSA (10); Peter Edwards, BSA (16)
Pre 65 Clubman: Chris Forshaw, BSA (0); Roger Smith, BSA (2); Peter Elvidge, BSA (2)
Pre 65 Beginner: Alan Dyson, BSA (18); Graham Turner, Triumph (18); Chris Atherton, BSA (44)
Twinshock Expert: Chris Garlic, Fantic (7); Paul SMart, Fantic (13); Dave Wood, Bultaco (29)
Twinshock Intermediate: Paul Cook, Montesa (8); Andy Cope, Fantic (12); Mark Blackwell, Yamaha (14)
Twinshock Clubman: Tom Houghton, Honda (1); William Leigh, Majesty (5); Graham Pennington, Ossa (8)
Twinshock Beginner: James Griffiths, Yamaha (10)
AC Mono Expert: Pete Ruscoe, Honda (14); Jim Williams, Honda (35); Stephen Burgess, Montesa (43)
AC Mono Intermediate: Paul Cartwright, Gas Gas (15); Shaun Mountford, Beta (22); Paul Young, Gas Gas (22)
AC Mono Clubman – No starters
AC Mono Beginners – No finishers
Modern Mono Expert: Daz Miller, Gas Gas (7); Jake Jones, Beta (12); Ian Jones, Yamaha (19)
Modern Mono Intermediate: Dave Ellis, Beta (8); Paul Hempkins, Gas Gas (13); Jack Curwell, Gas Gas (14)
Modern Mono Clubman: John Hunt (2); Mark Tagg, TRS (5); Timothy Crampton, Montesa (9)
Modern Mono Beginners: Mike Jones, Beta (4); Sean Halstead, Gas Gas (7); Chris Matthews, Beta (8)
Observers:
Section 1 – Suzanne
Section 2 – Elwyn
Section 3 – Dave
Section 4 – Mark
Section 5 – Mike
Section 6 – Annette
Section 7 – Gordon
Section 8 – Geoff
Section 9 – Izzy
Section 10 – Ian
Bike Stats:
| | | |
| --- | --- | --- |
| Bike Classes | | |
| | Pre 65 | 40 |
| | Twinshock | 30 |
| | Aircooled Mono | 14 |
| | Modern Mono | 48 |
| | Total | 132 |
| Routes | | |
| | Expert | 34 |
| | Intermediate | 37 |
| | Clubman | 46 |
| | Beginner | 15 |
| Bikes | | |
| Pre 65 | Ariel | 1 |
| | BSA | 18 |
| | DOT | 2 |
| | Drayton | 1 |
| | Francis Barnett | 2 |
| | James | 1 |
| | Triumph | 13 |
| Twinshock | Beta | 1 |
| | Bultaco | 3 |
| | Fantic | 10 |
| | Honda | 5 |
| | Majesty | 1 |
| | Montesa | 5 |
| | Ossa | 1 |
| | Yamaha | 5 |
| AC Mono | Beta | 2 |
| | Fantic | 1 |
| | GasGas | 2 |
| | Honda | 2 |
| | Montesa | 1 |
| | Yamaha | 5 |
| | Unlisted | 1 |
| Modern Mono | Beta | 13 |
| | Gas Gas | 15 |
| | Honda | 1 |
| | Montesa | 5 |
| | Ossa | 1 |
| | Scorpa | 2 |
| | Sherco | 2 |
| | Tenaci Wong | 1 |
| | TRS | 3 |
| | Yamaha | 1 |
| | Unlisted | 4 |